I've been fleshing out the intention for our community's upcoming Winter Solstice ritual. I've been attempting to weave the threads of what's happening in the world, what this time of the year is all about, and what we Witches and Pagans might want to do for ourselves and for the planet. What I've got at this point: We welcome the revolution of the newly born sun. This sentence encapsulates what this Winter Solstice magick is all about for me, but there is so much more to it.
Play Along with Me
What if the sun rising every day isn't a given?
What if we didn't know that the sun would automatically rise on Solstice morning?
What if the sun rising on Solstice morning is a way for the sun to stand up and be seen?
What if the sun has to fight, try hard, work, make an effort, cry, struggle, love, laugh, bless, play, sing, face its demons, face its allies, in order to rise on Solstice morning?
What if the sun goes through all of that just to shine?
What if the sun's journey through the night is a revolutionary act?
What if shining is a revolutionary act?
And, the most important question of all: what if the sun is a shining example of how you can do the same thing?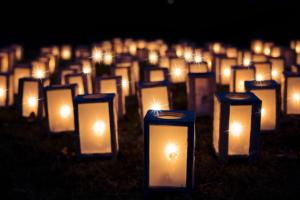 Shine On
Let's pretend that the sun can only rise in the morning due to its own courage and conviction. The sun has to break through and stand up and be seen for the shining being that it is. That heat, that warmth, that power and conviction, is then able to radiate down on us. The kiss of the sun on our skin becomes a reminder that the sun shines as an act of revolution and we too can shine bright and join that revolution.
This isn't about light and dark or day and night. This is about glowing. Stepping up, stepping forward and glowing as brightly as you can. It is an act of revolution to be fully, authentically, brilliant with all that you are.
This Winter Solstice remember that you are magick. You are the revolution.