For many years I wanted to play the drums. I loved going to drum circles. I loved attending public rituals where energy raising would happen with the support of drumming. Drumming makes me feel alive and awake. It makes me want to move my body and dance. For years I desperately wanted to drum, but I never even allowed myself to touch a drum because I was waiting for someone else with the power to give me permission.
Giving Power Away
It took over a decade. A decade of me being too shy. Ten years of me watching from the sidelines, wishing I could play too. All that time I was worried about doing it wrong and/or looking foolish. I wasted all that time not stepping into my own power thinking someone else needed to give me permission.
Thankfully someone did.
Giving Permission
A very talented drummer taught a day long class on drumming. The very first thing he did was give us permission to just hit the drum. This was the entry level step that I needed. We were encouraged to make mistakes and find our own rhythm. For the first time I let myself play – and I was good at it.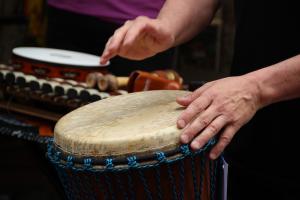 Personal Agency
I waited so long for someone else to give me permission. Looking back I could be angry at my past self, but what would that solve? Rather, I have to look at my ten years of sitting back as a very powerful lesson. The whole point of practicing Witchcraft is to have your own agency. Being a Witch means acknowledging each of us is a powerful being. The problem is, stepping into your power rarely happens overnight. Stepping into your power comes from a series of step ups – small ones and big ones.
Advice
This is my biggest piece of advice to those folks new to the path of Witchcraft and Paganism. Trust your power. Don't let the "fear of doing it wrong" stop you from trying. Take risks, be bold and brave. Do think that you think you can't. Bang that drum. You have to start somewhere. After all the journey of a thousand miles begins with a single step.