I believe magic can be decadent and delicious. It's my considered opinion that magic is quite wonderful when it focuses on joy. I've decided that the magic I participate in, as often as possible, will leave my stomach and my soul, equally satiated. It is to that end, this seeking of magical pleasure, that I offer you the sublime magic of eating cake.
This cake to be exact.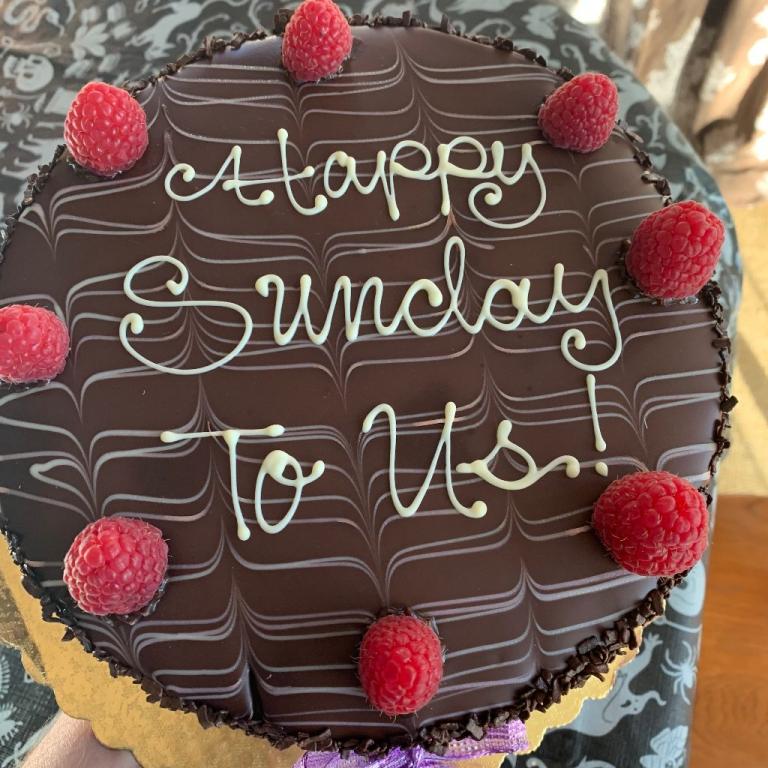 Eating Cake Is Magic?
Yes. Yes, it is. Think of the classical witches you've read about in literature. What where they doing most of the time? They were brewing potions and poisoning apples and toiling over bubbling cauldrons. I imagine that after a long day collecting herbs for her Awen brew, Cerridwen wanted nothing more than to put her feet up, get a neck massage from her husband Tegid, have a nice cup of tea, and enjoy a slice of Bara Brith.
Eating cake is absolutely a magical act. Here's an experiment. Think of yourself without cake. Now think of yourself with cake. Which "you" is smiling and feeling altogether wonderful about your present situation? Is it "I don't have any cake. I wish I had cake" you. No. It's not. It's "look at this delicious slice of chocolate cake. Mmm…I can't wait to eat it" you.
One very well known definition about magic is "the art of changing consciousness at will". I suspect if you have the will to indulge yourself by cramming half a black forest gateaux down your cake-hole, you're consciousness will be dramatically changed, and for the better.
Eating Cake on Sunday
As you can probably tell from the photo, I ate this cake on Sunday. There was nothing remarkable about Sunday, other than the weather was quite nice for the time of year. But, and this is a big part of my kitchen witchery, I was feeling a little blue and so was my dear partner, and I wanted that to change. So this cake happened.
And you know what? We sat at the table, forks in hand, and just tucked in. In between shoveling forkfuls of rich, chocolate cake stuffed with layers of raspberry jam into our mouths, we talked. We talked about the book we're writing together and the state of affairs with various magical communities and our upcoming holiday to England, Scotland, and Wales. As the cake slowly disappeared, we planned and plotted and conspired about all manner of magical activities we're planning for the next 12 months.
Would this have been possible without cake? Maybe. But let's be honest here, we had plenty of time to talk about these things before eating cake, and the conversations didn't happen. Then there was cake and the eating of cake, and the dialogue began.
Thoughts About Eating Cake
I realize you might be saying to yourself "but I don't like cake". It's not the cake that's important. It's the effort and the time. It took a bit of effort to bring this cake into existence. It took time to sit with another person and eat it, to engage in the sacred silliness of having much too much cake for two people to eat. We fed each other. Tea was made and, most importantly, space was made for us to chat. And in that chatting there was laughter and joy and the magick of shared plans.
Maybe you'll do this over kale salad or a bowl of cereal or teriyaki seitan (Hail Seitan!…I couldn't resist). Maybe you don't need cake at all*. But I do encourage you to spend time with someone, over food, and talk with them about the magick you're bringing to the world.**
*To be honest, I think you do need cake, but that's just me.
**In person is best but Skype dates totally count (as long as there's cake)