Not to be a downer, but back at Samhain, I wrote about how I've recently starting wearing my late grandfather's coat. Some folks found that kind of heartwarming.

I also mentioned that he died on Christmas. That part is less on the heartwarming side. But there are some important things to consider here.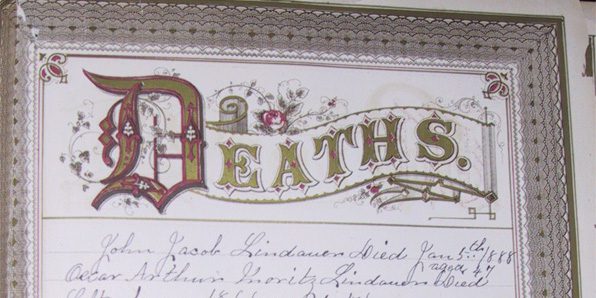 Twenty-five years ago this month I came home from college for the holidays, and as I asked my parents about the plans for the next week or two it came up — in sort of an "oh, by the way" fashion — that Grandpop Len was in the hospital and was going to have bypass surgery. No one had told me he was in a health crisis; maybe they didn't want to add to the stress of semester final exams.
He never work up after the surgery. Disrupted arterial plaque caused a stroke, and we were told it was only a matter of time.
We went about our holiday business as best we could, waiting for the telephone call. (A technological antiquity: I was scolded when, to distract myself for a bit, I tied up the phone line for a bit to use the modem — not the cable modem, the I-forget-what-baud modem that screeched over the phone line, the old fashioned copper landline — to log in to the university computers and check e-mail and USENET news updates.)
We sat down to a very subdued Christmas dinner, during which the call came. Leonard Swiss was dead.
I don't think I need to explain that this put a damper on the family holiday celebration for several years.
Death does not take a vacation over the holidays. People will die over the Christmas/Yule season, some peacefully, some horribly. And those who lost someone earlier in the year are facing a reminder of loss with the first holiday season since their loved one's death.
If that's you: it's okay to skip the parties. It's okay to hurt. But it's also okay to not skip the parties, to try to process the loss by staying in motion. And know that it will ache, but the ache will not always overpower everything else. It is okay to celebrate again when the pain fades. It's okay to mix tears with laughter.
If it's someone you know: offer them close support or solitary space as they need it, understanding that there is no one right way to grieve.
The family gatherings of the holidays can also be a good opportunity for some serious discussions about end-of-life choices. This Thanksgiving was the first time in a while that my parents, my brother, and I had all been together; prompted by the recent losses of some family friends, my dad wisely took the opportunity to make sure we were aware of his wishes.
It was probably the most serious conversation the four of us have all had together, but it was not depressing or somber. It was simply affirming the most basic fact about each of our life stories: the hero dies at the end.
But that ending is just part of the story for those left. And it is a challenge how we integrate that loss into our stories, a challenge that can be magnified during a season where we are bombarded with messages about how we are supposed to feel.
But I tell you this: anyone telling you how you should feel — about the holidays, about loss, about death — has fallen into a serious error. Consider carefully how to act on those feelings, but never let anyone invalidate the feelings themselves.
And if you have the ability and the opportunity to ease the way a little for your loved ones about your own inevitable ending, I urge you to take it, to say a few words so that your lovers and friends and children don't have to argue about what you would have wanted.
---
You can keep up with "The Zen Pagan" by subscribing via RSS or e-mail.
Have I mentioned my book lately? Why Buddha Touched the Earth makes a great Yule gift for the Zen Pagan on your list.
If you do Facebook, you might choose to join a group on "Zen Paganism" I've set up there. And don't forget to "like" Patheos Pagan and/or The Zen Pagan over there, too.