After the past week of social media foolishness , you too might be just about fed up with this group of primates.
But comedian Patton Oswalt's act of kindness, turning a snarky Twitter exchange into a successful fundraiser for someone in dire need, has made me decide to give the human race a few more weeks before I completely give up on it.
Michael Beatty, a Republican and a Navy veteran, took a Twitter swipe at Oswalt after Oswalt took a swipe at Trump after Trump tweeted about his border wall plan. Oswalt told Trump to "EAT A BUCKET OF DICKS" to which Beatty replied, "I just realized why I was so happy you died in Blade Trinity!" Oswalt made a moderately clever come-back about how if his character had had any more screen time the audience would have been helplessly in love with him, and many of Oswalt's follower/fans piled on Beatty, both for his politics and for not being a celebrity.
Pretty standard Twitter fare so far.
Dude, I already know: 'cuz "…one more second of you on screen and my heart would belong to Patton Oswalt." I get told this at least twice a week by Trump supporters. It always makes me smile and I'm grateful and blessed. https://t.co/nrivTIf6u7

— Patton Oswalt (@pattonoswalt) January 24, 2019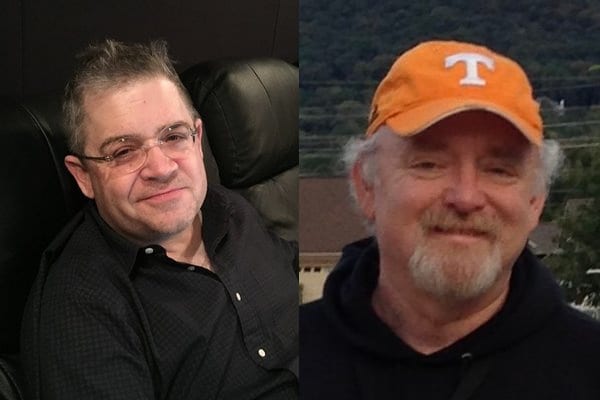 But apparently Oswalt then checked the profile of his interlocutor, and saw that Beatty recently suffered a severe health crisis, including sepsis, diabetic ketoacidosis, and two cardiac arrests. Instead of continuing the pile-on, he promoted Beatty's GoFundMe and made a sizable donation.
Aw, man. This dude just attacked me on Twitter and I joked back but then I looked at his timeline and he's in a LOT of trouble health-wise. I'd be pissed off too. He's been dealt some shitty cards — let's deal him some good ones. Click and donate — just like I'm about to. https://t.co/6zRdZ430WG

— Patton Oswalt (@pattonoswalt) January 24, 2019
Thousands of dollars poured in. A day later, Beatty's fundraiser stood at over $41,000, of an original $5,000 goal. Beatty was deeply touched and replied graciously:
Patton. You have humbled me to the point where I can barely compose my words. You have caused me to take pause and reflect on how harmful words from my mouth could result in such an outpouring. Thank you for this and I will pass this on to my cousin who needs help. A cascade. pic.twitter.com/6Is7KflPeY

— Michael Beatty (@MichaelBeatty) January 24, 2019
His Twitter replies page now shows him engaged in supportive dialog with several other veterans and with patients with similar experiences.
Their encounter touched me personally because of my family's recent experiences. My mother is a sepsis survivor; my father was a disabled Vietnam veteran who suffered from diabetes, presumed to be related to Agent Orange exposure and who was in the VA hospital several times over the year before his death.
There is a Buddhist practice of viewing each person as having been your mother or father in a past life:
Near Sāvatthī. There the Blessed One said: "From an inconceivable beginning comes the wandering-on. A beginning point is not discernible, though beings hindered by ignorance and fettered by craving are transmigrating & wandering on. A being who has not been your mother at one time in the past is not easy to find.… A being who has not been your father.… your brother.… your sister.… your son.… your daughter at one time in the past is not easy to find.
One does not have to believe in a literal transmigration of souls to see the wisdom that the strangers we scream at are not so different from the people we love. Maybe that would be a good thing to keep more in mind.