God wanted Trump to expose the dark, decayed underbelly of Evangelicalism so real cleansing and healing can take place. 
---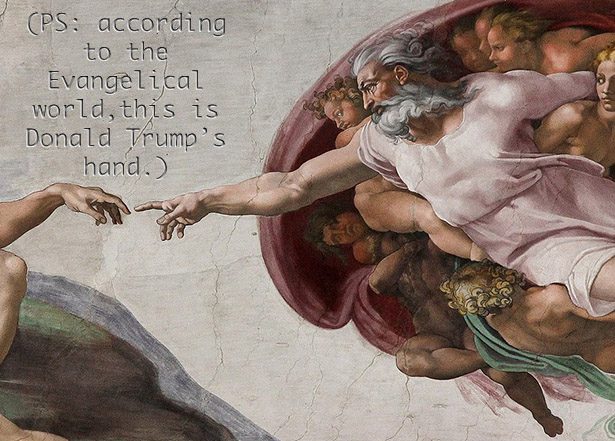 Since the beginning of the Trump era, I've wondered about the insistence on the part of the Evangelical world that God wanted Trump to be our President.
Suddenly, with the whole Roy Moore fiasco surfacing (did you know he was banned from a mall because of his persistent cruising for teenaged girls?), it started to make sense.
God wanted Trump, all right, but not for the reasons the Evangelicals think.
God wanted Trump, a man with no moral center, so that we could all see the depths of degradation that US society now not only tolerates but celebrates.
God wanted Trump, an admitted sexual predator, so that women would finally start speaking out about the never-ending harassment we face no matter where we go.
God wanted Trump, a white-supremacist, so that the previously semi-hidden neo-Nazi movement would be emboldened enough to show its true colors.
God wanted Trump, whose primary goal is amassing vast amounts of wealth, to show us the emptiness of a life centered on financial greed.
God wanted Trump, a man who trumpets his ignorance, to display the sadness of a closed-in, unimaginative, incurious mind.
God wanted Trump, a man readily bought with others' wealth, to appoint Betsy DeVos as Secretary of Education so we as a nation could once again see how vital our public school system is.
God wanted Trump, a man with no respect for scientific rigor and inquiry, so that we might all recognize the folly of ignoring the science of climate change.
God wanted Trump, who because of
his sexual history
has more than likely funded his share of abortions, to
make it clear to the world that pro-birth and pro-life are two entirely different things.
Pro-birth ensures that, no matter how horrific the circumstances of conception or the effect of the health of the woman, a baby is born, and then takes no responsibility after that point. Pro-life fights intensely for the health and long-term well-being of the mother AND the child.
God wanted Trump, a man who has never asked God for forgiveness, to so align with the Religious Right that few will ever again recognize their leaders as having spiritual authority. For the most part, these old white men have condemned the Evangelical world, once a vibrant and hopeful community, to an ignominious death.
God wanted Trump, a man who wants power above all, to fully expose the lust for power that has permeated and corrupted Evangelicalism. This lust stands in direct opposition to every single thing the Bible teaches.
I don't mean this as a blanket condemnation for all who populate that part of Christian thinking. Many in the Evangelical world are rightly horrified by what is happening. But God wanted Trump to expose that dark, decayed underbelly so real cleansing and healing can take place.
Will the US survive as a democracy as this amoral man with extreme autocratic tendencies continues to consolidate power and undermine the Constitutional basis of our shared life? Very likely not.
But God is not particularly interested in whether the US makes it or not. God is interested in shedding light upon the darkness of the human soul so we may move toward genuine repentance and life change.
Trump has done us all a favor: he has shown us who we are.
Yes, God wanted Trump, but not for the reasons the Evangelicals claim.
---
Photo By Jörg Bittner Unna – Own work, CC BY 3.0, modified by Christy Thomas
---