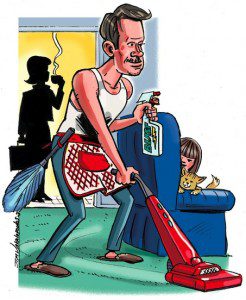 Almost a year ago I blogged on the Tide "Dad Mom" commercial. I had been watching Tim Tebow carve somebody up and buried myself in the New Yorker issue I was reading during breaks in the game. Suddenly some dude pops up on the television and announces himself as a "dad mom." He had my full attention.
I'm not going to unwind the whole issue here. Instead, I want to list some resources that, in God's providence, I've been involved with in hopes of helping people think this issue through from a biblical standpoint. There is of course no chapter in the Bible on stay-at-home fathers, though I think that there is definitely biblical material that bears on this conversation.
I should also say that a "dad mom" is, in my original language, a "man fail." But so is a father who never makes time for his children. So is a man who consistently loses his temper with his wife. So, in other words, are we all at different points. Every father, every husband, every man fails at some point. This is why we need the image and power of Christ ever before us and working in us.
Without further ado, here are some resources on this subject:
Wretched Radio with Todd Friel
Up for Debate on Moody Radio
Complementarian-Egalitarian debate with Rachel Held Evans on Unbreakable (UK)
Journal of Biblical Manhood & Womanhood essay
Christianity Today her.meneutics blog
(Image: ScrapHeap Pastors)