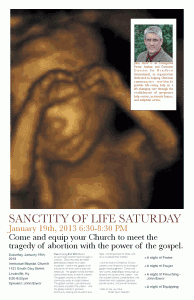 I recently heard about a Louisville event on the global pro-life cause with John Ensor, noted pro-life advocate (author of this short and helpful book). It's taking place at Immanuel Baptist Church on this coming Saturday, January 19, 2013. Here's some information from IBC:
The Sanctity of Life Saturday event is designed to expose Pastors, lay leaders, and all members of area congregations to gospel centered avenues to support the Pro-Life cause. Our time together will feature preaching from Evangelical Author John Ensor. John has published books like 'Experiencing God's Forgiveness' and 'Innocent Blood'. He has started three pregnancy centers, and is currently working to equip the Church in China to fight against abortion. In addition to hearing from John we will have booths that will expose you to pro-life ministries, adoption opportunities, and evangelistic opportunities that reach out to 'abortion minded women'.

50 million children have been legally murdered since 1973 (40 years ago this year) and the Church must stand up as salt and light to fight this holocaust. I trust that if area believers come they will find many positive, gospel centered ways to help you build a culture of life in our Churches.
If you're in the Louisville area this coming Saturday, come to this important event if you can. IBC started a terrific ministry called Speak for the Unborn that my church, Kenwood Baptist, also does. It's encouraging to see momentum building in our day for the pro-life cause; stories like this one about a mother choosing not to abort her disabled son after seeing him smile in an ultrasound are inspiring along these lines.
If that story, and this cause, doesn't move you, I don't know what will.
Jesus loves the little children, and so must we.