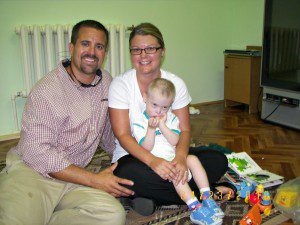 Amy Julia Becker recently linked to the story of a couple named Greg and Tesney who adopted a son, Kirill, from Russia. I would say the story of his condition when in Russia was "heartbreaking," but I would not be doing that word justice.
Here's what four-year-old Kirill looked like when the couple met him, according to Tesney (see picture at left):
We heard footsteps and our son was ushered through the door. He was so tiny. I kept reminding myself that he was four years old. He was the size of an infant no more than twelve months old. He was wearing girl's clothes and shoes. His head was shaved. He smelled of urine and infection. His ears and eyes were matted with green discharge. His hands were covered in sores and blisters from sucking them. His eyes were hollow and bluish-purple all around. He walked but clumsily. He mostly just let us hold him and didn't move. He didn't make any noises except for a very primal, guttural grunting noise. He showed no interest in the toys we had brought and acted as if he didn't really know what they were or what to do with them.
Here's how he looked when they returned:
When we finally returned nine months later, he was taller, but thinner. His bones were visible through the shirt he was wearing. His condition had obviously deteriorated. The blank stare at changed into a full-body shell that hid the beautiful boy inside. He wouldn't smile or make eye contact. He would barely let us touch or hold him.
Read the whole thing.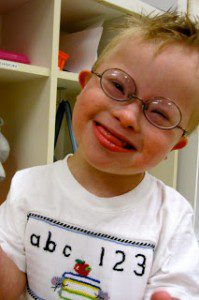 You can see what Kirill looks like now (see picture at right). How can a heart not cry out with joy at what this couple has granted Tesney? He has a loving family and, best of all, a chance to hear the gospel.
Russia recently outlawed such adoptions, as many will have heard. Russ Moore wrote to the issue here. I agree entirely with Amy Julia Becker when she says that she does not know exactly what to do about this evil policy, but that we should pray. Yes, we should.
We cannot all adopt. That's clear. But let's find ways, wherever we can, to glorify Christ by seeking "true and undefiled religion" that cares for those who are cast off, hopeless, and unwanted (James 1:27). We should want them. We should pray to help them, because God, unlike sinful people, delights in the orphan, takes joy in cleaning the blood and filth off the abandoned, exults in the salvation of a baby who has no hope in this world.
The gospel and its effects can only be denied by shutting our eyes to the light. No other force in this world comes close to the gospel in creating love for the unloved. God is real, and the power of his love is awesome and unmistakable.