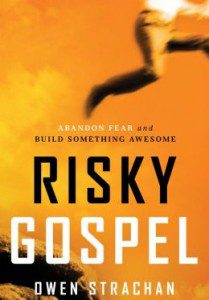 In 7 weeks, my book Risky Gospel: Abandon Fear and Build Something Awesome (Thomas Nelson, Nov. 26, 2013) releases.
[Update: We've had such a strong response to an earlier version of this blog post that we're not taking any more review requests, and we'll encourage everyone else coming a bit later to buy the book. Thanks so much!)
Needless to say, I'm excited about this. I'm happy with the content; I love Kyle Idleman's foreword (he wrote a terrific book on a similar theme called Not a Fan which has sold about 1 million copies); I'm grateful for the endorsements (Russ Moore, Collin Hansen, Trillia Newbell, and more).
I love the cover. I think it's very cool.
Anyway, enough excitement-sharing. In coordination with Thomas Nelson, I'm looking for book-readers who want to review the book and help get the word out about it on social media.
So, here's how you can help our efforts (revised due to demand!):
1. Buy the book. Soon. Thanks!
2. Read it, then review it. (Simple enough, right? I hope you will like the words, the sentences, paragraphs, and so on and so forth.)
3. Publish your review in mid-November and after, and help us get the word out on Twitter/Facebook/Google+/other environs of the World Wide Web.
4. Join me in praying, if you would be so kind, that God would use my work and yours to cause many people to stop playing life safe and instead live a biblically risk-driven existence powered by the super-charged engine of the gospel.