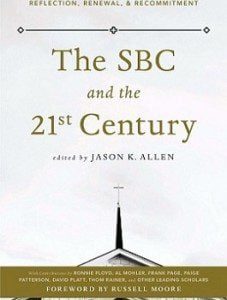 It is a live question: what is the future of the Southern Baptist Convention?
Actually, this is a relevant question for any and all evangelical denominations and networks. As we head into what surely looks like a storm at sea, what do our prospects look like? Will we be able to plant churches in the domestic and global megacities of the future? Are laws regarding transgender and homosexuality policies (SOGI laws) going to bring churches to heel? Will evangelicals see that, in such storms, doctrine is their friend and not their foe?
All this and more is on the table.
In truth, the church's fate is much like your latest presidential election: every election is the most important ever. Similarly, the church of Jesus Christ always faces trials and challenges on every front. We never have lived in equipoise. Sure, some eras are better than others. But Christians have always been a pilgrim people. That is not new–not at all.
I am personally thankful that, in my humble view, the SBC has a bright future. Here is why: 1) the SBC is confessionally grounded in biblical doctrine, 2) the SBC has recovered a strong sense of gospel purpose that animates our life together, and 3) God has raised up and is raising up the next generation of humble leaders to carry the banner.
The new book, The SBC and the 21st Century (B&H, 2016), backs up my optimism. Contributors to the book include trusted SBC figures like Frank Page, Ronnie Floyd, Thom Rainer, Albert Mohler, Paige Patterson, David Platt, and Danny Akin. There are also a number of younger voices included in the mix (I wrote a chapter on gender and sexuality). Though the various contributors differ on some matters, there is broad agreement among them as to the seriousness of the mission and the urgency of the task. It is very clear that, in 2016, God has brought substantial unity to the SBC.
And it's just in time, too. Sometimes Christians–and Baptists–act as if we have time to split hairs. In truth, we do not. I do not think believers today know how serious our challenges are. We are not very far from seeing many waves break over us, waves driven by policies that brook no disagreement with the Late Sexual Revolution. We need unity, desperately. But we don't need it in good feelings and vague generalities. We need unity grounded in the truth, unity tied to the mast as the wind picks up and the sky goes gray.
All this, it seems, we have. This is not to say we can bank on having unity in Christ and his gospel, his Word and his doctrines. We can't assume we'll always have such commonality. But it appears we now do. I pray this remains true.
My comments thus far account for a substantial portion of my optimism regarding the SBC's future. But here is the final reason: I see humble, gifted leaders in key places. I could name many names–David Platt among them–but the editor of the book, Jason Allen, is the one I'm thinking of here. Dr. Allen has been used of God to turn around a struggling institution, Midwestern Baptist Theological Seminary, and lead its enrollment to double (to around 2300 students) in three years' time. In 2016, when schools of every type face enrollment challenges, this is nothing short of spectacular.
Dr. Allen, my president and a dear friend, is under 40. I'm thankful for his conviction, courage, and gifting. I see him as an example of why Southern Baptists should, before God, feel hopeful about coming days. The church is not an abstraction, after all. The church is made up of people. Every believer matters, and every Christian is a priest in the kingdom of Christ. Southern Baptists–and all Baptists–treasure this biblical theme (1 Peter 2:9; Ex. 19:6). But we must also have leaders to shepherd God's people, and we give thanks that the Lord is raising them up.
In sum, I encourage you to buy and read the The SBC and the 21st Century. It's a rich book, and the editor and his age should not escape your attention. If we are going to have a denominational future, we must have young leaders who will carry the torch in days ahead. I am thankful that this is the case, and that alongside institutional leaders, the six SBC seminaries are training a veritable army of pastor-theologians to go out and minister truth and love in a world that knows neither. The students I train at MBTS, and that my colleagues train at other schools, are reason for great hope. If you're asking about the church's future, this is especially where you must look: her future pastors.
In our era, much is uncertain, but one thing is certain: God is on his throne, and though his kingdom suffers violence, it will never suffer defeat.