Comic Com is truly a place for the unexpected and the weekend was full of surprises
In my experience the best moments always come from stumbling into a panel you didn't plan on attending which blows you away.  I found one of those today but I'm going to cover it separately so I can give you all the details.
I missed an early panel I'd planned on attending for web series Tiny Commando created by Ed Helms (The Office) and starring Zachary Levi (Chuck) and Gillian Jacobs (Community). My sister-who-did-get-up-on-time tells me it's a must watch.  The trailer reminds me of the world of tiny make believe that we live in when we're children playing with our toys. Never a bad thing to return to those days.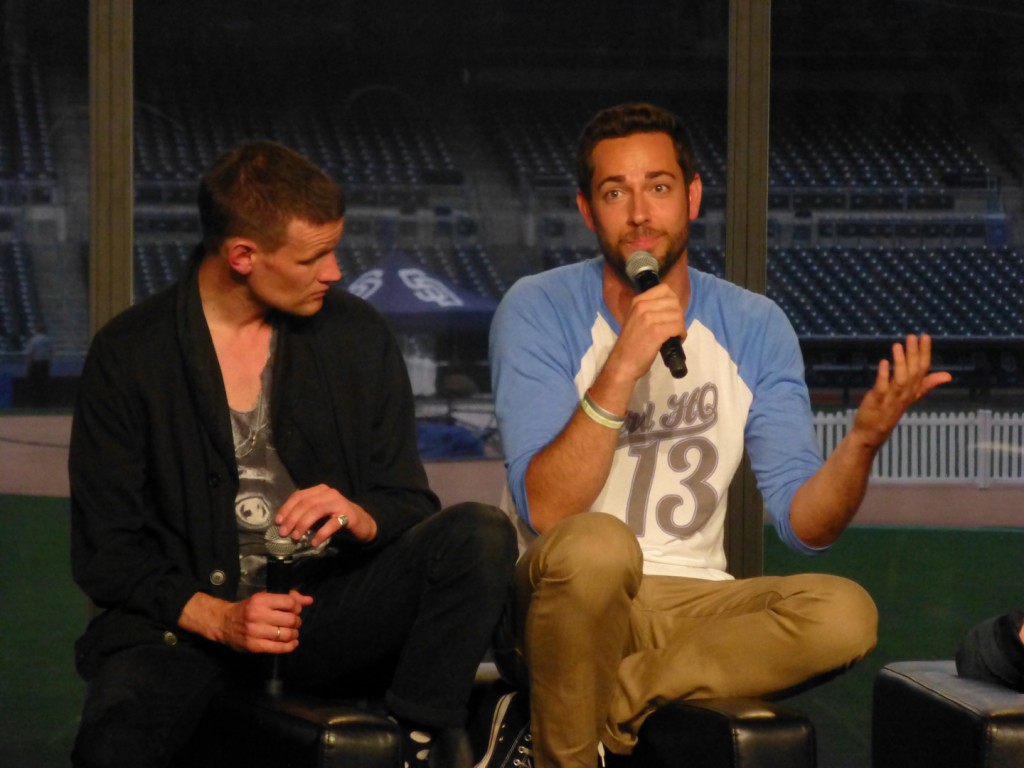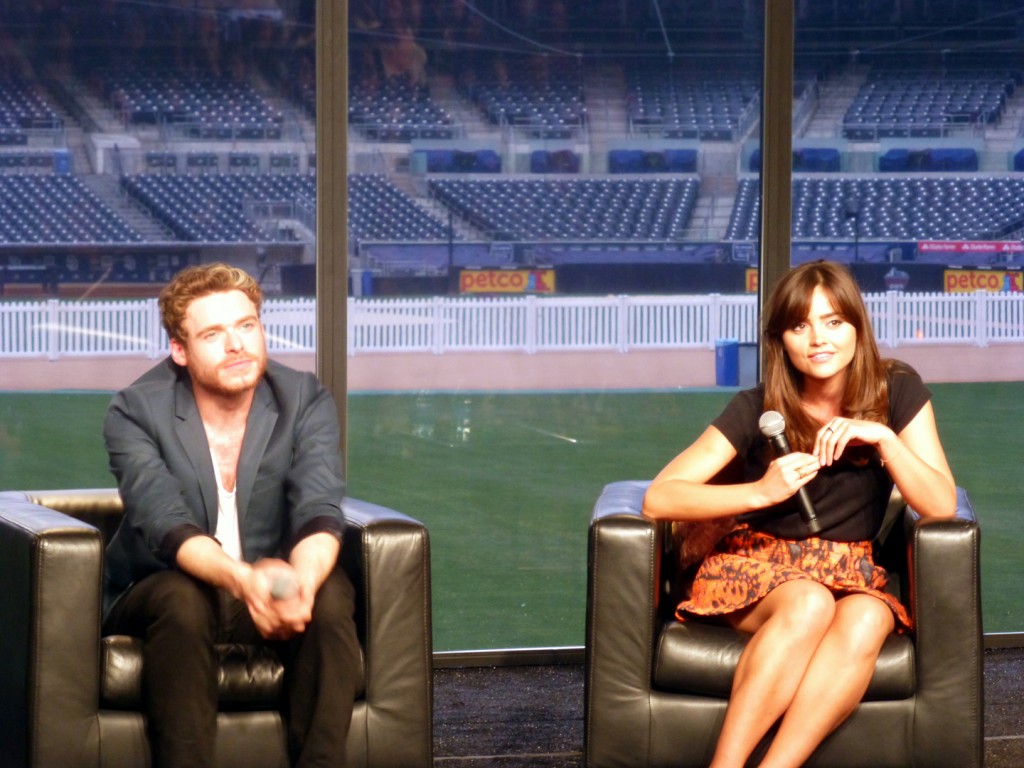 A late-add panel with Richard Madden, Game of Thrones' Robb Stark, was an unplanned bit of joy at Nerd HQ, compounded when the panel was crashed by Doctor Who's Matt Smith and Jenna Coleman.  It's a testament to Richard's acting that most of the questions he got were about the character of Robb Stark, who was tragically offed in the season 3 finale. Nerd HQ continued delivering to fans by announcing another surprise panel addition with Tom Hiddleston (The Avengers Loki) for Sunday. Even with so many fans purchasing tickets via smartphones they still sold out in minutes.
Not a surprise at all was how great it was to get together with other fans for a showing of Serenity in Petco Park Saturday night. Nerd HQ did a nice job, getting a high–res screen for the ground that was large enough to see and spared us having to look up at the jumbotron. I noted at several points how quiet the crowd of about 1000 was, just enjoying the beauty of the ballpark and city skyline, a great film, and a community of friends. There are films shown every night of Comic Con over at the Marriott, as well as parties and a ton of offsite meetups and events. So if you come, don't plan on wrapping up your night when the convention center closes at 9pm.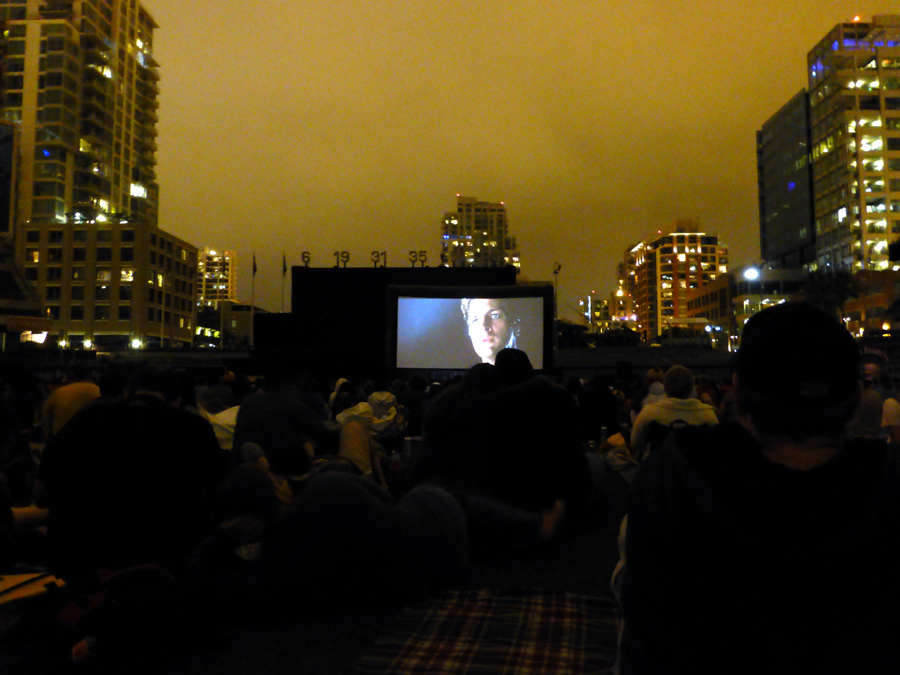 In cool, dramatic fashion Warner Bros announced the next Superman film will also be a Batman film! With the panel nearly over they brought out Man of Steel director Zach Snyder and Harry Lennix (Nick Fury in Man of Steel) for a dramatic reading ending, with a dramatic graphic of the superimposed Batman and Superman logos.
Warner Bros also screened footage from the much anticipated Godzilla and The Lego Movie while partner studio Lionsgate brought cast and footage from I, Frankenstein and The Hunger Games: Catching Fire. Sandra Bullock made her first Con appearance for Alfonso Cuarón's Gravity, co-starring George Clooney.  Yes it sounds similar to June's Europa Report but will probably have more broad appeal due to its stars and less of Report's hard sci-fi content.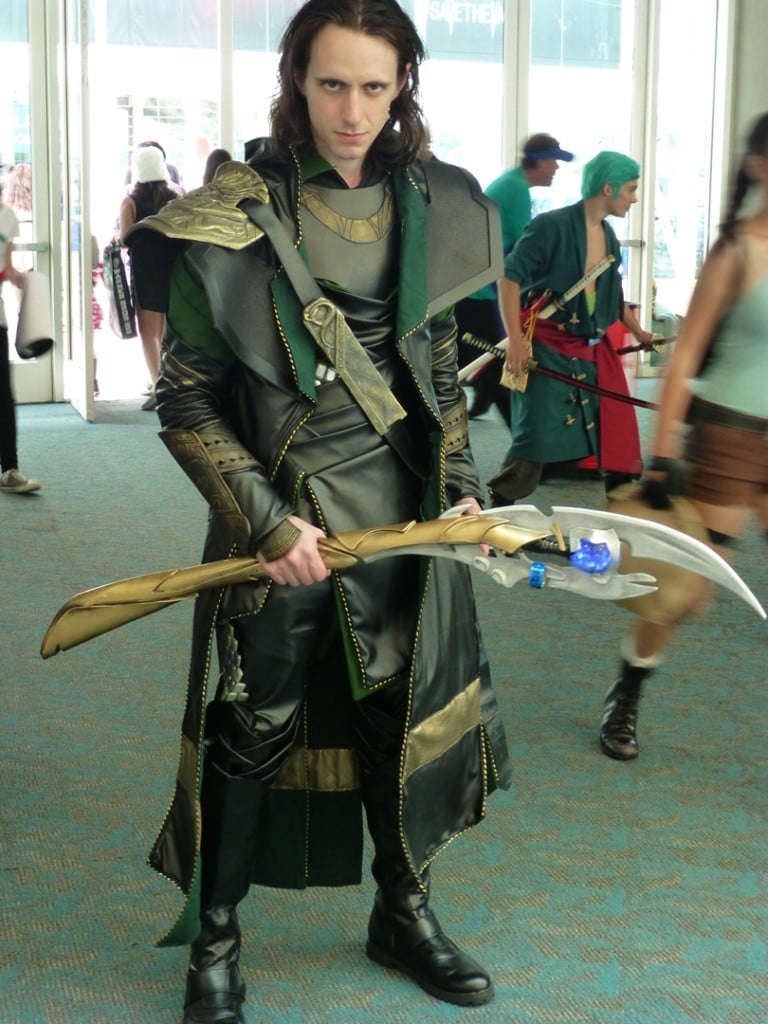 During Marvel's Thor panel the lights dimmed and Loki's disembodied voice appeared. Lights up to Tom Hiddleston crashing the stage in full Loki gear and full Loki mode. That man is hilarious, working the crowd up as his Army – one tweet read "I'm pretty sure Loki could've told people to jump off the Hilton Bridge today and they would have #PowerOfLoki"
Marvel also revealed the title and villain for the next Avengers movie, The Avengers: Age of Ultron, and footage screened showed Robert Redford making an appearance in forthcoming Captain America: The Winter Soldier. The full cast of Guardian's of the Galaxy, including Chris Pratt, Zoe Saldana and David Bautista, flew over from London for a Hall H appearance and was flying back that night. Early footage shows a darker tone and more mature humor than current Marvel interpretations.
The only big surprise from 20th Century Fox was what they were bringing to Comic Con. They withheld any pre-publicity on their panels, walking a dangerous line between creating curiosity and ambivalence about their upcoming slate. Andy Serkis was a big hit in the Dawn of the Planet of the Apes panel discussing the challenges and joys of working with WETA to reprise the role of Ceasar. Hugh Jackman appeared to talk about The Wolverine, which promises to finally get to the heart of Logan/Wolverine's angst. Jackman also said he'd dressed up in Wolverine gear and walked around Comic Con all morning without being recognized. I so hope that's true.
Hugh Jackman did double duty on stage with the cast of X-Men: Days of Future Past. Fourteen actors lined up for the panel including Jackman, Patrick Stewart and Ian McKellan, James McAvoy and Michael Fassbender. That's a lot of stories to tell! It will be interesting to see how they pack it all in there.
When the big panels ended, Tom Hiddleston delighted fans by hanging out the window of his chauffeured Escalade gawking like a fanboy at the comic-blinged Gaslamp Quarter. Just one more think you'll only see at the Con.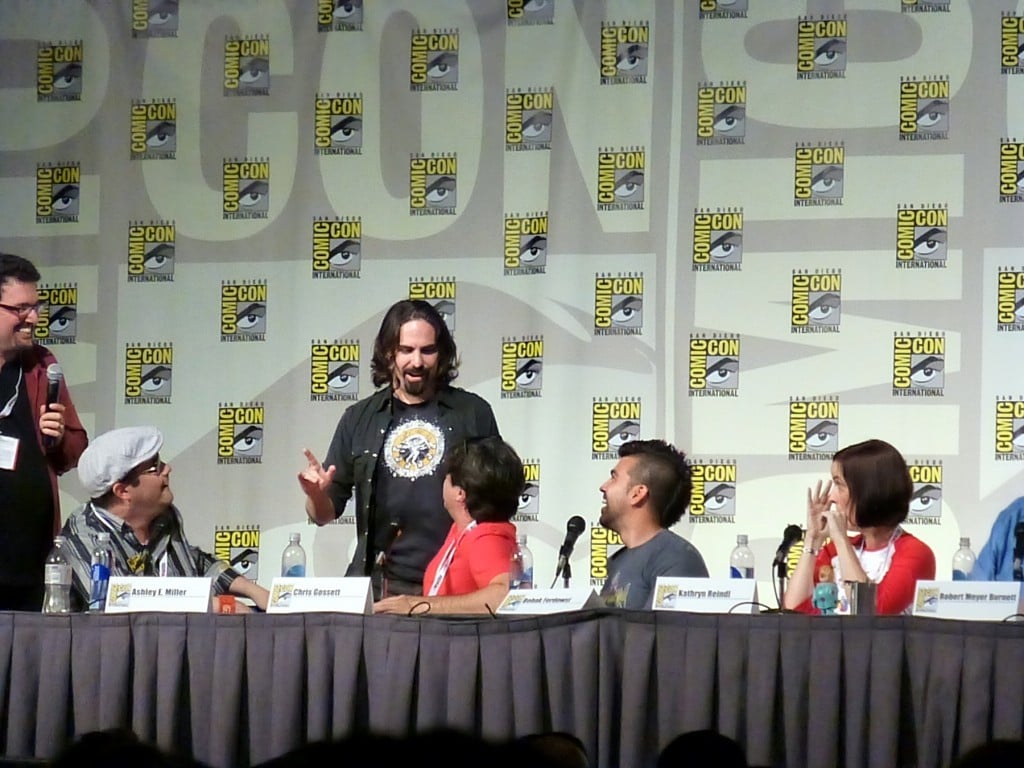 One of the best ways to end Comic Con is with the Starship Smackdown panel, where panelists – usually show writers and superfans – pit ship against ship in a raucous battle for dominance. At the semi finals each ship gets a Captain the likes of Captain Crunch and Captain Quint (Jaws). Everyone is exhausted and all shows are propriety have been dropped. The panelists have been known to pass a flask around. Bobak Fedowski, mokawk guy from NASA's JPL lab was not advertised for the panel but I was delighted to see him there. A real scientist! And he did actually throw some science into the mix probably to the dismay of the rest of the loopy panelists. But during an extended moment of mocking the sound effects of Star Trek's V'Ger ship a blur running up on stage turned out to be composer Bear McCreary (Battlestar Galactica, The Walking Dead) to give an emphatic tutorial on why that sound should be adored and respected. Then he sprinted back to seat in the crowd to geek out with the rest of us. McCreary has been called one of the secret weapons of the television industry, but sometimes the masters of magic are just like us.