Hopeless, powerless Christianity is utterly inexcusable. Period. For when a Christian receives the Holy Spirit, he or she is filled with the faith and power to believe and do that which is impossible, and that assignment starts in the here and now. Yet what exactly does that look like and how does that work, especially when too many believers in Jesus are not all that conscious of the Person in whom they live and are largely ignorant of the anointing and callings they carry? Unaware of his presence, they possess little passion or vision for what is possible today.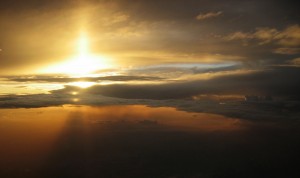 Have you ever wondered why anyone would desire to know the Lord if the implications of believing in Him produce a despairing mentality, one where the world goes to hell in a hand-basket? One does not need faith in Christ to think that things are deteriorating. All you have to do for that is consume the first five minutes of the evening news. By contrast, real faith abides in the Vine, is certain of what is unseen, assured of things hoped for, and believes for God's miraculous power to turn everything around when all the indicators spell disaster and destruction. Dare we ask what might happen, if only for a single day or week that people really believed that it was the will of God for the earth to look like heaven? What if we believed that when Jesus taught us to pray that our Father's kingdom come and for his will be done "on earth as it is in heaven," he actually meant what he said?
Bill Johnson's first book, When Heaven Invades Earth, was accurately described as a death blow to cessationism, the doctrine which states that certain gifts of the Holy Spirit and miracles died off with the death of the last apostle. His latest, The Power That Changes the World, packs an equally strong punch against doomsday eschatology and the gloomy attitudes that almost always accompany such beliefs. Instead of debating the many isms related to end-time events, Johnson explores the glorious truth that the Kingdom Jesus inaugurated has never stopped advancing, and wherever it is advancing in the earth creation is being restored, families are reconciled, diseases are healed, sins are forgiven, and demonic strongholds destroyed. When God shows up, order is brought out of chaos and the condition of the world does not worsen, it improves. Yes, there is no dearth of darkness, but darkness always yields to light, and Jesus was not sent to condemn the world but to redeem it.
Better still, we get to partake in this redemption and life in his Kingdom is one extraordinary adventure. Such is the joyful posture from which Johnson pens this 219-page exhortation to a Church in need of some hope. We have forgotten that we are invited to co-labor with God and that the answers to the problems of the world are found in the person of Jesus Christ. That Person indwells all who acknowledge him as Savior and Lord by the Holy Spirit. Therefore, the dreams that the Holy Spirit inspires in our hearts hold the keys to rebuilding ruined cities, bridging divides in communities, and displacing Satan's influence with what is true, good, and beautiful. Creativity in particular wages a ferocious war against the darkness. To wit, who but God could have conceived of four craftsmen terrifying the demonic powers that kept God's people so bound by fear that no one could lift their heads? Thanks to those artists, before you blink twice, an angel is measuring Jerusalem so it can be repaired (see Zech. 1:18-2:2)!
In light of God's unique battle strategies, we have absolutely no reason to fear and every reason to anticipate his goodness. Lest anyone think this is some naive, happy-clappy, head-in-the-clouds theology, Johnson does not deny the existence of evil, the reality of suffering, the effects of sin on societies, or the Day of Judgement. You will not, however, find him incessantly focusing on the Enemy's ability to steal, kill, and destroy, for paying attention to the devil only amplifies his power. Why do that when one can focus on God? Often as a result of the absence of an authentic righteous standard, unbelief sets in and blinds many people who "become convinced of the devastating power of evil over the surpassing richness of God's grace." This is wholly unnecessary.
Not one to put up with nonsense or mince words, Johnson humbly recognizes that were the spheres of influence turned over to much of the Christian church they would be ruined, and he does not shrink back from pointing out where missteps and overreactions have damaged the witness of the gospel. Nevertheless, even as he laments the distortions he beckons every man and woman who is hungry to see God move to seek Him for wisdom, to dream with Him, and to be willing to risk everything for Him. Undeterred by fear of disappointment, Johnson contends that "it is time to prepare a generation to go places we never had the time of faith to go," because the dreams God has placed in our hearts are worth pursuing and chasing a dream "forms strength in someone that cannot be built up any other way." Hear, hear!
As a graduate myself of three years of Bethel School of Supernatural Ministry, I got to sit under Bill Johnson's teaching and absorb his wisdom up close, and I can personally attest that this man not only believes what he writes, but that his life mirrors it in absolutely everything he says and does. Reading and reviewing this book was like listening to a familiar father-sage encourage his children's wildest ambitions and craziest dreams while simultaneously calling them to lay everything down and set their hearts on what will last for eternity. For anyone who has followed Johnson's ministry for any length of time, The Power that Changes the World will not disappoint. It is Bill being his inspiring, contagious, stouthearted self. I had to smile upon seeing the dedication on page 3. He wrote it to us, the students from all over the world who have graduated from the School of Ministry he leads.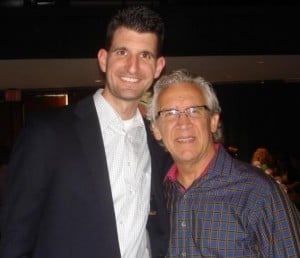 I can only imagine how the current class of students at Bethel will be activated and released into all kinds of ministry and creative pursuits this year and the impact they will have in the city of Redding, California and in the nations. They are saints among the multitudes who are willing to pay any price to live in purity and power, re-presenting Jesus wherever they go, and are followed by signs and wonders. Because Jesus is alive we refuse to give up in the face of adversity because although we may have trouble, he never gave us permission to wallow in despair for years on end. We are of good cheer because he has overcome the world. His joy is our strength and default position, and as our minds become increasingly renewed to His reality–where no division exists between the secular and sacred or the natural and the supernatural–we receive revelation of who we are as sons and daughters of God. It is from that place of favor that we have the honor of introducing the Desire of Nations to the nations, and we watch with wondrous awe as they come running to their King. Thank you, Papa Bill, for this fantastic book.
_________________________________
Photo Credit: Freeimages.com