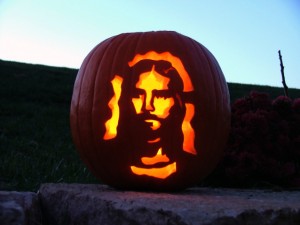 So I am among those who do NOT esteem Halloween and am thankful that my family did not celebrate it when I was growing up other than carving a pumpkin or two.
Lest you think I am a total fuddy-duddy, I do appreciate and am amused by the creativity of characters and costumes I have seen my friends sport over the years every October 31st, like when they dress up as Rubix Cubes, or as Mario and Luigi. Fun stuff. But I cannot abide witches or Freddy Krueger. Keep it funny and lighthearted, allright?
But then again, if it's lighthearted, it is probably not Halloween. This day has a nefariously dark side about which too many are ignorant.
Over to you, Gordon Dalbey.
Halloween was seen simply as an occasion for children to have fun dressing in costumes and hitting up neighbors for candy. More recently—with its office parties, racy outfits, and even parades—adults have taken over the occasion, co-opting its innocence and fostering a pagan revival in these times.

The word Halloween comes from an abbreviated "all Hallows Eve," the day before All Saints' Day, instituted when the early Church decided to commemorate past Christian heroes of the faith. Bowing to pagan sensibilities—even as Jeff to his spiritually blind congregation—the nascent ancient Church coordinated All Saints Day with November 1st, New Year's Day on the ancient Druid calendar in Western Europe.

On their October 31st New Year's Eve, Druids extolled the "Lord of the Dead," who was believed to summon on that night the spirits of all wicked persons who had died in the previous year and been condemned to live in animals—as the proverbial black cat. On this one night, it was believed, those departed spirits returned to their original territory expecting to be honored by the living with gift offerings. Otherwise, those evil spirits would spread curses, cast spells, cause damage, and torment the populace.

Hence, "trick or treat."

In a secularized culture like ours, this shameless concession to make Christianity more palatable to pagans has only accomplished the very opposite, making pagan spirituality more palatable to Christians. Saints, it would seem, are not as much fun to emulate as demons.

Entities in the spirit realm are not subject to human agency. They don't cease to function simply because our Western materialistic worldview can't accommodate them.

…

From drugstore racks to office parties, this annual invasion of sinister masks and images heralds a showcase for evil, as deliberately dark spirituality takes center stage among us.

The graphic contrasts frame the contest here between Halloween and Christmas, that is, between the gods of the world and the God revealed in Jesus: death, dark masks, and the effort to conceal vs. birth, bright lights, and the effort to reveal; "pranks" and bad deeds as powers of destruction are given rein vs. gifts and good deeds as the saving power of the Creator is extended.
Really great insights here. Read the whole thing.
______________________
Photo Credit: Freeimages.com