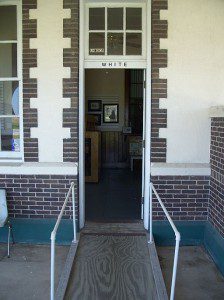 Yesterday, I attended a Sunday school class at a mainline white church that is taking up the topic of racism for its fall study. In our 45-minutes together, the eighteen of us went around the room and shared with each other our personal experience as white people of our interactions with African-Americans when we were growing up.
The class was made up of mainly retired folks, all but one or two of whom had grown up in the South during Jim Crow. As you might imagine, the experiences of most of the group growing up were experiences of the segregated South. Some told how parents had quietly but adamantly taught them that segregation was morally wrong, others painfully and shamefully shared about parents who had used the "N" word as they grew up. One man told the story of how he had used the "N" word as young child and had his mouth washed out with soap. As someone who had had my own mouth washed out with soap as a child, I knew the weight and impact of such a punishment. Many spoke about the freedom of going to college and moving into new social spaces that allowed for open and equal interaction with black people for the first time in their lives.
Like many people of a certain age and from a certain social class in the South (and around the country), many people also spoke affectionately about particular individual black women who were employed by their families in various roles as maids, nannies, laundresses, and cooks. Some of these women lived with the white families who employed them and some lived with their own families and children. One person noted the particular evil of white racism that allows some white people to care for individual African-Americans whom they know while holding "the race" in contempt.
As we think about white racism in this country, it is important to consider how growing up the Jim Crow South distorted the moral sensibilities of many white people. Brown v. Board of Education, the Civil Rights Act of 1964 and the Voting Rights Act of 1965 all played essential roles in bringing down the de jure segregation that shaped life in the South. But you cannot legislate attitudes, moral habits, or deep-seated prejudice.
Sometimes, telling our stories can be hard. Particularly stories of our childhood that might include elements of our lives over which we had no control. Or what about elements of our more distant past, like slave-holding or ancestors who fought for the Confederacy? Our complicated histories are even more troublesome, however, when we fail to pull them out into the light of day and discuss them.
I wrote a post recently titled "Does it matter if my ancestors owned slaves?" and an African-American friend simply replied "Yes" in the comment box. He was right, of course. I was certainly trying to communicate that our personal history matters as we try to understand ourselves in the present. I was also trying to make a bigger point as well.
Structural racism exists regardless of whether or not my ancestors owned slaves or fought for the Confederacy (or the Union for that matter). And as a white woman, I benefit from structural racism. One of the real difficulties we face, as a nation, is grappling with how racism works and how it manifests itself in the structures of our society.
Many Christians across the country and many Christian churches are starting to take up questions of race and racism again in the wake of the Charleston massacre and increased awareness of police brutality in the deaths of Michael Brown (Ferguson), Freddie Gray, Jr. (Baltimore), Eric Garner (New York), Sandra Bland (Waller County, Texas) and so many others in the past year.
Christians throughout history have partnered with others to participate in movements of social justice that challenge racism, including the abolition movement and the Civil Rights movement. The call to social justice is deep in the Christian tradition and many Christians have shaped their lives in response to that call.
Today, the pervasiveness of racism in our society is undeniable. There are so many stories.
Just today I read the unbelievable story of what happened to Marcia Bowden and her husband Ira Marche when they were stopped for speeding in Mississippi, just across the state line from their home in Memphis, TN. Bowden is a well-respected physician in her community and she and her husband were both arrested after a traffic stop for speeding "escalated" when neither Bowden nor Marche were able to find their driver's licenses.
I have been stopped for speeding, more than once. I have driven without my license, more than once. Both of these things are against the law. Yet, I have never feared that a traffic violation would "escalate," that I would be arrested for traffic violations, or that I might be in any danger when being stopped by the police.
That is white privilege. I didn't ask for it. I didn't do anything to receive it. But there it is.
White privilege and racism will not go away until we begin to address these problems head-on. That is what the group of eighteen white Christians I met with on Sunday are beginning to do. To tell their stories of being white. To think about how we have been taught to think about race and to examine our lives, our habits, and the structures of our society to see the ways in which race is embedded in them.
Sometimes, telling our stories is hard work. Examining our stories and being open to recognizing internalized bias can be even more difficult. But it is work that must be done if we are to participate in the broader social change necessary to dismantle white privilege and the structures of racism that are destabilizing our society.
I hope that there are many classes, book groups, and study sessions on racism and white privilege beginning in white churches across the country this fall. Even more importantly, I hope that Christians who participate in those studies will move out of their churches, classrooms, and living rooms and into their cities – into the streets where the protests are happening, into the city council meetings to demand changes in their communities, into discussion groups and community forums discussing the issue of racism and how it is disrupting the common good.
If there are no such forums, or dialogues, or initiatives in your city – start one.