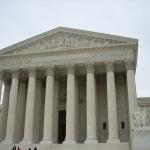 Today, we stand on the precipice of the fall of Roe. The nomination of Brett Kavanaugh to the Supreme Court of the United States is threatening for many reasons but I will focus here on his threat to women's reproductive health. Trump has been clear that one of his primary criteria for Supreme Court nominees is that they would vote to overturnRoe v. Wade. Kavanaugh appeared on lists prepared by the Federalist Society and the Heritage Foundation of judges who meet this criteria.
What will happen if Roe falls?
If Roe falls, regulation of abortion will revert to the states. This means that some women will continue to have access to abortion while many more will not.
Reversing Roe does nothing to address the causes of unintended pregnancies nor many of the other issues that contribute to women seeking to end their pregnancies including partner violence, inadequate housing and food insecurity, the lack of a living wage, and the difficulty many women and families face in caring for their existing children.
Criminalizing abortion seeks to punish women for their sexual activity, it will hinder many women's chances to pursue or complete their education, and it will throw many more women and children deeper into poverty.
Right now, four states – Louisiana, Mississippi, North Dakota, and South Dakota – have trigger laws in place that will prohibit most abortions if Roe is overturned. Nine more states have pre-Roe laws on the books that ban abortion but it is unclear what their status might be in a post-Roe legal context.[1]
While most of these laws target physicians or others providing abortion services, there is increasing noise in Republican circles that pregnant women who terminate their pregnancies should be punished. In fact, candidate Trump said as much to Chris Matthews in a heated interview exchange during the Presidential campaign, though Trump refused to specify what that punishment might be. More recently, Republican politician Bob Nonini from Idaho said that women who have abortions should face the death penalty.
The reality is that middle-class women will continue to have access to abortion services, even if they have to travel to other states to procure them. What is at stake with the fall of Roeis the health and well-being of the most marginalized women in our society and their families.
Who has abortions in the US?
Women's reproductive histories in this country demonstrate a pattern of the social control of women's bodily autonomy and a denial of women's moral agency and intelligence. In this context, the conversation about abortion has forced women to justify their desire to end a pregnancy and it has narrowed the list of acceptable reasons for abortion to what I call the PRIM reasons – prenatal health, rape, incest, and life of the mother.
Only 26.5% of abortions in this country fall into these PRIM categories. This means that three-quarters of abortions in this country are what legal scholar Kate Watson calls "ordinary abortions." It is these women who are routinely shamed and caricatured as selfish, irresponsible, immature, or sexually immoral in a context where women are required to justify their abortions.
Reframing the debate
It is time for women (and men) to reject the justification framework of abortion and demand justice. Reproductive Justice is a framework for thinking about abortion and reproduction created by women of color. It demands three things:
the right not to have a child
the right to have a child
the right to parent in safe and healthy environments
By pushing the conversation beyond the morality of abortion, Reproductive Justice recognizes that the moral questions that we face about our reproductive health and reproductive lives are far broader than a narrow focus on abortion.
So, what can you do?
First, call, email, or text your Senators today and ask them to vote "no" on the Kavanaugh nomination. But really, you should call – here's why.
Tell them that as a Christian you support Reproductive Justice and ask them why they aren't more focused on improving the quality of lives of the children in our communities who live in poverty?
Ask them why they aren't sponsoring legislation for comprehensive, medically accurate sex education in the public schools that would reduce the number of unintended pregnancies and the number of abortions nationwide?
Ask them when we will see the bill that supports free access to contraceptives, including long-acting reversible contraceptives, or LARCs, which have helped to drop the rate of unintended pregnancies and abortion across the country.
Add your name as a person of faith to a petition to reject Kavanaugh's nomination.
Reproductive Justice is Christian value
And continue to flip the script by refusing to argue about the morality of abortion but instead demanding the kinds of public policies that support women's reproductive health and freedom by enabling women to plan and space their pregnancies and their children in ways that support women and build healthy families.
Reproductive justice reflects Christian values that support families, support women, and especially support poor and vulnerable women struggling to survive and thrive fulfilling Jesus' call to live life and to live it abundantly!
[1]Alabama, Arizona, Arkansas, Michigan, Massachusetts, New Mexico, Oklahoma, West Virginia and Wisconsin