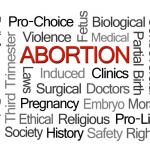 Today the organization Republican Majority for Choice closed its doors and turned out the lights. This organization produced and promoted public policies aimed at helping women and families. It was created in a time when many Republicans recognized abortion as a personal decision that shouldn't involve government interference. A time when many Republicans supported pro-choice positions and candidates.
I have known many pro-choice Republican women over the years. Their argument was deeply rooted in family planning and represented classically Republican arguments.
Fiscal conservatives should embrace family planning because it reduces poverty, increases educational attainment and work force competitiveness, improves health and provides people the opportunity to make educated moral choices.
End of bi-partisan family policies?
The tragedy is this closure may mark the end of viable bi-partisan support for essential public health measures supporting women and families. This is nowhere more evident than in the recent attempts to limit women's access to contraception.
One of the most important aspects of the Affordable Care Act (ACA) was its mandated coverage of contraceptives. With no out-of-pocket costs. The National Women's Law Center estimated that 62.4 million had coverage of birth control without out-of-pocket expenses. The ACA's contraceptive mandate has meant that more poor and low-income women not only have access to birth control – but they have access to more effective forms of contraception.
2.8 million US women have unplanned pregnancies every year. 50-60% of those women were using birth control the month they got pregnant. While contraception helps many women avoid pregnancy, many forms have high failure rates.
Only long-acting reversible contraceptives (LARCs) are highly effective at preventing pregnancy. And the ACA's contraceptive mandate have made LARCs more accessible to poor and low-income women.
Republican Attacks on Contraception
Republican attacks on Planned Parenthood are not limited to objections to abortion. Defunding Planned Parenthood is a direct attack against one of the most important avenues for women's reproductive healthcare in the country. After all, Planned Parenthood provides contraception to 80% of their patients.  78% of whom have incomes at or below 150% of the poverty level. Poor and low-income women's access to contraceptive, STD screenings and treatment, cancer screenings and other gynecological services will be severely damaged by eliminating Planned Parenthood.
Similarly, the Trump Administration's attempts to expand exclusions for contraceptive coverage that would "allow any organization or individual to deny employees and their families contraceptive coverage on the basis of a religious or moral objection" is a clear privileging of the religious beliefs of individuals over the healthcare needs of women and families across the country.
What does this mean?
The loss of a major Republican pro-choice voice is a crushing blow to Reproductive Justice for women across the country.
Most women in the country want to have children. But the ability to control their fertility is one of the factors that allows women a more equal opportunity to participate in society.
Parenting is not only hard work, it is expensive. Particularly in a country that continues to weaken its social support for poor and low-income families. Women's ability to control their child-bearing is essential for healthy and economically secure families. Women's ability to decide when and if they want to bear and raise children is essential for a free and democratic society.
We all know that abortion is and has been an important issue to pay attention to in our political candidates. Now, incredibly, it seems that voters need to pay attention to contraception access as well.
Without the support of the Republican Majority for Choice organization – this task has gotten more difficult.
Make sure you know where your candidates stand – not just on abortion but on free and comprehensive access to contraception for all women.
SaveSave