I usually only head out to my temple's members-only religious retreat in July and the local community retreat Panfest in August, but this year it'll be a busy summer of visiting around. Last weekend was the friendly local Saskatchewan festival, "Toon Town's Pagan Summer Festival" near Saskatoon.
When most people think of Saskatchewan they think boring flat land and farms. And that's partly true, just like Iowa (whose Lammasfest invited me to be a guest of honour this summer, near the end of this month, so I will get to check out the reality over the stereotype). But there is a kind of beauty in the huge sky and the gentle rolling landscape, and in particular the Saskatchewan River valley, that is uniquely Saskatchewan.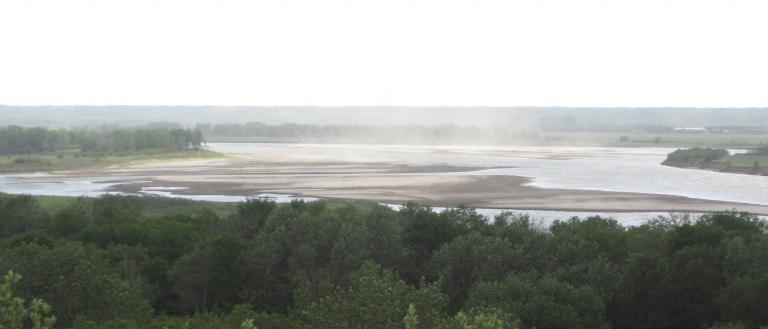 And the community of people that have been drawn together for this little festival over the past sixteen years that it's been running is lovely – kind, friendly, family-focused and generous. For many years it was the only thing happening in Saskatchewan and so everybody shows up from the Norse, Druids, Wiccans, and New Age folk. Almost all well-meaning European-origin people, in a province with a very high percentage of Indigenous people (something I find a little odd – Stony Creek Temple in Edmonton is about a quarter Indigenous people).
As a start to the reconciliation process in Canada, in the wake of the Truth and Reconciliation Commission that concluded a couple of years ago, public events are now regularly opened with a statement of the treaty obligations and mutual agreements between Canada and the Indigenous nations. We are reminding ourselves of these obligations and slowly addressing the systemic issues that our history of racism and colonialism have created.
These are issues in the Pagan communities as well as in the larger society. If you don't happen to think that taking sacred ceremonies from Indigenous people without permission and selling them to your own benefit is a bad thing, as many have done, then you are part of the colonialist problem. And if your community gathers to tune into the spirits of the land but only imports European ideas without finding and connecting with Indigenous ones, you are just another settler religion.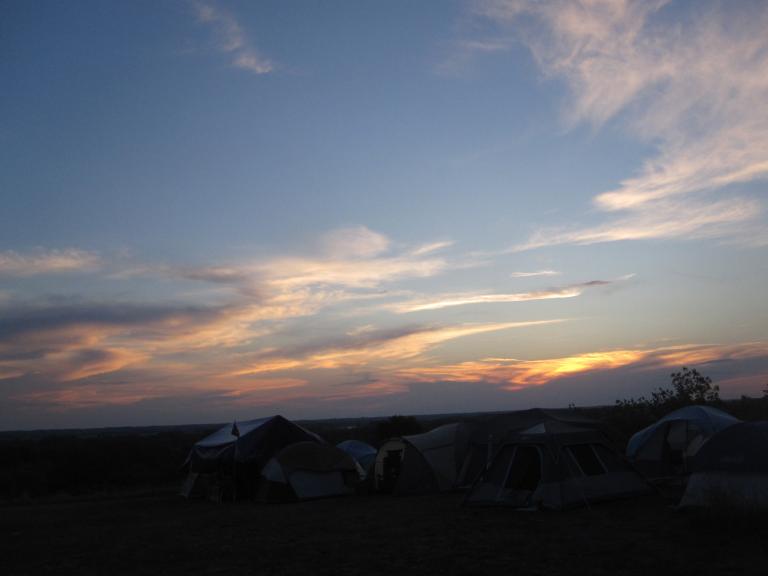 This year, as part of the opening circle at Toon Town, my friend Erin Wood, priestess with the Sage Wind Temple in Regina, had the following grounding statement: "Feel your connection with the ground. With Mother Earth. With this land. We pay our respect to the spirits of this place. The spirits of this land. We pay our respect to the Saskatchewan river, kisiskāciwani-sīpiy. As our ancestors come from many different places, and we gather together here from different parts of the country, we acknowledge that the reason we are able to gather together in this place, on this land, is the signing of Treaty 6. Treaty 6 Territory encompasses the traditional territories of numerous First Nations, including Cree, Dene, Nakota, Saulteaux, and Ojibwe, and the homeland of the Metis. We acknowledge that we are in a sacred relationship with this land and its first peoples through this treaty of peace and friendship. May we all walk softly together upon this land."
In my area we say something like; "We respectfully acknowledge that we are in Treaty 6 territory, in amiskwaciwâskahikan / Edmonton, a traditional gathering place for diverse Indigenous peoples including the Cree, Blackfoot, Metis, Nakota Sioux, Iroquois, Dene, Ojibway/ Saulteaux/Anishinaabe, Inuit, and many others whose histories, languages, and cultures continue to influence our vibrant community. May we all walk softly together upon this land and reaffirm our relationship with one another."
Even where there are no treaties or, more often, the treaties have been broken, we are walking on the graves of the ancestors of the displaced Indigenous peoples of a land. If we honour our Ancestors, as we should, we cannot do so properly without acknowledging the first peoples and their Ancestors. An honouring that is real includes a commitment to justice in the real world right now, reconciliation that is more than words.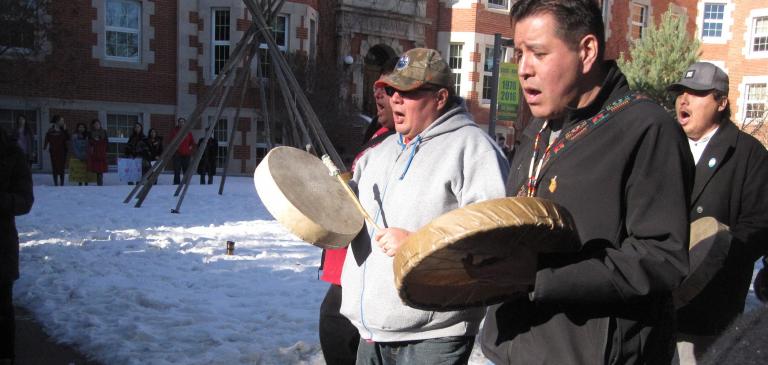 This week I am continuing to think about how an authentic and grounded religious community can be built. I will again quote my friend Dan Miller; "That is wise which helps the health and wholeness of the chain of the generations". How can we build lasting religious community, except by beginning with a solid foundation? We must begin by understanding ourselves in the chain of generations, in the present but growing from the past and extending to the future, not forever tied to this place and time. We must also begin with connection and relationship, with community and with justice.
Colonialism is that genocidal cultural and religious impulse that erases peoples and pretends that the values of the conqueror are the only true ones. That impulse which spread out in a unique way from Europe (previous Empires did not aim to destroy the uniqueness of the conquered peoples, to erase their languages and religions in the ways that the settler societies of the Americas, Australia and New Zealand did) was practiced on the internal colonies in Europe. The Scots, Welsh, Irish, Norse, the Pagan Baltic peoples and Poles were practice runs. The witch-hunts in Europe prepared the way for the genocides in Canada and the United States.
So, as we build Wiccan and other Pagan religious communities, drawing from what was saved from the fires in Europe, we have common cause and a common enemy with Indigenous peoples. And it begins with those words of acknowledgement in our community celebrations and continues with examination of cultural theft inside our communities.
Gathering with awareness of history deepens our experience. Broadening our community enriches us all. Searching for justice and kindness is an obligation I freely assume.
saweyimikowisiwin with this lovely life. Blessed Be.