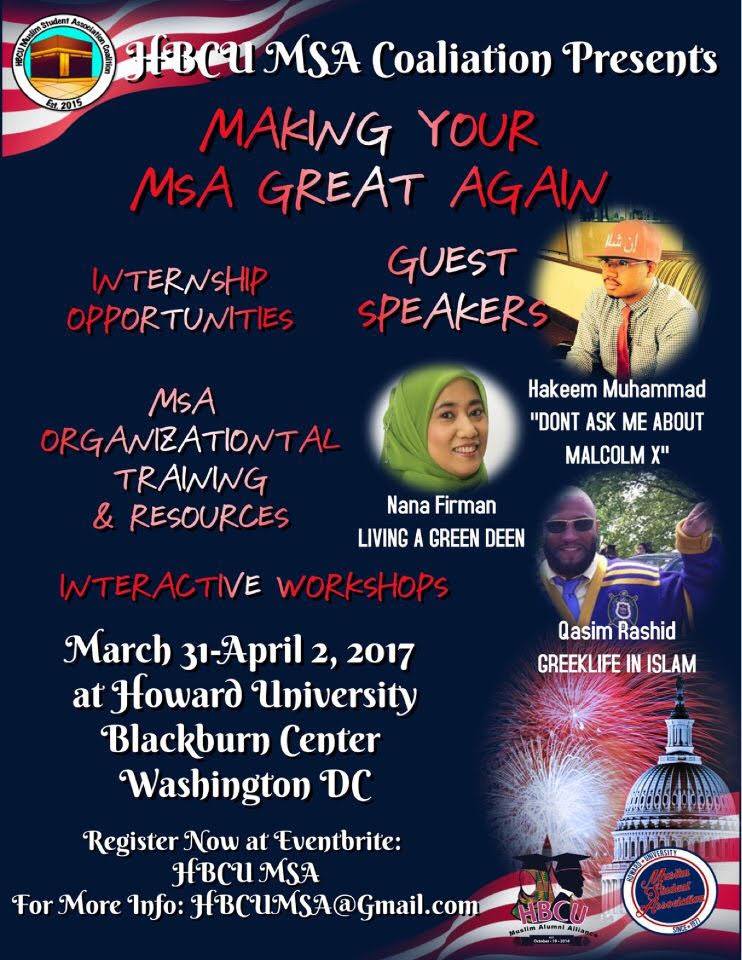 Thanks to Muslimarc and HowardMSA, I will be speaking on my article, "Do Not Speak to Me about Malcolm X" at Howard University.   The topics discussed will encompass:
How Muslims have systematically abandoned what Malcolm X stood for and the actions Black Muslims take to continue the Islamic agenda of Malcolm X.
Why Masjids in the black community must tackle gang-banging, drug trafficking, and other social ills in the black community and must have the vision to transform those communities into the greatest Muslim communities in the world. Desolate black communities must be transformed into modern day Timbuktus.
Why instead of following the contemporary and largely secular black lives matter movement, Black Muslims must once again organize with the agenda to make Islam at the center of the struggle of black people for freedom, justice, and equality as it was in the 60's. We will lay out the agenda to make this a reality.
The urgent need to mass-produce Islamic content and lectures targeting black brothers and sisters within inner-city disenfranchised ghettoes in the spirit of Malcolm X.
Why the Honorable Minister Farrakhan's theory of Islamic revival which centers oppressed inner-city black communities is absolutely needed to continue the work of Malcolm X.
(The views and opinions that will be articulated in this speech are my own and are not the official positions/nor representative of any organizations that I am affiliated with.)
I will also be announcing more details about impending projects in honor of two great heroes of mine: Imam Warrith Deen Muhammad and The Honorable Minister Louis Farrakhan.
The  "Black Souls Matter"  Dawah campaign  in honor of Imam Warrith Deen Muhammad predicated upon revitalizing  Islamic dawah within black communities.
The "A Million Qu'rans Project" in honor of the Honorable Minister Louis Farrakhan,  a decade long project  God-Willing first beginning with a crowdsourcing campaign produce audios of  Qu'ran available in African-American voices in the original Arabic and the English translations. The campaign will end with an agenda to have over a million black people though the United State's inner cities listen to audios of various Surahs/Ayats in the Qu 'ran in black voices.