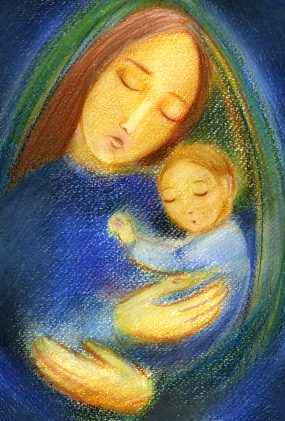 Now that the venerable holiday—Mother's Day—has passed, I would like to reflect upon what I will call the Holy Mother's Day. Typically, Mary, the mother of the Lord, is honored at Annunciation, which occurred this year on Monday,  April 8, 2013. There is a sense in which every day should be this holy mother's day, since she manifested the kind of radical obedience to God in honoring Christ that should be true of every Christian every day of the year.
Scripture records that when the angel Gabriel appeared to Mary and told her that she would be the mother of the Lord, Mary responded: "Behold, I am the servant of the Lord; let it be to me according to your word" (Luke 1:38, ESV). Every Christian—myself included—should respond in the same manner. Just imagine how unimaginable the call of the Lord was upon her life. No doubt, she was aware of the fact that her fiancé would be greatly troubled by the news that she was expecting a child and he wasn't the father! No doubt, she was aware of the fact that people would gossip about her state long after the baby was born. No doubt, she doubted that she was up to the task of being the mother of the Lord, even as she marveled at the thought (Luke 1:46-49). Who wouldn't doubt, given what she sensed? She is blessed among women, just as the fruit of her womb is blessed (Luke 1:42), and every generation will consider her blessed (Luke 1:48). How weighty and monumental!
Such blessings also bring with them burdens. As Simeon told her, a sword would pierce her heart (Luke 2:35), perhaps foreshadowing the sufferings she would endure in observing Jesus' passion and death. It is likely that her son's words and actions also pierced her heart, as he told her and his earthly father that he needed to be about his Father's business (Luke 2:49), even if it entailed difficulties for them, and that those who obeyed his teaching were his true mother and brothers (Luke 8:21; cf. Matthew 12:49). As with the encounter with Mary in John 2 at the wedding at Cana in Galilee, Jesus wanted to make sure that his mother realized that he was not there simply to do her bidding: "Woman, what does this have to do with me? My hour has not yet come" (John 2:4, ESV).
Many of Jesus' encounters with his mother sting and pierce the heart. It is hard to imagine one using these accounts as the bases for Mother's Day sermons. Perhaps the best model text for showing Jesus' care for his mother is the painful account of his crucifixion, where in the midst of his overwhelming affliction, the Lord commits Mary to his disciple John for him to take care of her from that point forward: "When Jesus saw his mother and the disciple whom he loved standing nearby, he said to his mother, 'Woman, behold, your son!' Then he said to the disciple, 'Behold, your mother!' And from that hour the disciple took her to his own home" (John 19:26-27, ESV). It is a very moving scene. Still, would many mothers want this text to be the basis for a sermon dedicated to them on Mother's Day? Neither this nor any of the other texts, including the account of Jesus' dedication soon after his birth, seems quite fitting to many. Too troubling, morbid, disturbing.
In a Christian culture that often venerates the family to a position of near worship, it is very difficult to take to heart Jesus' relationship with his mother. What Jesus and Mary make so clear to us in these accounts is that our ultimate focus must not be on our nuclear family, or some other love, but on God. As the close of Mary's Magnificat makes clear, Mary and her Son saw that his birth and life would bring about the climax of salvation history that would benefit Israel and peoples everywhere, especially the lowly (Luke 1:50-55).
So often, we Protestants throw out the baby with the bathwater when critically reflecting upon the Catholic Church's veneration of Mary. We would be wise to ponder that language such as "the mother of the Lord" and "bearer/mother of God" (theotokos) are Christologically accurate and astute categories: this language is intended to guard against such doctrinal heresies as Nestorianism (which teaches that there are two persons, one divine and one human, and that only the human side of Jesus is incarnate; in contrast to Nestorianism, the divine Word became human—John 1:14) and Adoptionism (which teaches that the divine Christ adopted the man Jesus for a time and then departed from him; in contrast to Adoptionism, the divine Word became human and is indissolubly joined with human flesh—John 1:14).
Going on, while folk Catholicism may be guilty of venerating Mary as a co-equal with Jesus to whom we turn in place of him, official Catholic teaching tends to moderate the mediation so that her co-mediatory role is very similar to how Christian saints serve as mediators in interceding for the church with Christ. From my own vantage point, Mary is not a co-mediator in any other manner than the rest of us are co-mediators, confessing our sins to one another and praying for one another so that we might be healed (James 5:16). Still, as the mother of the Lord of the entire church, Mary is the one who initiates this work of communal mediation in the church just as her radical obedience sets the precedent for what Christian obedience entails. In this sense, we cannot go far enough in honoring Mary as the first among equals in the church on Mother's Day and every day throughout the year.
This piece is cross-posted at The Institute for the Theology of Culture: New Wine, New Wineskins and The Christian Post.