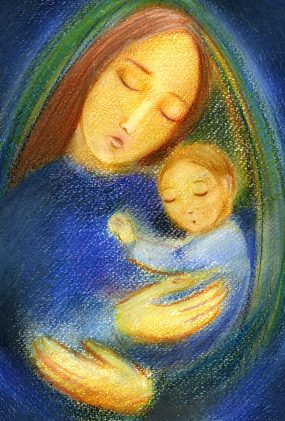 I wonder if Mary raised Jesus as a single parent during his teenage years. Perhaps Joseph died when Jesus was young. There is no mention of Joseph being with his family after the trip to Jerusalem for the Passover  when Jesus was twelve (Luke 2:41-52). Of course, the culture back then was different. Children grew up very early. Still, children are growing up very early today, though likely in different ways and for very different reasons. I can only imagine how hard it would have been then and how hard it is now for a single parent to raise children.
A few weeks back I took care of my kids when my wife was away in Japan for a family emergency. In the midst of the difficulties here and there, it was a joy to focus attention on my kids in different ways: I prepared their meals and took them to various after-school activities, among other things. Still, I wondered what it must be like for single parents who bear the sole responsibility of caring for their children 365 days a year. Although the kids and I enjoyed special times together, we were thrilled when Mom returned. We rejoiced in that the kids had survived my cooking, and my wife was glad to be back home with us!
Some spouses will not be coming home for Christmas this year. Whether they are away on business, separated or  divorced from their partners, or dead, there will be an empty seat at the table in many homes this Christmas. How trying and lonely that can be.
Churches can function uniquely as extended families for single parent homes and for orphans and widows/widowers this Christmas season and beyond. As important as nuclear families are, the ecclesial family can and should make up for the holes left by nuclear family loss and abandonment. Regardless of the reasons why some are single parents, we should think through how to prepare spaces for single moms, dads, their children, and others in similar situations no matter the reasons for their singleness.
Mary was wrongly accused of having Jesus out of wedlock. How shameful the accusations were. Still, the shame does not overshadow Mary's virtue and significance for the life of Jesus and the church. If it weren't for the mother of our Lord's faithful care for her son, perhaps none of us would be in God's family today. While the single parents in our midst will not give birth to our Lord, they may very well give birth to those who will bear faithful witness to him. And regardless of whether or not these parents and their children are productive citizens and saints, those of us who have experienced God's grace through Mary's Son will realize that God would have us care for those who resemble her humble state today.
This piece is cross-posted at The Christian Post.