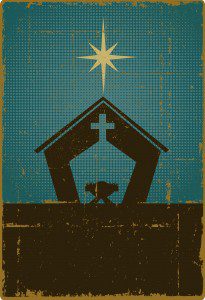 God puts a face to salvation. He names it Jesus. Jesus' story is not once upon a time; rather, at a particular place and time, God engaged real people through the reality of Mary's firstborn son. I love how Luke presents Jesus' advent or coming:
In those days a decree went out from Caesar Augustus that all the world should be registered. This was the first registration when Quirinius was governor of Syria. And all went to be registered, each to his own town. And Joseph also went up from Galilee, from the town of Nazareth, to Judea, to the city of David, which is called Bethlehem, because he was of the house and lineage of David, to be registered with Mary, his betrothed, who was with child. And while they were there, the time came for her to give birth. And she gave birth to her firstborn son and wrapped him in swaddling cloths and laid him in a manger, because there was no place for them in the inn (Luke 2:1-7; ESV).
Salvation is not about ideology or ethical abstractions. It is God putting flesh and bone and a name and a face to our need. While Caesar numbers his empire, the God who numbers every hair on each of our heads enters the world headfirst as a newborn babe.
Our God does not simply speak about outsiders; he engages them, like the shepherds to which his angels appear (Luke 2:8-21). He becomes an outsider, too, as there was no place for him in the inn. As important as it is to confront empires and the forceful "peace" they bring like the
Pax Romana
and
Pax Americana
, such speech must resonate with prophetic lives. We are called to embody justice by living out the peace of Christ among the nameless shepherds of our day. Christ's coming lovingly compels us to embody justice.
I am excited that The Justice Conference Portland will be hosted by New Wine @ Multnomah U. This event is a great opportunity to engage justice themes such as those I've raised here. I hope you'll join us on February 21+22 for The Justice Conference Portland.
This piece is cross-posted at The Christian Post.