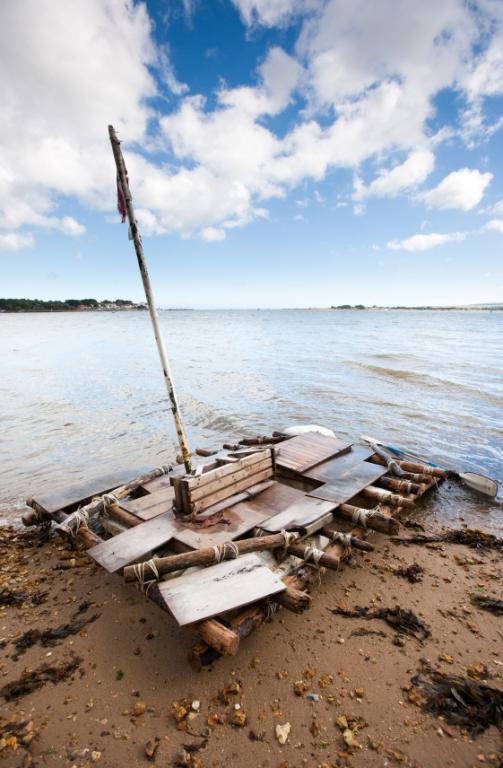 Last week, I wrote a blog post titled "Christian Survival Kits in a Post-Christendom Society, Part I." In that post discussing the loss of Christian cultural influence in American society, I asked the following question: "if the American church were stranded on a life raft out at sea, what would we see as the critical items that we would need to survive as the cultural currents change and as the winds and waves press against us?" Several suggestions were offered. One item missing from that initial list was a profound sense of God's providential care.
It has been my experience that when people fear the loss of control, harm or retaliation, they can readily become reactionary. It is very easy to become paranoid. Christians are not immune to such dynamics and reactionary impulses. The only way for Christians to counter paranoia is to develop a healthy sense of God's providential care in the face of loss of influence and an increase in suffering, especially persecution. Here we can learn a thing or two from the Apostle Paul.
Paul wrote the letter to the Philippian church from his first imprisonment in Rome. Paul could have easily developed a sense of paranoia as a result of his imprisonment for preaching the gospel. The likelihood of paranoia setting in was even more pronounced in that people associated with Christianity sought to make trouble for him while he was in prison through their own preaching of the gospel. Regardless, Paul was confident in the Lord that his suffering imprisonment was not an obstacle for God to work, but a strategic opportunity through which God would work mightily in and through Paul. As John M. Perkins would say, Paul was creative in his suffering. He was so creative that he even saw his supposed Christian antagonists as unwitting partners in promoting Christ through his sufferings. Here is what Paul tells the Philippian church concerning his imprisonment and the related suffering he experienced:
I want you to know, brothers, that what has happened to me has really served to advance the gospel, so that it has become known throughout the whole imperial guard and to all the rest that my imprisonment is for Christ. And most of the brothers, having become confident in the Lord by my imprisonment, are much more bold to speak the word without fear. Some indeed preach Christ from envy and rivalry, but others from good will. The latter do it out of love, knowing that I am put here for the defense of the gospel. The former proclaim Christ out of selfish ambition, not sincerely but thinking to afflict me in my imprisonment. What then? Only that in every way, whether in pretense or in truth, Christ is proclaimed, and in that I rejoice (Philippians 1:12-18; ESV).
As we find here, Paul is confident that what has transpired is advancing the gospel. What gives Paul the insight to discern that such is the case? I believe the answer is found in part in Philippians 4. There Paul encourages us to rejoice in the Lord always. He writes:
Rejoice in the Lord always; again I will say, rejoice. Let your reasonableness be known to everyone. The Lord is at hand; do not be anxious about anything, but in everything by prayer and supplication with thanksgiving let your requests be made known to God. And the peace of God, which surpasses all understanding, will guard your hearts and your minds in Christ Jesus (Philippians 4:4-7; ESV).
As we rejoice in the Lord, our gaze is directed from our circumstances to God's sovereign care for our lives. As Paul indicates, "The Lord is at hand." God has us and our circumstances in his hands.
While some might find Paul to be guilty of wishful thinking, they should think again. While Paul's life is not easy, he is making an impact even while in prison. With this point in mind, it is worth noting how Paul ends his letter to the Philippian church. Paul closes the letter with the following words:
Greet every saint in Christ Jesus. The brothers who are with me greet you. All the saints greet you, especially those of Caesar's household. The grace of the Lord Jesus Christ be with your spirit (Philippians 4:21-23).
One could easily miss the allusion to members of Caesar's household. Why does Paul allude to them? I believe Paul is indicating that during his Roman imprisonment members of Caesar's household have come to faith in Christ. I don't see this as a throwaway line, but as a very purposeful statement. Paul believes God is very strategic and purposeful in how the Lord orchestrates Paul's life. Nothing is lost on God; in fact, the lost are found! Paul means to encourage the Philippian church to look at their own obstacles as opportunities for God to work.
If Paul had seen his imprisonment as an obstacle, I doubt he would have continued to engage in faithful witness to Christ until after his release from his first Roman imprisonment. Praise God that Paul was intentional and discerning in the midst of his sufferings. In fact, Paul had contagious confidence that God's word is not chained, as he writes later from his second Roman imprisonment just prior to his death (2 Timothy 2:9).
Let's return to the life raft image. One must not give up on life on a life raft adrift at sea. It is critically important to boost morale that one holds firmly to the reality that God will not give up on us, but will bring us to shore. In fact, nothing is more energizing than the confidence that no matter how difficult one's struggle for survival is, God is at work. He will fulfill his purposes for each of us, just as Paul expressed confidence in God for the Philippian church's growth and maturity (See Philippians 1:6).
Next time you are on a life raft, what will you bring with you—paranoia, a sense of confidence in yourself, something else, something more? Consider bringing with you the life preserver of God's providential care. It may be the only thing that keeps you afloat.