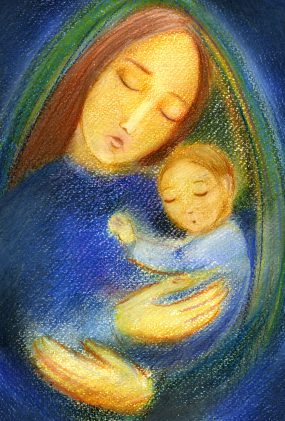 I don't envy mothers, but I sure do respect them. They carry their children for months as they cope with nausea and kicks and then give birth to them, often in great pain.
The pain does not end there for mothers, as they bear with the kicks and punches life brings their way through their children's decisions, sorrows, and losses. Of course, there are also the joys of holding their children close and watching them succeed in small and great ways as they grow up and develop. As with most other relationships but in an exceptional way, child-rearing is a mixture of joys and sorrows.
I can only imagine what it must have been like for Mary in raising Jesus. Sure, there were differences between Mary's situation and those of all other mothers. On a traditional reading of Scripture, Mary conceived differently than the rest of women: Jesus was born of a virgin. Moreover, she was the bearer of God who came to save the world from sin. I don't know of any other mother who fits that bill. As a result, Mary is blessed among women, just as the son whom she bore is blessed (Luke 1:42); every generation will call her blessed (Luke 1:48). But the incredible blessing comes with a huge burden. As Simeon prophesied at Jesus' dedication, a sword would pierce her heart (Luke 2:35). Throughout Jesus' life, Mary experienced the pricking of a sword in her heart. As her son gradually grew up and eventually went about his mission, she felt the pain of his growing independence. As much as Jesus loved her, his love for his heavenly father was supreme. I can only imagine what it must have been like for Mary when the soldiers cast lots for the seamless tunic (chiton) that she likely had made and had given to Jesus as her parting gift for him when he transitioned from childhood and attained manhood. Surely, a sword pierced her own heart at her son's crucifixion (John 19:23-27).
Mothers can no doubt relate to Mary's pain to varying degrees. And yet, Mary gave her son up to God rather than hold him back. I am thankful for my own mother who did not hold me back, but gave me up to the Lord. And while my wife's mother in Japan does not know the Lord, she has blessed her daughter and me by not holding her back from our faith journey together. I am grateful for my wife's mother, too.
The preceding discussion reminds me of Jim Elliot's correspondence with his mother and father prior to his departure to Ecuador as a missionary. They were saddened by the news of his eventual departure. In response to their sorrow, he encouraged his parents to consider Psalm 127's discussion of children as a heritage from God and that the person whose quiver is full of children should be glad. A parent whose quiver is full of children will not be dismayed when contending with one's enemies in the gate. Elliot encouraged his parents metaphorically speaking to draw back their bowstring with the mighty arm of prayer and let loose the arrows (that is, their children) against Satan and his host. [See Elisabeth Elliot, Shadow of the Almighty: the Life and Testament of Jim Elliot (New York: HarperCollins, reissue edition, 2009), p. 132.]
Elliot and some of his fellow missionaries were killed by the Huaorani or Auca Indians in Ecuador. Elliot's and his comrades' determination, as well as the commitment of some of their family members to return and minister there, not only led to the conversion of many of the Huaorani to Christ but also of a mass movement in their generation of people committing themselves to global missions.
Elliot's correspondence with his parents as well as what transpired in Ecuador bear witness to the Lord's relationship with his mother and reminds me of a blog post I wrote last year in response to Mother's Day and Mother Mary:
In a Christian culture that often venerates the family to a position of near worship, it is very difficult to take to heart Jesus' relationship with his mother. What Jesus and Mary make so clear to us in these accounts is that our ultimate focus must not be on our nuclear family, or some other love, but on God. As the close of Mary's Magnificat makes clear, Mary and her Son saw that his birth and life would bring about the climax of salvation history that would benefit Israel and peoples everywhere, especially the lowly (Luke 1:50-55).
While our focus should not ultimately be on the nuclear family or even our mothers on Mother's Day, nonetheless, I am mindful and grateful for my own mother today, who has always encouraged me to follow God's lead and bear witness to Mary's Son, no matter where that might take me. May we who are the church honor mothers of nuclear families and communities of faith today by letting loose the bowstring of prayer and fraternal faith rather than nuclear warheads of hate. May we also offer up our lives as spiritual arrows in view of Jesus as the hope of salvation who will set the world ablaze with God's fiery love.