Happy Fifth Anniversary, Patheos!
I have decided to honor your fifth year anniversary by highlighting five key themes that I address at my blog, "Uncommon God, Common Good".
1. Trinitarian Thought: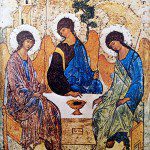 The title of my blog "Uncommon God, Common Good" and the picture that accompanies it (based upon Andrei Rublev's icon of the Holy Trinity) seeks to capture my conviction that the Trinity is not the greatest problem or puzzle to solve, but that the Trinity is the very means to address all of theology's and life's problems holistically (Robert W. Jenson and my doctoral supervisor Colin E. Gunton made similar points; I am indebted to their work in Trinitarian theology). Recently, I wrote a post that addresses the significance of Jesus and Trinitarian thought for how we engage the "other." The piece is titled "Jesus' Open Posture and 'The Open Table.'" Here are two quotes from the post: "One of the many qualities that people admire about Jesus was his open posture toward people who were often excluded from the table;" "The triune God is not a glory-grabbing deity who excludes us from his circle. Rather, the Father and Son in the Spirit welcome all of us to the table by faith to share in the glory of God's love, as reflected in Rublev's icon of the Holy Trinity…."
2. Christian Community: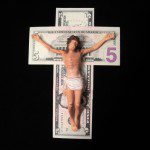 I have written at length on the church as the Triune God's kingdom community. Certainly, the church is a hospital for sinners, but it is also a haven for saints. Bruised and broken though beautiful, the church is called to be consumed by the divine mystery of union with God through Christ and the Spirit, not consumed by consumerism and other disturbing forces in the world. Only as the church participates and bears witness to the reality of the uncommon God revealed in Jesus Christ can it concern itself with the common good and care for the "other." The post titled "What Is the Church—A Faith-Based Emporium or Christ's Kingdom Community?" draws from such luminaries as The Simpsons, C. S. Lewis, Martin Luther King, Jr., and Stanley Hauerwas to draw attention to the fact that "Christ's church's identity and calling serves as a prophetic challenge to demonic divisions and is a catalyst for bringing people together as beloved community."
3. Church and State: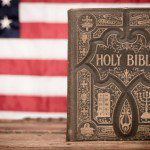 Often I hear talk of how the church in North America is a persecuted community. While I would not deny that we sometimes face persecution, I fear that what we often are speaking about is the loss of privilege. Contrary to those who would argue that we need to take back America from the church's enemies, I would argue that we need to lay down our lives for others, including our enemies. Karl Barth wrote that a church that demands rights from the state is spiritually unfree. Paul was truly free when he was an ambassador in chains. In the post "I Can't Wait for Christian America to Die," I argue that an unholy allegiance with America that promotes privileged status for the church fights against the power of the gospel, which is found in our identification with the crucified and risen Jesus. Besides, Christian America was/is not Christian enough, free enough, or gospel-centric enough. In the blog post, I write: "…the gospel can never be enslaved. Don't get trapped into thinking that Christian America will help us Christians bear witness to the good news of Jesus. What Barth called 'the emancipation of the world from the church' will lead to the emancipation of the true gospel to be emancipated from slavery to American culture and be proclaimed to one's fellow Americans free of charge."
4. Multi-Faith:

The incarnation of Jesus Christ requires that I move beyond ideology to interpersonal connections with diverse others. Here I call to mind Atticus Finch's statement in To Kill a Mockingbird: "If you can learn a simple trick, . . . you'll get along a lot better with all kinds of folks. You never really understand a person until you consider things from his point of view . . . until you climb into his skin and walk around in it." My Pagan friend, Jason Pitzl-Waters, shared with my world religions class that the Apostle Paul approached ancient forms of Paganism with understanding, not ignorance. Contemporary Christians need to approach contemporary Paganism in like manner. In my post "Idol Makers," I claim, "We Christians need to be on guard in our understanding of such movements as contemporary Paganism. We tend to lump all of modern Paganism into one general and distorted category. We often fail to account for the vast complexity within the movement and articulate Paganism accurately. For all our concern about pagan idolatry, we may be guilty at times of making their idols for them. We need to develop the practice of respect for understanding their practices, rituals, and beliefs."
5. Justice: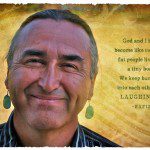 Just as in the case of approaching other religions, we do an injustice to people of different ethnicities when we paint them with broad brush strokes. My personal encounters with such profound Christian leaders like John M. Perkins and the late Richard Twiss have shaped my heart, thinking and practices concerning justice. Richard Twiss passed away as a result of complications from a heart attack a year ago. May the injustices committed against indigenous peoples that broke Richard's heart and his Creator's heart break my heart. May we come to see how much we need indigenous voices to move beyond the curse of Babel to the praise of Pentecost. Just after Richard's heart attack, I wrote the following post: "The Heartbeat of Richard Twiss." There I stated, "As a result of" Richard's "own love of God's distinctive handiwork in native cultures, I have come to love Jesus' ways more. Richard has helped to teach me that Jesus is by no means homogeneous or generic. He speaks life into every culture through the Spirit—reversing the curse at Babel by bearing witness through diverse tongues at Pentecost. May God grant Richard life and may our own lives beat for life for Native peoples. Perhaps you will find what I have found—that one's heart comes alive, as God destroys our idolatrous towers of cultural imperialism reaching to the heavens and builds his kingdom on the cornerstone, Jesus, with the bricks and mortar and living stones of many tribes and tongues."
Patheos, I wish to thank you and all those who read and respond to my posts at "Uncommon God, Common Good." May all of us continue to foster dialogue that is open to all.