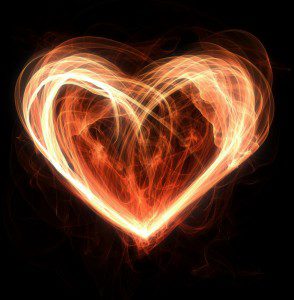 Author's note: The movie "Fifty Shades of Grey" has been strongly critiqued for its portrayal of an emotionally and physically abusive relationship. This should be duly noted. See for example the review in Relevant Magazine. In no way do I wish to endorse such abuse, but am referencing the movie as an illustration of our culture's obsession with various novel notions of love and romance.
Movie theaters and retailers of various kinds are cashing in on people's fascination with the film Fifty Shades of Grey, as "The Fifty Shades of Grey Stimulus" highlights. According to Variety, the film is set for weekend domination with projected record-breaking numbers. Why all the fascination with the film given that film critics have often been quite scathing in their reviews? (See the following reviews at Forbes, The Guardian, The Atlantic, and CNN)
Perhaps Eloise Mumford, who plays Kate in the film (Anastasia Steele's best friend and roommate), puts her finger on the fascination: "It's a reality of our culture that people experience love and relationships in tons of different ways. I think it's important to get people thinking about something they otherwise wouldn't have been thinking about." (You can find her full interview with TIME here at this link) No doubt, people are often looking to explore love in new ways, perhaps even distorted and disturbing ways. The movie certainly gets people thinking in one way or another good or bad, whether or not they were reflecting upon erotic sex previously along such lines.
Hollywood tells a variety of tales, showing just how much love and romance mean a variety of things to a vast host of people. People are often looking to explore new angles on love and romance. But how often have we even explored old lines, especially those which are healthy and affirming of men and women? Take for example the biblical engagement of romance and sexuality in the Song of Solomon (See this interesting article contrasting it with erotica). There the lovers love one another; their fascination is not with pleasure as such, but with each other. Here I call to mind a quotation from C. S. Lewis, who wrote about various shades of love, from Affection to Friendship to Eros to Charity in The Four Loves:
Now Eros makes a man really want, not a woman, but one particular woman. In some mysterious but quite indisputable fashion the lover desires the Beloved herself, not the pleasure she can give. No lover in the world ever sought the embraces of the woman he loved as the result of a calculation, however unconscious, that they would be more pleasurable than those of any other woman.
Consider as well the emphasis on sacrificial, unconditional love in Ephesians 5. Husbands are to love their wives in this manner, which is how Christ loves the church. Regarding such sacrificial love, Lewis claims:
Christian writers (notably Milton) have sometimes spoken of the husband's headship with a complacency to make the blood run cold. We must go back to our Bibles. The husband is the head of the wife just in so far as he is to her what Christ is to the Church. He is to love her as Christ loved the Church—read on—and give his life for her (Eph. V, 25). This headship, then, is most fully embodied not in the husband we should all wish to be but in him whose marriage is most like a crucifixion; whose wife receives most and gives least, is most unworthy of him, is—in her own mere nature—least lovable. For the Church has no beauty but what the Bridegroom gives her; he does not find, but makes her, lovely.[1]
While Lewis does not advocate that husbands and wives' relationships should be miserable and lack mutuality and profound romance, he does wish to highlight the profoundly sacrificial character of Christ's marital union with his church. Self-sacrifice should mark a husband's love for his wife, not his sacrifice of her for his pleasure.
There is no "blood run cold" in the biblical presentation of love in its various authentic forms, contrary to what the uninformed might imagine. From accounts of romantic love in the Song of Solomon and treatments of unconditional and sacrificial love in Hosea and Ephesians to features of deep and abiding friendship between individuals like Jonathan and David and Jesus and his closest disciples, there is no absence of healthy vitality in the variety. The Bible presents various shades of rich and robust love. Hopefully, all the fascination with the film "Fifty Shades of Grey" this Valentine weekend will cause Christians to become more fascinated with true love as disclosed in their Scriptures, which though ancient, never get old or affirm abuse.[2]
_______________
[1]See C. S. Lewis, The Four Loves: An Exploration of the Nature of Love (San Diego, CA: A Harvest Book/Harcourt, Inc., 1971). The quotations can be found on pages 94 and 105 respectively.
[2]The reader can find my account of casual sex and a biblical account of sex in the essay "Fire," which can be found online here at this link. The full reference is Paul Louis Metzger, "Fire," in New Wine Tastings: Theological Essays of Cultural Engagement (Eugene: Cascade Books, 2011), pp. 52-57.