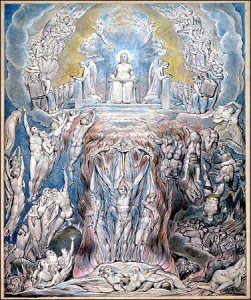 This is not an NRA ad advocating for more ammunition, or a stock broker commercial telling you how to invest your money. It is rather a reflection following a funeral service. What a bummer in the new year!
Actually, a funeral can be a rather life-affirming rather than morbid thing to consider. Funerals, like weddings, offer us opportunities to reinvest in life and relationships with renewed vigor and purpose.
Such was the case with my friend Clark Blakeman's funeral service yesterday, which was capped off by words from his bride Cathy of 31 years. Cathy was also Clark's best friend. The picture on the large screen referenced 2 Timothy 4:7: "I have fought the good fight, I have finished the race, I have kept the faith" (ESV).
The next verse reads: "Henceforth there is laid up for me the crown of righteousness, which the Lord, the righteous judge, will award to me on that day, and not only to me but also to all who have loved his appearing" (2 Timothy 4:8).
At 54, Clark finished well, as he longed passionately for the Lord's appearing. Indeed, as Pastor Rick McKinley said at the funeral, the Lord Jesus animated Clark's body, even though it was severely weakened by cancer. Now I believe Clark receives from the Lord Jesus these words in appearing before him: "Well done, good and faithful servant. You have been faithful over a little; I will set you over much. Enter into the joy of your master" (Matthew 25:21).

Sobering and joyful words in the new year, just as they should be. In the midst of the sorrow, the tribute to Clark–and ultimately to his Lord before whom we must all give an account–was a great way to kick off 2017. After all, none of us really know how long we've got. Each of us gets one shot at life, so invest well.

As I wrote in my tribute to Clark a few weeks back, he invested well in relationships here and abroad (Refer here). The hundreds of people gathered together on an unusually bitter cold Portland afternoon in January testified to the warmth of Clark's faith, hope, and love.
This morning, while still very cold, even now I feel the warmth of that faith, hope and love that was so palpable yesterday. As a result, I have been reflecting on the following words of Scripture:
And just as it is appointed for man to die once, and after that comes judgment, so Christ, having been offered once to bear the sins of many, will appear a second time, not to deal with sin but to save those who are eagerly waiting for him (Hebrews 9:27-28).
Do you and I eagerly await the Lord Jesus' coming this morning? Do we eagerly care for others? The words of Jesus to his good and faithful servants in Matthew 25 are for those who cared for him in caring for the hungry, thirsty, strange, naked, sick, and imprisoned. (Matthew 25:35-36). The righteous servants are surprised when the Lord Jesus tells them they cared for him, as the following verses reveal (Matthew 25:37-39). Like Clark, they are not self-conscious, self-focused or aware of all the good they have done; that is for others, especially the Lord Jesus, to affirm: "And the King will answer them, 'Truly, I say to you, as you did it to one of the least of these my brothers, you did it to me'" (Matthew 25:40).
How will we take our one shot at life? How will we invest in this new year? How we answer questions like these will make a great deal of difference one way or another for others and ourselves. So, take careful aim and invest well.