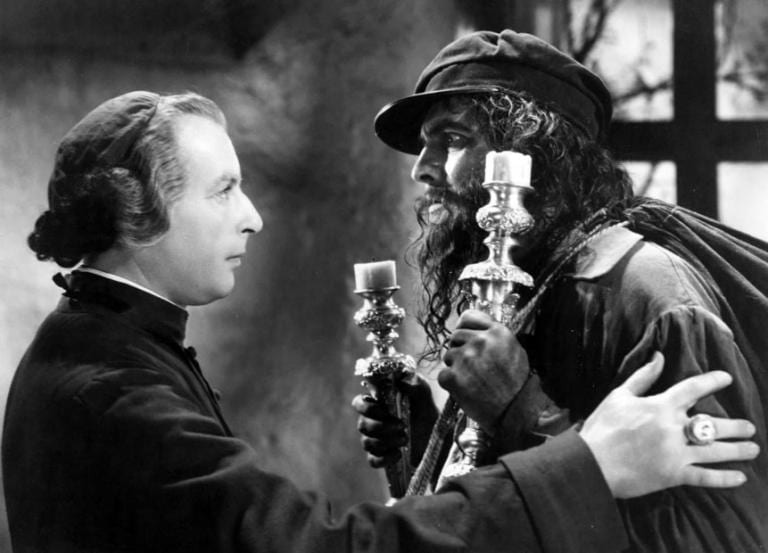 One of my favorite lines in Les Misérables—in fact, in all of literature—is when the police return Jean Valjean to the Catholic Bishop from whose household Valjean had stolen precious silver items. Valjean had even struck the Bishop before fleeing. And what had the Bishop done to deserve such thanks? He had only provided a warm meal and shelter to the former convict, Valjean. So, now that the police had seized him and brought him back to the Bishop's home, the Bishop had the opportunity to restore the silver to his house and send Valjean back to prison. But instead of taking back the silver and putting away Valjean, the Bishop handed over to him the silver candlesticks! Here's the account of the Bishop's act of mercy followed by Valjean's reaction:
"Ah! here you are!" he exclaimed, looking at Jean Valjean. "I am glad to see you. Well, but how is this? I gave you the candlesticks too, which are of silver like the rest, and for which you can certainly get two hundred francs. Why did you not carry them away with your forks and spoons?"

Jean Valjean opened his eyes wide, and stared at the venerable Bishop with an expression which no human tongue can render any account of….

Jean Valjean was trembling in every limb. He took the two candlesticks mechanically, and with a bewildered air.
After the police departed, the Bishop said to Valjean, "Jean Valjean, my brother, you no longer belong to evil, but to good. It is your soul that I buy from you; I withdraw it from black thoughts and the spirit of perdition, and I give it to God." (Refer here to a video clip of this scene).
This account in Les Misérables is central not only to all that follows, but also it resonates with a central theme of Christian Scripture. God's unconditional love and mercy free people to be merciful toward others. If you are familiar with Les Misérables, you know that Jean Valjean departed that day a changed man. The rest of his life was dedicated to being merciful toward others.
We can discern how well we grasp God's mercy based on how merciful we are toward others. Hopefully, we find inspiration from Valjean's example rather than from the unmerciful servant described in Matthew 18:21-35. In "The Parable of the Unmerciful Servant," we find the account of a servant whose master has forgiven him a huge debt. But he did not forgive in turn a fellow servant who owed him a much smaller amount. How often do we operate in the same way toward our friends and family members, and even our enemies?
Les Misérables
reveals that Jean Valjean really did come to  understand God's mercy, as he did not harm the police officer Javert (who stalked him mercilessly for years fixated on petty matters) when given the chance. As powerful as this story is, it is even more powerful when we demonstrate God's mercy in our own contexts. Do we forgive people from the heart? This is not to say one should simply throw away all discernment and enter into abusive relationships with one's enemies. But we should forgive people from the heart no matter what transpires. After all, in addition to discerning that those who are forgiven much love much, those who understand God's mercy operate mercifully toward others.
How merciful we are toward others serves as a barometer of how well we have understand God's mercy. In addition, how much we forgive them from the heart is a barometer of how much we experience God's mercy and peace. Matthew 5:7 reads, "Blessed are the merciful, for they shall receive mercy" (ESV). In contrast, in "The Parable of the Unforgiving Servant," the guilty servant does not experience mercy because he acted mercilessly toward his fellow servant. Here is how the parable concludes:
He refused and went and put him in prison until he should pay the debt. When his fellow servants saw what had taken place, they were greatly distressed, and they went and reported to their master all that had taken place. Then his master summoned him and said to him, "You wicked servant! I forgave you all that debt because you pleaded with me. And should not you have had mercy on your fellow servant, as I had mercy on you?" And in anger his master delivered him to the jailers, until he should pay all his debt. So also my heavenly Father will do to every one of you, if you do not forgive your brother from your heart (Matthew 18:30-35; ESV).
The Lord Jesus shared this parable in response to Peter asking him how often should he forgive someone—7 times? Jesus responded "Seventy-seven times" (Matthew 18:21-22; ESV). Jesus modeled such mercy in his own life, as he cried out to God from the cross to forgive even his tormentors (Luke 23:34). Perhaps we don't comprehend and experience mercy often in our lives because we are not merciful toward others. How do our affairs involving justice and mercy conclude? Mercifully or mercilessly? What is at stake is how much mercy we experience every day and at the end of our days.