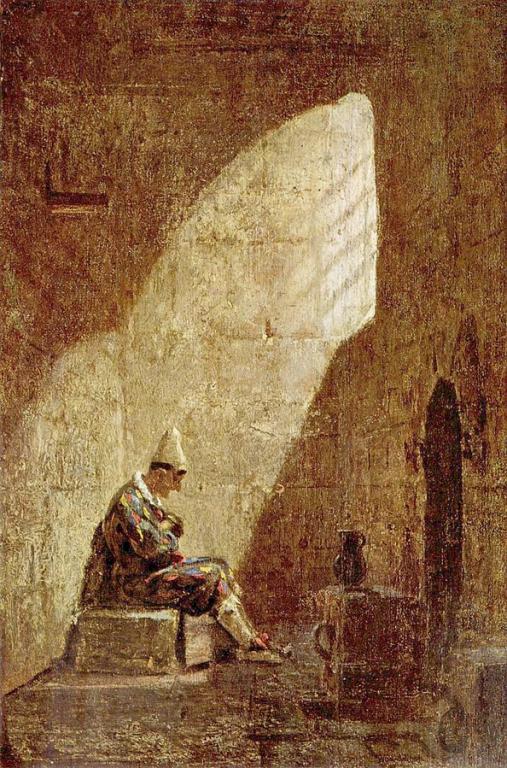 It is easy to become indifferent to others' sorrows and sufferings when we live in relative comfort surrounded by modern-day conveniences. It is also easy to discount and become indifferent to our own sorrows when a prosperity gospel culture of celebration and happiness surround us. On Ash Wednesday and throughout Lent, we should lament the loss of lament in the American church today. Soong-Chan Rah writes,
The American church avoids lament. The power of lament is minimized and the underlying narrative of suffering that requires lament is lost. But absence doesn't make the heart grow fonder. Absence makes the heart forget. The absence of lament in the liturgy of the American church results in the loss of memory. We forget the necessity of lamenting over suffering and pain. We forget the reality of suffering and pain.[1]
Fortunately, or better providentially, the Jewish and Christian liturgical seasons include holy days and seasonal markers to help us account for sorrow and suffering rather than discount them. The Jewish holiday of Purim occurs in February or March every year and involves what Rabbi Jonathan Sacks calls "therapeutic joy" at God's deliverance of the Jewish people from ethnic cleansing while enduring foreign rule in exile as presented in the Book of Esther. The Fast of Esther occurs the day before Purim and has a decidedly different tone, as Jews remember Queen Esther's great courage in risking her life to go before the Persian emperor without permission in order to intercede on behalf of her own people. Esther called on her fellow Jews to fast in solidarity before she approached the throne room. In addition to Purim and the Fast of Esther, the Jewish Scriptures include a book called Lamentations, which tradition tells us was written by the weeping prophet, Jeremiah. Jeremiah wept over Jerusalem's destruction and his people's exile due to sin and rebellion. Lament also makes up forty percent of the psalms. And yet, unfortunately, as Rah and others note, the theme of lament and psalms of lament are often missing in the church's worship today.[2] What we often find is an imbalanced theology of celebration and with it triumphalism that serves what Walter Brueggemann calls the "haves" rather than a theology marked by suffering which features the "have-nots."[3]
In addition to Purim, Lamentations and the Psalms, the Christian calendar accounts for lament during the season of Lent, which begins this week. Lent is a season where many Christians choose to give up certain comforts to identify with Christ's sufferings. Lent entails fasting and prayer. Ash Wednesday marks the first day of the season of Lent. It officially takes place 46 days before Easter. According to one Methodist site,
Ash Wednesday emphasizes two themes: our sinfulness before God and our human mortality. The service focuses on both themes, helping us to realize that both have been triumphed through the death and resurrection of Jesus Christ.

During some Ash Wednesday services, the minister will lightly rub the sign of the cross with ashes onto the foreheads of worshipers. The use of ashes as a sign of mortality and repentance has a long history in Jewish and Christian worship. Historically, ashes signified purification and sorrow for sins.
Further to what was stated above, Lent is a time when many Christians give up consumer comforts like chocolate, ice cream, or coffee. Lent is not a time to give up sorrow, but to embrace it as well as Christ's sufferings and those of his people. What happens, though, to our identification with Christ and his people in their sufferings if we only make room in our corporate worship each Sunday for celebration and triumph? Perhaps indifference toward those who suffer grows and overtakes us.
In a letter "…For Lent 2015," Pope Francis encouraged Christians to go beyond renouncing comforts to fast from indifference toward others. The Pope spoke of indifference as a global problem:
As long as I am relatively healthy and comfortable, I don't think about those less well off. Today, this selfish attitude of indifference has taken on global proportions, to the extent that we can speak of a globalization of indifference. It is a problem which we, as Christians, need to confront.
The Pope encouraged the faithful to care for the global church as it endures suffering and persecution. The Pope quoted 1 Corinthians 12:26. Here Paul writes, "If one member suffers, all suffer together; if one member is honored, all rejoice together" (ESV). In addition to identifying with the sufferings of fellow Christians, we should sensitize ourselves to the sufferings of those from other faith traditions, including Jews and Muslims. Honoring the Fast of Esther and Purim helps us to connect to Jewish people as they remain vigilant in the face of threats to destroy them and celebrate God's deliverance with "therapeutic joy." Respecting Muslims' practice of Ramadan, which takes place around this time of year, and which involves soul-searching, prayer, and fasting, is also important to confront globalized indifference.[4]
Moreover, we need to guard against indifference to our own sorrow and suffering. How can we account for others' suffering if we won't even make space for lament in our lives? With this question in mind, it is important to mention that my beloved mother Audrey passed away Sunday, just before Ash Wednesday and the beginning of Lent. The loss of my mom will be with me throughout the rest of my life. I do not intend to get over it, as we are often encouraged to do with suffering. While I cherish the relational gain of my cherished parents' William and Audrey's enduring impact on my life, I also cherish the fact that I miss them greatly. Where there is no great loss, there is no great love.
My parents expressed deep empathy for others in their loss in view of the Heavenly Father's deep and abiding love that would lead him to give up his Son—such "searing loss"—to take away our sin, to pay our ransom, and bring us home. It was fitting that Francis Ortega's rendition of "How Deep the Father's Love for Us" played in the background when my mother passed away in the presence of family to go to her eternal rest with Jesus.
On Ash Wednesday, during Lent and throughout the church calendar year, I pray that God would sensitize my heart to Christ's sufferings, the sufferings of the global church, and people of all walks of life as they struggle and endure hardship. May we who are followers of Jesus not give into the "globalization of indifference." Let us not ignore or speed through Lent. May we participate in Jesus' suffering and never inoculate ourselves from others' grief or suppress our own.
_______________
[1]Soong-Chan Rah, Prophetic Lament: A Call for Justice in Troubled Times, Resonate Series (Downers Grove: InterVarsity Press, 2015), page 13.
[2]In Prophetic Lament (page 13), Rah points to the following works: Denise Hopkins, Journey Through the Psalms (St. Louis: Chalice Press, 2002), pp. 5-6; Lester Meyer, "A Lack of Laments in the Church's Use of the Psalter." Lutheran Quarterly (Spring, 1993): 67-78; and Glenn Pemberton, Hurting with God: Learning to Lament with the Psalms (Abilene: Abilene Christian University Press, 2012), Kindle loc. 441-445.
[3]Walter Brueggemann, Peace (St. Louis: Chalice Press, 2001), pages 26-28.
[4]One article titled "Renewal of Purim/Fast of Esther" goes so far as to employ Purim and the preceding Fast of Esther as pivotal means to cultivate Shalom and unify Jews, Muslims, and Christians.