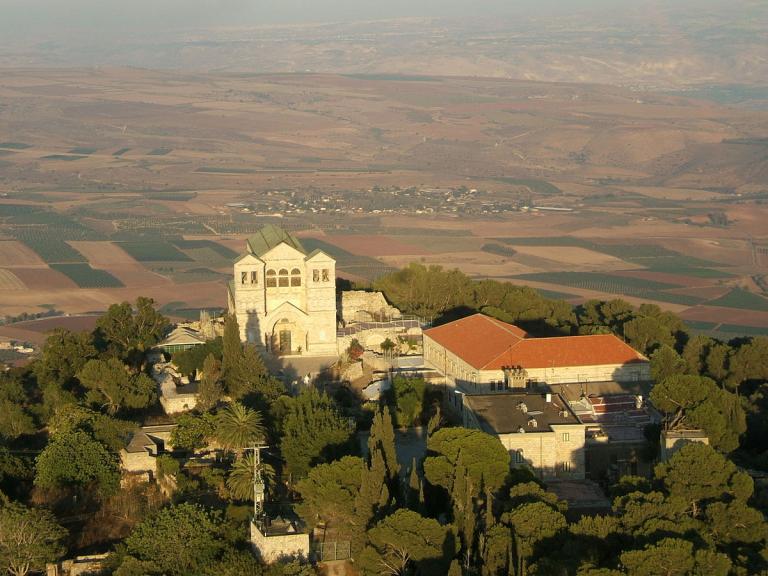 Jesus' transfiguration on the mountain recorded in Matthew 17:1-13 serves as a fitting transition from Epiphanytide to Ash Wednesday and Lent this week (Refer here for an earlier post on the Transfiguration and here for one on Ash Wednesday). It also serves us well in coming to terms with the need to be booths or temples of the Holy Spirit rather than confine Jesus and God's Spirit's operations to a building or place.
According to Matthew 17, Jesus had just prepared his disciples for his passion and death and called them to take up their crosses to follow him (Matthew 16:21-28). The transfiguration served as a source of encouragement for the disciples as they no doubt struggled to come to terms with this teaching. The transfiguration also provided a foretaste of Jesus' future kingdom glory.
However, rather than be content with the foretaste, the disciples who were with Jesus seemingly longed to bask in the transfiguration afterglow. Perhaps they did not want to leave the mountain and return to the valley below. Peter, who with James and John witnessed Jesus' radiant appearance accompanied by Moses and Elijah, desired to erect three booths or tents in their honor (Matthew 17:4).
Stanley Hauerwas sympathizes with Peter's desire to build booths, noting that it is our wish "to secure in place, if not tie down and domesticate, the wild spirit of God's kingdom. We do not wish to face anew the challenge of God's presence."[1] However, we can never tie God up and put the divine in a booth, a box, or a place. Hopefully, we come to realize, just as Peter did, that the person of Jesus, or as Hauerwas states, "Jesus's flesh," is the tabernacle or booth of God's presence.[2] Jesus as the tabernacled glory of God is always on the move in the wilderness in and through his people's lives by the Spirit.
Just like Peter, we need to listen to God's beloved Son and follow him down the mountain to Calvary. Hauerwas draws attention to Peter's allusion to the Transfiguration in 2 Peter 1.[3] Peter talks of seeing Jesus' glory and hearing God's command to listen to his beloved Son (2 Peter 1:17-18). Peter came to realize that instead of building booths on the mountain and basking in the glory, we need to construct our lives with permanent "qualities" (2 Peter 1:8) as "partakers of the divine nature" (2 Peter 1:4) so that God's glory inhabits us, as Peter instructs believers:
For this very reason, make every effort to supplement your faith with virtue, and virtue with knowledge, and knowledge with self-control, and self-control with steadfastness, and steadfastness with godliness, and godliness with brotherly affection, and brotherly affection with love. For if these qualities are yours and are increasing, they keep you from being ineffective or unfruitful in the knowledge of our Lord Jesus Christ (2 Peter 1:5-8; ESV).
Having escaped the corruption of the world, we need to "practice these qualities" (2 Peter 1:10). That is a far cry from building a booth or shrine to divine afterglow on some holy mountain so that we do not have to account for God's ongoing call on our lives in the valley below.
So, let's ask ourselves what are some ways in which we are tempted to domesticate God by locking up the divine presence in a booth or box? What are ways in which we identify God's presence with a special place rather than being the embodied residence(s) or temple(s) for Jesus to dwell through the Spirit (1 Corinthians 3:16-17; 6:19)? Lent invites us to die to ourselves and live to Christ so that his affective being and character of holy love takes up increasing space in our bodies as Jesus' church. As we come down the mountain of transfiguration, let us build booths of transfigured glory in Lenten lives.
_______________
[1]Stanley Hauerwas, Matthew, Brazos Theological Commentary on the Bible (Grand Rapids: Brazos, 2006), page 157.
[2]Ibid.
[3]Ibid.