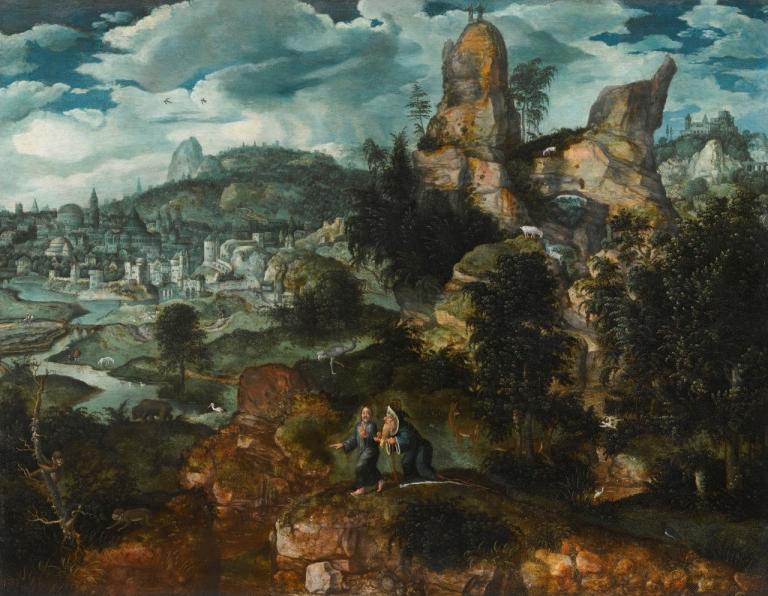 During Lent, we remember Jesus' forty days of fasting and temptation by the Devil in the wilderness (Matthew 4:1-11). We learn a great deal about how to boost our spiritual immune systems from observing Jesus' interaction with Satan.
There is much talk these days about vaccinations and immunizations given the fears of a pandemic surrounding the coronavirus outbreak. Those whose immune systems are weak are more prone to contract a disease.
While by no means full-proof, Harvard Medical School provides tips on how to boost one's immune system to contend against disease:
The idea of boosting your immunity is enticing, but the ability to do so has proved elusive for several reasons. The immune system is precisely that — a system, not a single entity. To function well, it requires balance and harmony…

Your first line of defense is to choose a healthy lifestyle. Following general good-health guidelines is the single best step you can take toward naturally keeping your immune system strong and healthy. Every part of your body, including your immune system, functions better when protected from environmental assaults and bolstered by healthy-living strategies such as these:

Don't smoke.
Eat a diet high in fruits and vegetables.
Exercise regularly.
Maintain a healthy weight.
If you drink alcohol, drink only in moderation.
Get adequate sleep.
Take steps to avoid infection, such as washing your hands frequently and cooking meats thoroughly.
Try to minimize stress.*

(An NPR source also weighs in on how to deal with regaining calm in the midst of pandemonium over the spread of the coronavirus).
I'm not sure what Jesus fasting forty days and forty days did for building his physical immune system, but at least he wasn't cooking meats partially and likely wasn't smoking.
Certainly, the Devil's temptations during his desert ordeal would foster stress physically as well as spiritually. What do we learn from Jesus' encounter with the Devil that sheds light on Jesus' spiritual resilience and that can aid us in boosting our spiritual immune systems?
Spiritual accountability and support certainly come into play. After all, an immune system requires "balance and harmony" to operate well. In Jesus' case, the Spirit led him into the wilderness to be tempted by the Devil (Matthew 4:1). He relied on the Spirit at every turn. Moreover, angels came and ministered to Jesus at the close of the temptations (Matthew 4:11). Even Jesus did not go it alone. So we should guard against "lone ranger" Christianity.
Jesus also depended on Scripture throughout his power encounter with his enemy. Rather than depend on his own intellectual prowess and ability to argue his case, he drew from God's Word (Matthew 4:4, 7, 10). Again, if Jesus depended on Scripture, when as the living Word (John 1:1) he is the author of Scripture, certainly the rest of us should depend on Scripture, too.
Lastly, Jesus had a way of reframing and turning the tables on Satan's temptations that strengthened his connection to his Father and minimized stress, resulting further in boosting his spiritual immunity to the Devil's virus.
Jesus' responses to the first and second temptations in which Satan challenged Jesus to prove he is God's Son—"If you are the Son of God" (verses 3 and 6) suggest that Jesus did not sense any need to prove his identity, relational bond, or change his divine mission to self-serving ends.[1] After all, the Father declared during Jesus' baptism, recorded at the close of Matthew 3 and immediately prior to the temptation, that "This is my beloved Son, with whom I am well pleased" (Matthew 3:17; ESV). Like Jesus, and because of union with Jesus in the Spirit through faith, we can be assured that we are God's children and can act in keeping with God's call on our lives. As Paul writes in Romans 8,
For you did not receive the spirit of slavery to fall back into fear, but you have received the Spirit of adoption as sons, by whom we cry, "Abba! Father!" The Spirit himself bears witness with our spirit that we are children of God, and if children, then heirs—heirs of God and fellow heirs with Christ, provided we suffer with him in order that we may also be glorified with him (Romans 8:15-17; ESV).
So, in place of the Devil's challenges to prove we are God's children— 'If you are children of God, prove it,' or 'Since you are God's children, you can do whatever you want,' respond by claiming that because we are God's children through faith in Jesus, we are secure and do not have to prove our worth and value to God. God has proven his love for us in Jesus' work on our behalf and the internal testimony of the Spirit. Realize, too, that our filial communion flows forth in obedient devotion to God and the divine call on our lives.
Moreover, we increase our immunity to the Devil's virus and threat of spiritual disease by worshiping God alone. We find Jesus calling us to this reality in the third temptation recorded in Matthew 4. We all worship. The question is not "Do we worship?" but "Who or what do we worship?" If we fill our spirits and imaginations with the worship of God through the Scriptures, we fill our being with good nutrients, and thereby strengthen our spiritual immune system.
The Devil appealed to food, fame, and fortune in the temptation ordeal. But no matter how hungry and tired Jesus was, he found his satisfaction and security in the relational glory he experienced with the Father in the Spirit.
How about us? When we are challenged to prove our worth and value or enticed to worship someone or something other than God, how do we respond? Do we respond to "If you are children of God" with "Because I am a child of God…"? Like Jesus, do we respond to the Devil by pushing back and declaring: "You shall worship the Lord your God and him only shall you serve" (Matthew 4:10; ESV). We respond in like manner, if we intently desire to strengthen our immune system rather than become victimized by spiritual disease.
_______________
[1]David L. Turner offers two possible ways of interpreting the Devil's first two temptations. Either Satan questioned Jesus' divine sonship or presupposed it. Satan sought to direct Jesus toward changing his divine mission (as a humble servant) to self-serving, arrogant ends. If Jesus had succumbed to the Devil's temptations, he would have severed his communion with the Father. David L. Turner, Matthew, Baker Exegetical Commentary on the New Testament (Grand Rapids: Baker, 2008), pages 127-128.