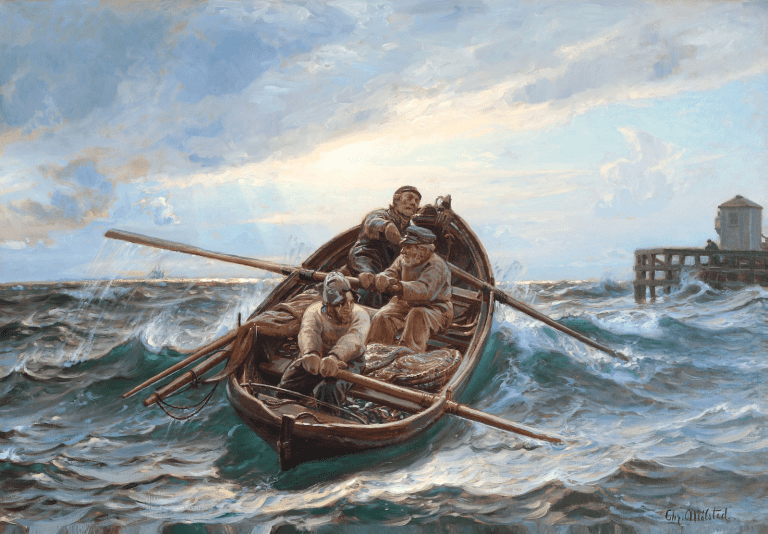 Christopher's eyes often respond to motion. His head and eyes turn at times to follow where the sound is coming from in his room. I wish that I could say the same for myself when it comes to my spiritual experience. There are way too many times when I have difficulty sensing God's movement, even when God is moving a divine hand in front of my eyes! I might not have endured a traumatic brain injury earlier this year, like Christopher did. But my spiritual sight is damaged.
Yesterday was incredibly rough for me. I was enduring the emotional equivalent of neuro-storming due to everything surrounding Christopher's situation. What I needed was a good, sympathetic, spiritual nurse to help me ride the neuro-storm and get me safely to shore. An article titled "Riding out the storm: sympathetic storming after traumatic brain injury" addresses this theme on the medical and neurological level. Here is an overview:
Following acute multiple trauma, hypothalamic stimulation of the sympathetic nervous system and adrenal glands causes an increase in circulating corticoids and catecholamines, or a stress response. In individuals with severe traumatic brain injury or a Glasgow Coma Scale score of 3-8, this response can be exaggerated and episodic. A term commonly used by nurses caring for these individuals to describe this phenomenon is storming. Symptoms can include alterations in level of consciousness, increased posturing, dystonia, hypertension, hyperthermia, tachycardia, tachypnea, diaphoresis, and agitation. These individuals generally are at a low level of neurological activity with minimal alertness, minimal awareness, and reflexive motor response to stimulation, and the storming can take a seemingly peaceful individual into a state of chaos. Diagnosis is commonly made solely on clinical assessment, and treatment is aimed at controlling the duration and severity of the symptoms and preventing additional brain injury. Storming can pose a challenge for the nurse, from providing daily care for the individual in the height of the storming episode and treating the symptoms, to educating the family. Careful assessment of the individual leads the nurse to the diagnosis and places the nurse in the role of moderator of the storming episode, including providing treatment and evaluating outcomes.
I am thankful I have several good spiritual nurses available to me who provide such moderating care during my spiritual renditions of neuro-storming.
With this point in mind, somehow, I had enough sense to contact one of my advisors yesterday evening. He helped me ride out the storm spiritually and offered sound practical advice. During our conversation, I was reminded of a text of Scripture and shared it with him: "No temptation has overtaken you except what is common to [humankind]. And God is faithful; he will not let you be tempted beyond what you can bear. But when you are tempted, he will also provide a way out so that you can endure it" (1 Corinthians 10:13; NIV). I also noted during the conversation that I recall clearly how many times God has placed able and caring advisors and advocates in my family's midst to help us navigate the neuro-storms of life. God provides them during times when I am at the brink of not being able to bear any longer the temptations and trials we face. God has not abandoned us. He puts these advisors or moderators in our path to help us find a way forward in the midst of various unbelievable trials. And yet, I still have so much difficulty seeing where they are motioning to find the way out to stand up and endure the overwhelming challenges.
God wants me to craft lenses for my spiritual eyes that can see far away, close at hand, and from side to side. The side to side or peripheral vision is often very challenging. There are times when I have a hard time hearing and turning to the sound of wise and prophetic voices. That's disturbing, as my life depends on acquiring and abiding by sound advice and looking to others who can advocate well for my family and me at critical times. I can easily act like the fictional character who was drowning and who cried out to God to save him. As I recall the story, at least one helicopter and boat appeared. The crews offered assistance. In each instance, the man refused their aid. After all, he was waiting for God to rescue him. After he died, he stood before God and asked why didn't God come to his rescue. The Almighty responded by saying, "I sent you a helicopter and a boat, but you refused their help."
When you are going through trials and temptations, and you feel like you cannot bear up under the burden anymore, cry out to God for help. But don't presume to know how God might come to your aid. God might not send a helicopter or a boat. God might not miraculously deliver you, cloaked in a mighty, howling wind that sweeps you up in its arms and crosses over the stormy sea, but in the still small voice of a trusted guide, who will advise you on how to swim or row back to land, safe and secure.
May God open our eyes to see where and how God might be at work in our midst. May we look around to see who God might be sending our way to provide sound advice and advocate for us. God will not allow us to be tempted beyond what we can bear, but will provide a way out somehow, some way, and often in the least dramatic of ways so we are able to stand strong. Like I pray for my son, may your and my eyes respond to divine movement and turn in the direction of God's voice so that we might experience healing of body and soul.