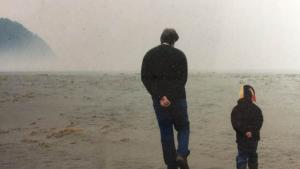 Yesterday, I fell asleep by my son Christopher's bedside. He was resting so peacefully with his head facing the window in his room at his adult rehabilitative care facility. Last Wednesday's baclofen pump surgery was successful.* Christopher's peacefulness and restfulness rubbed off on me, as does the sense that he and I have an "Abba" Father in heaven.
We already see a dramatic reduction of contractions and apparent relief from pain following the surgery. I cannot comprehend all that Christopher has endured since his traumatic brain injury in January 2021. I cannot even comprehend this Father's Day what I have endured as his dad. The same goes for his wife, daughter, mother, and sister. If it weren't for the increasing sense of the secure attachment my Abba Father provides amid growing uncertainties on so many fronts, I couldn't keep it together. Everything would unravel and collapse in my inner life.
The Apostle Paul wrote about the Holy Spirit's assurance that we can experience secure attachment to Abba Father:
For those who are led by the Spirit of God are the children of God. The Spirit you received does not make you slaves, so that you live in fear again; rather, the Spirit you received brought about your adoption to sonship. And by him we cry, "Abba, Father." The Spirit himself testifies with our spirit that we are God's children. Now if we are children, then we are heirs—heirs of God and co-heirs with Christ, if indeed we share in his sufferings in order that we may also share in his glory. (Romans 8:14-17; NIV)
Talk about secure attachment. The Spirit encourages those who cling to Jesus that they are God's children and heirs of God and co-heirs with Jesus. Unlike those firstborn children who take all the estate, God shares everything with us his adopted children in and through his firstborn, native born child, his eternal Son, Jesus. Charles Spurgeon writes about this passage:
The apostle has proceeded through a simple but exceedingly forcible train of reasoning till he gains this glorious point — "Joint heirs with Christ." He begins thus — "Ye have not received the spirit of bondage again to fear, but ye have received the spirit of adoption, whereby we cry, Abba, Father." This is a fact which he takes for granted because he has perceived it in the hearts of believers. We do cry, "Abba, Father." From this he infers that if God has given us the Spirit whereby we call him "Father," then we are his children, which is plain, fair, and clear reasoning. Then he adds — "If children then heirs" — though this does not hold true in all families, because all children are not heirs, frequently the first-born may take all the estate; but with God so long as they are children they have equal rights. "If children then heirs." He goes on to say, "Heirs of God;" for if they are heirs they inherit their Father's property. God is their Father, they are therefore God's heirs! Well, but God hath another Son, one who is the first-born of every creature. Exactly so, therefore if we be heirs, as Christ Jesus is the heir of all things, we are "joint heirs with Christ." I think you will see that, like links in a chain, these different truths draw each other on — the spirit of adoption proves the fact of adoption; by the act of adoption we are children; if children then heirs; if heirs, heirs of God; but since there is another heir, we must therefore be joint heirs with Christ Jesus. Blessed is the man to whom this reasoning is not abstract, but experimental. Happy is he who can follow the apostle step by step, and say, "Yes, I have this morning the spirit of a son; I know that my heart loves God, and I look to him as my Father, with trust, with confidence, and with love; then I am surely his son, because I have the Spirit of a son; then I am his heir; I am the heir of God; and thus my faith lays hold upon the thrice-precious words of this glorious text— I am 'joint heir with Christ.'"
I need not live in fear when God has adopted me as his child by faith and made me a co-heir with Jesus. The same goes for you. To build on Spurgeon's reflection, "blessed" is the person "to whom this reasoning is not abstract, but experimental."
Perhaps some of us struggle to comprehend what Paul or Spurgeon is saying due to challenging relationships with our birth fathers. Not everyone knows or experiences secure attachment with their parents. Even those of us who have known the comforting embrace of loving parents may still struggle with God. We may relate to Jesus, but not his Father. But given Jesus' love for his Father and his sense of secure attachment with God, perhaps we can come to trust in God, too. After all, as Joachim Jeremias argues, "Abba" plays an inimitable and most significant role in Jesus' life and ministry. It conveys an affectionate and very close relationship with his Father that is distinctive of him.** Jesus invites us to experience an intimate relationship with his Father through him where we entrust our entire lives and destinies to him.
Yesterday, several nurses at my son's care facility wished me a Happy Father's Day weekend. I was touched by their sensitivity and care and didn't really know what to say. One of them also wished Christopher a Happy Father's Day in my presence. Nothing has brought Christopher more joy than being Jaylah's dad. Nothing brings me more joy than being Christopher and Julianne's father, or Jaylah's grandfather. How I wish I could raise Christopher from his bed so he could return to caring for Jaylah like he did before his injury. He gave his everything for her. To be able to raise him from his bed somehow, someway would be the greatest Father's Day gift imaginable to me.
In the meantime, just being able to fall asleep in Christopher's presence and absorb his quiet strength helps me. So, too, does the "experimental" and "not abstract" knowledge that I have an Abba Father who cares for Christopher, you, and me. Such increasing experimental knowledge full of growing mystery helps me rise each day to face many uncertainties with renewed strength and courage. Happy Father's Day, Abba.
—————-
*Here is an explanation of the baclofen pump surgery and its intended aim. The pain doctor inserted and secured the baclofen pump near the abdomen and ran a catheter or fine and flexible tube from it to the spinal canal to deliver the baclofen medication. According to one site, "Baclofen acts on the spinal cord to suppress abnormal nerve signals that trigger the muscle contractions of spasticity and dystonia and to restore normal nerve signals." (https://www.chop.edu/treatments/baclofen-pump#:~:text=A%20baclofen%20pump%20is%20a,canal%20to%20deliver%20the%20medication.)
**Joachim Jeremias, "Abba," in Studiem zur Neutestamentlichen Theologies und Zeitgeschichte (Gottingen: Vandenhoeck & Ruprecht, 1966), 15–67; translated by John Bowden, The Prayers of Jesus, SBT Second Series, 6 (Naperville, IL: Alec R. Allenson, 1967).
To read the various posts about this journey with Christopher and TBI, some of which are not included at my Patheos column, please go here. Thank you for your interest and prayers. God bless you abundantly!