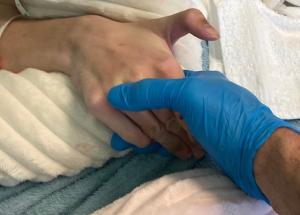 My son Christopher, who suffers from TBI, received a baclofen injection called a lumbar puncture or spinal tap on Thursday of this past week. What's baclofen? According to one site, "Baclofen is in a class of medications called skeletal muscle relaxants. Baclofen acts on the spinal cord nerves and decreases the number and severity of muscle spasms caused by multiple sclerosis or spinal cord conditions. It also relieves pain and improves muscle movement."* The aim of the procedure in Christopher's case was to test how he would respond. If he showed responsiveness as in increased flexibility and decreased spasms and contractions, we could proceed with seeking approval for baclofen pump surgery.
Within an hour, Christopher showed signs of increased flexibility. The pain doctor asked if we could observe Christopher within the four-hour range after the injection upon his return to the facility. I was able to return to the facility within that time-period and did passive range of motion exercises for Christopher and made observations for about an hour. I noted increased nimbleness and fluidity in range of motion. Christopher's neck was not stiff and pinning his head down to the right on his pillow. He was actively moving his head from side to side. His arms, hands, wrists, and fingers were also nimble, as were his feet, ankles, and right leg. Even his right hand, which I can rarely open due to Christopher's contractions and apparent pain, opened readily. On the whole Christopher appeared far more relaxed. Only the left leg was still rather stiff, which is often the case. I took comfort from the pain doctor saying that if we proceed with the baclofen pump surgery, they could give Christopher a double dose to see how his left leg responds.
We gave the okay Thursday for the doctor to proceed with baclofen pump surgery. Now we just need to wait for approval from the insurance provider. I was so impressed with the results and possibilities for increased relief from contractions for Christopher that I asked if the doctor and his team could implant a baclofen pump in me, too. It could do wonders for my own back and joints those mornings after working outside in the yard!
We also received good news on Friday from the care facility's lead therapist, who has been advocating long and hard for four months to get therapies back in place for Christopher. The facility finally received permission to provide a limited number of speech therapy sessions, which are now underway. The medical staff will look for signs of progress and new areas to address. If they are apparent, the lead therapist can request more speech therapy sessions. However, getting permission from outside agencies is quite the challenge. Please pray with us for increased responsiveness from Christopher and favor with governing bodies. In other words, it's not just Christopher's body that needs to respond!
The therapist was also encouraged to know that Christopher will receive a baclofen pump and will be watching closely to see if there are tone changes that might permit for an increase of passive range of motion or even active range of motion in the future. The hope is that the therapist will observe significant changes and so can pursue obtaining permission to provide physical and occupational therapy sessions, too. Again, please pray for Christopher's reemergence and open doors with insurance.
In addition to the preceding double or triple dose of good news, we were pleased to hear that Christopher's customized wheelchair will soon be on the way to his facility. I wonder if it has a built-in cooler like Seinfeld's George Costanza's recliner. I need one of those for when I watch TV at home to conserve energy at my age. Regardless of whether there is a built-in cooler, I am very thankful that the lead therapist provides such good oversight and care for Christopher in these matters and in whatever other ways possible. What's my prayer request for this paragraph? That I could find that Costanza-customized recliner and that Christopher's Geri chair (spelled differently, but sounds just like "Jerry" as in Seinfeld) would arrive shortly!
Our medical consultant Dr. Potter was very encouraged to receive these updates on Friday. He said that the baclofen pump and therapies will allow for patterns of response to change for the better. He also took the opportunity to provide further medical insights as to how this development could occur. I did my best to write down what he said. As far as I could comprehend, a set of neurons responds to stimulation by way of firing and rewiring. In time, the entire pattern of neurons may respond to the stimulation. As neurons fire and rewire, the muscular response can change for the better. I've never had a formal class in physiology and anatomy, like my daughter. However, I have a front row seat in Christopher's living lab!** (Check out PS 4 below)
Dr. Potter's areas of expertise include medical ethics and palliative care. So, he is well-versed with many decades of experience with a vast range of patients. He agreed that even though it has been a long, slow, agonizing process of looking for signs of healing, the length of time means nothing in terms of the ultimate outcome. He and I hold out hope and move forward with the right conviction that every patient is the exception to the rule. We keep hoping realistically for more and more signs of recovery. From the baclofen pump to the therapies to the wheelchair and beyond, we are pumped up. It's so important to keep realistic hope alive.
PS 1: As I close, thank you for how you keep hoping, praying, giving, and sharing about Christopher's ongoing arduous journey toward recovery. You are such a blessing to him, his family, and to me! God bless you!
PS 2: Here's a picture of Christopher's right hand opening far more readily. I call it the right hand of fellowship! Usually, he keeps it rolled up in a fist, so this picture was a very good sign.
PS 3: *Link to Baclofen definition cited in the post: https://medlineplus.gov/druginfo/meds/a682530.html#:~:text=Baclofen%20is%20in%20a%20class,pain%20and%20improves%20muscle%20movement.
PS 4: **Dr. Potter later wrote and said, "What you have written is quite clear and accurate." In responding to an earlier draft, the good doctor penned the following "whimsical" lines:
"Very well done. You get a B+ in physiology—a bit off from the A that you usually expect but the language and completeness of the physiological complexities are a big amateurish
as expected from a novice in neuroscience. Your observation that your bedside experience is more informative than my dissecting a cat's brain in medical school is right on target." My response: I'm glad I'm not in medical school!