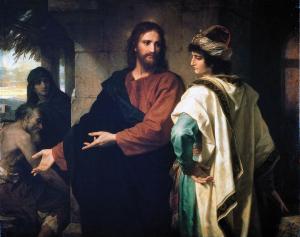 To commodify someone or something entails using or exploiting them as vehicles for profit, which is often though not necessarily monetary in scope. How often do we approach God and salvation in this way?
Take, for example, moralistic therapeutic deism's (MTD) emphasis on God being a divine butler or cosmic therapist. God exists to give us happiness.[1] Living a good or honorable life becomes a means to an end of getting something from God. Relationship with God is transactional in orientation.
What a stark contrast to those like Bernard of Clairvaux who reflected on the spiritual sojourn moving beyond love of self for self's sake to love of God for self's sake to love of God for God's sake, and ultimately, to love of self solely for God's sake, which will only be attained freely and wholly at the resurrection of the body.[2] Of course, we receive benefits from God along the way, but the maturing disciple does not love God simply for the benefits God provides. One delights in the God who benefits us, not exclusively or primarily, the benefits of God.
Similarly, Protestant Reformer Philip Melanchthon writes: "Nothing is loved except what is advantageous for us.  But God does not wish to be loved for the sake of any advantage; he wants to be loved freely. The man who loves something advantageous does not love God but himself, and the Scriptures warn everywhere against such depraved love."[3] Melanchthon's colleague Martin Luther maintains that, "To love God is at the same time to hate oneself and to know nothing but God."[4] Luther was, moreover, concerned about certain forms of mystical engagement. As Heiko Oberman points out, Luther perceived "grave dangers in the pursuit of the suavitas which 'is rather the fruit and reward of love than love itself.'"[5]
The problem of seeking God for what benefits we can receive goes back to biblical times. The rich young ruler came to Jesus in the pursuit of eternal life (See Matthew 19:16-30). While he was not given to MTD ways of thinking, he did have a contractual view of trying to attain eternal life based on what he could accomplish (19:16). He certainly thought Jesus could help him on his way, or at least confirm his biases that he was already well on his way to gaining eternal life. But he did not want Jesus, only eternal life based on what he himself could accomplish with some assistance perhaps from Jesus. Jesus called upon the rich young ruler to sell his possessions, give the proceeds to the poor, and come follow him. Again, the man wanted eternal life, but not Jesus, and so walked away dejected. He preferred his wealth to eternal life as Jesus construed it, if the latter meant renouncing what he cherished most (19:21-24).
How about those of us on the Christian journey? What do we prize most? It is easier to ask this question than to answer it. Do we love Jesus for the benefits we receive, including peace, joy, and eternal life, or do we love him for who he is? After all, he is the fullness of life and worthy of our unadulterated affection.
_______________
[1]For a detailed sociological discussion of moralistic therapeutic deism, refer to Christian Smith and Melinda Lundquist Denton, Soul Searching: The Religious and Spiritual Lives of American Teenagers (New York: Oxford University Press, 2009).
[2]Bernard of Clairvaux, "On Loving God," in Bernard of Clairvaux: Selected Works, The Classics of Western Spirituality (New York: Paulist Press, 1987), 192-197.
[3]Philipp Melanchthon, Loci Communes Theologici, in Melanchthon and Bucer, ed. Wilhelm Pauck, The Library of Christian Classics: Ichthus Edition (Philadelphia: The Westminster Press, 1969), 42.
[4]Martin Luther, "Disputation Against Scholastic Theology," in Martin Luther's Basic Theological Writings, ed. Timothy F. Lull (Minneapolis: Fortress Press, 1989), no. 95 on page 19.
[5]Heiko A. Oberman, "Simul Gemitus et Raptus: Luther and Mysticism," in The Dawn of the Reformation: Essays in Late Medieval and Early Reformation Thought (Edinburgh: T. & T. Clark, 1986), 126, quoting W.A. 9,100.38-39; Cl. 5,308.11-12 (1516).