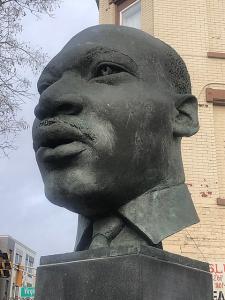 I drove over to my son Christopher's adult care facility last night to be with him. It was cold and rainy, and I was depressed. It will be two years to the day later this week since he endured a catastrophic brain injury. The past two years have been severely taxing in so many ways, this ordeal being chief among them. Will 2023 be any different?
Christopher was awake and conscious when I arrived at his room, which encouraged me. I decided to put on the Rocky theme song like I did the other night and attempt to do fist bumps with his right hand. To this point, the right hand is the only one he will move from time to time in response to prompts. My depression completely vanished as Christopher fist bumped me again and again with the Rocky theme song accompanying us. Christopher was looking at me the whole time. I went to get one of the nurses to show her. We were ringside to cheer Christopher on in the fight for life.
I took a few videos of the fist bumps the first night Christopher responded to my attempts to get a response. I showed two of them to our palliative care specialist and medical ethics consultant Dr. Robert Potter. He responded to one of the videos: "This appears to be more than reflex. Intention is there!" And to the other, he wrote: "Seems intentional to me." Christopher was even more responsive last night. We were really going at it!
If I am completely honest, I am on an emotional roller coaster some days and nights. If I am not careful, I can go from fist bumping God to raising and shaking my clenched fist at heaven in my messed up emotional state based on our family's circumstances. There have been times when I wonder whether God really loves us amid all we have endured. Perhaps you have questioned God at times, too. It's important that we find people with whom we can confide about our struggles with faith and depression, as well as look for examples of those who will inspire us to keep going.
Martin Luther King, Jr.'s struggle with depression, suffering, and evil really speaks to me. He faced his challenges head on, come what may. His faith in God sustained him in the face of so many obstacles, including depression. Please allow me to share about King's personal faith in a personal, benign power in the universe and how that sustained and strengthened him for the struggle for justice in pursuit of the beloved community.
King wrote, "I am convinced that the universe is under the control of a loving purpose, and that in the struggle for righteousness man has cosmic companionship. Behind the harsh appearance of the world there is a benign power."[1] He also claimed that "the universe is friendly because God is love."[2] King was convinced that the process to history is benevolent and moral. "There is a process in history. There are certain laws in the Universe not only certain natural laws but certain moral laws.'"[3] King scholar Rufus Burrow, Jr. references these lines and adds that "The source of natural and moral laws is the God of Jesus Christ."[4]
King was a personalist. Burrow summarizes King's theistic brand of personalism: "King's deepest faith was in a personal God of love and reason who is the creator and sustainer of all life. In theistic personalism we find a metaphysical grounding for the biblical claim that in God we live and move and have our being, . . . King perceived such a God to be infinitely loving, caring, responsive, active, righteous, just, and on occasion, wrathful." Here we must account for the influence of the Hebrew prophets and the African American prophetic tradition on King. They proclaimed God's just and righteous ways and hatred of evil.[5]
King may not have held to the doctrine of divine omnipotence involving God doing "the impossible or the ridiculous."[6] However, he did maintain that God is infinitely loving and matchless in power who involves people in the struggle for justice. Burrow writes, "An infinitely loving God of 'matchless power' (not absolute or perfect power) would want and need the cooperation of free self-determining beings in the struggle to overcome injustice and to achieve (as nearly as possible) the beloved community."[7] While there is no such thing as "the personalist conception of God," King shared with personalists of various kinds such "basic tenets" as "reality is personal, persons have inviolable dignity, to be is to be free, reality is social, and the universe is friendly to value."[8]
King lived out an eschatological ethical framework in view of eternity and the expectancy of the beloved community's inbreaking in society. Thus, he thought about death, yet again with no sense of morbidity. Even so, it is worth noting that King also struggled with severe depression. In fact, as a child, he tried to kill himself on two occasions.[9] While King later wrote that he was convinced that the universe is friendly (believing it on account of his "uplifting heredity and environmental circumstances"),[10] not indifferent or hostile, still the hatred from whites his people experienced and other related challenges no doubt took its toll on him as a child and as a man. And yet, from what we know of his life and from research on depression, King was able to take his depression and turn it into a form of "radical empathy." Such empathy was instrumental in his pursuit of nonviolent revolutionary realism that confronted head on the psychological disease of racism[11] for the sake of building the beloved community.
King's personalist philosophy of life has provided inspiration for me for many years. My forthcoming volume on personalist ethics bears the marks of his influence, and the influence of numerous other personalist ethicists, theologians, and philosophers. Most importantly, King's belief in a personal, infinitely loving God who is matchless in power encourages me to keep going and keep fist bumping in the fight for meaningful life with TBI.  Nothing, absolutely nothing, in the present or future, can separate us from God's purposeful, all-powerful love for us in Jesus Christ.
No, in all these things we are more than conquerors through him who loved us. For I am convinced that neither death nor life, neither angels nor demons, neither the present nor the future, nor any powers, neither height nor depth, nor anything else in all creation, will be able to separate us from the love of God that is in Christ Jesus our Lord. (Romans 8:37-39; NIV)
_______________
[1]Martin Luther King Jr., "Pilgrimage to Nonviolence," in Strength to Love (New York: Harper & Row, 1963), 141.
[2]Martin Luther King, Jr., "Is the Universe Friendly?" sermon preached on December 12, 1965 at the Ebenezer Baptist Church in Atlanta, Georgia, King Library and Archives, 1.
[3]Martin Luther King, Jr., "Discerning the Signs of History," November 15, 1964, King Library and Archives, 2.
[4]Rufus Burrow, Jr., God and Human Dignity: The Personalism, Theology, and Ethics of Martin Luther King, Jr. (Notre Dame: University of Notre Dame Press, 2006), 192.
[5]Burrow, God and Human Dignity, 102.
[6]See Burrow, God and Human Dignity, 89-90, 112.
[7]Burrow, God and Human Dignity, 113.
[8]Burrow, God and Human Dignity, 90.
[9]According to Nassir Ghaemi, M.D., M.P.H., Professor of Psychiatry at Tufts Medical Center, Boston, and Clinical Lecturer at Harvard Medical School, "King knew what it meant to be maladjusted, psychologically, because he was not normal, psychiatrically. He had multiple periods of severe depression, and twice made suicide attempts as a child. Near the end of his life, some of his staff tried to get him into psychiatric treatment, but he refused." Nassir Ghaemi, "Martin Luther King: Depressed and Creatively Maladjusted," Psychology Today, January 16, 2012, https://www.psychologytoday.com/us/blog/mood-swings/201201/martin-luther-king-depressed-and-creatively-maladjusted. It is also worth noting here that according to a Washington Post article, even the FBI hounded King with malicious intent. In fact, a letter that was allegedly written by someone at the FBI was interpreted by King as an attempt to blackmail him so that he would commit suicide. Michael E. Ruane, "'You are done': A secret letter to Martin Luther King Jr. sheds light on FBI's malice,'" The Washington Post, December 13, 2017, https://www.washingtonpost.com/news/retropolis/wp/2017/12/13/an-old-letter-sheds-light-on-fbis-malice-toward-martin-luther-king-jr/?utm_term=.22cd50e5bd58.
[10]Martin Luther King, Jr., "An Autobiography of Religious Development," in The Papers of Martin Luther King, Jr., vol. 1, ed. Clayborne Carson (Berkeley: University of California Press, 1992), 360.
[11]Ghaemi writes that King's "nonviolent resistance" can be construed as "a politics of radical empathy" and claims that certain studies on depression document how depression enhances empathy toward others, as well as realism in assessment of one's circumstances." "Martin Luther King: Depressed and Creatively Maladjusted."