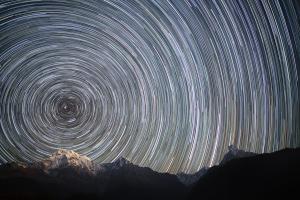 On any given day, each of us experiences a wide range of motion and quite possibly a wide range of emotion. Our daily routines and rotations can also speed up and slow down. Life can appear erratic in view of the various changes. It's kind of like the earth's rotation. This post is about navigating, coping, and finding hope amid all life's changes, as the world turns.
According to an article in Astronomy, "Earth's rotation is erratic, with intermittent periods of speeding up and slowing down that interrupt the planet's millions-of-years-long gradual slowdown." The article goes on, "The rotation rate of Earth is a complicated business. It has to do with exchange of angular momentum between Earth and the atmosphere and the effects of the ocean and the effect of the moon,… You're not able to predict what's going to happen very far in the future." Generally speaking, for my family, the world often turns slowly, very slowly at times, in view of my son's TBI. Even so, there are abrupt changes in which the daily motion, emotion, and rotation appear erratic. It's extremely hard to predict what will happen next.
The discussion of the earth's rotation and our family's experience reminds me of the old, classic soap opera, As the World Turns, created by Irna Phillips. I never really watched the show, but if I recall correctly, one or more of my elderly relatives often watched it when I was a child. All I remember was how slow the show seemed to go. Not very enticing to a kid. According to one site, "Phillips' style favored gradual evolution over radical change. Slow, conversational, and emotionally intense, the show moved at the pace of life itself – and sometimes even more slowly than that."
That's how it is now for us much of the time. My son Christopher's saga moves "at the pace of life itself"—and most often, not just "sometimes," "even more slowly than that." The difference for me now from when I was a child is that any change, no matter how narrow the range of motion or how subtle the emotion, becomes like a high-paced thriller or action movie to me.
Case in point. Sunday, my wife Mariko reported a very limited but nonetheless significant change by way of range of motion and emotion for Christopher. The CNA
"left detailed notes again. She said Christopher did an amazing job with range of motions and putting both arms through a t-shirt, especially the left. I can't read some of what she wrote but she said he smiled. When she repositioned him to the door, he wasn't happy. He wanted to look outside through the window. He seemed tired and fell asleep after she was finished. It didn't seem he was on the chair, but I am fine with it because she is very sensitive to his needs. He's sleeping with eyes open right now."
I enthusiastically relayed the report to our medical consultant Dr. Robert Potter (M.D., Ph.D.) yesterday morning:
"I was quite encouraged by the report that Christopher put both arms through his t-short, especially the left arm. As you know, that is the side of the body that we were led to believe would never be active again. I was also encouraged by Christopher's range of emotions that express his interests/desires. What thoughts might you have in response to this CNA report? This is the same CNA who reported recently that Christopher said, 'Good morning' to her at early morning shift change."
Dr. Potter responded:
"The CNA report is very encouraging. To move the left arm means that motor neurons on the right side of the brain are being recovered through neuroplasticity—the rebuilding or reassigning function to specific motor cells. Remember that neurons do not reproduce. There is only reassignment of function to existing neurons. There is no other explanation."
I must confess that I was ecstatic. My motions and emotions moved light years ahead in that moment. It is not often the case that Dr. Potter uses "very" in a sentence! He is always measured, as is the case for him here.
What about me? I was pushing and pulling emotionally yesterday and praying that Christopher would manifest another movement in the right direction for all eyes to see. How I longed for Monday night's episode to follow where Christopher and his CNA left off Sunday evening. But that was not the case yesterday. Nor so far today. Instead of progress, we were met with the ambulance service failing to show up this morning and transport Christopher to the hospital for his feeding tube replacement. Another lengthy delay. Another emotional gut-punch. Perhaps slow progress will resume tomorrow.
To return to As the World Turns, I would be thrilled to witness "radical change," but will settle for "gradual evolution." What you find here often in our situation is "slow, conversational," and sometimes "emotionally intense" movements, following Christopher's own "pace of life," which moves "sometimes even more slowly than" life itself. But again, I will settle for very slow progress over no progress any day of the week or years ahead.
I will also settle for how one's character does not develop quickly, but slowly, and often through the most difficult and arduous seasons of life. It is worth noting here that in As the World Turns, Irna Phillips "favored character development and psychological realism over melodrama." By way of comparison, God favors the development of our character and realism to celebrity and fantasy. Thus, it is good to "glory in our sufferings, because we know that suffering produces perseverance; perseverance, character; and character, hope." (Romans 5:3-4; NIV) We might not win a golden globe, but character refined like gold partakes of God's eternal glory.
If I expect Christopher and me to speed up our rotation and turn things around at lightning speed, I will be extremely disappointed. But if I step back and slow down and take a deep breath and ponder the Earth's own erratic rotation over countless years and generations, I might regain perspective. This week's saga with TBI and life events is just a blip on the screen. The rotation keeps going, making intentional, methodical, prayerful, hopeful effort not to run around in circles.
No matter how slow life goes, no matter the challenges we face, I will choose the slow, challenging process involving the ride range of motion, emotion, and rotation. I am confident that no matter the pace, Christopher's suffering and our own will produce perseverance, character, and hope. There is no other explanation, no shortcut to the rebuilding of Christopher's brain and healing and transformation of our character. Let this slow-motion work continue, as the world turns.