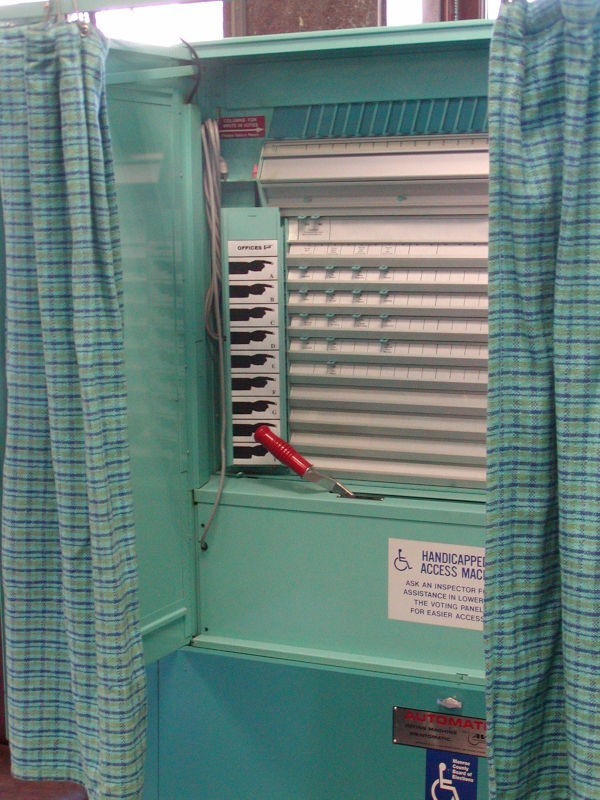 Look, I don't want to derail our contentious discussion of Dennett's Breaking the Spell with a contentious discussion of the election, but I think it's very important that you all know about the parody Nate Silver twitter account (@fivethirtynate) that's popped up.  Among my favorites:
Now is the nowcast of our forecasts, made glorious projection by this mean of polls.

Teach a man to survey and he knows the race for a day. Teach a man to aggregate and there is no race.

A pundit asks me for the state of the race. I chant Bayes' theorem until his writings crumble into dust. The Noise fades – for now.

A man boasts to me of Momentum, his greatest invention. "To victory," he cries, taking flight. I light a candle from the wax of his wings.

I smash hourglasses in the wilderness until sand and glass covers all things. From time itself, I have aggregated a mighty desert.

Go to the ocean. Cup your hands and drink its salty foam. This is your sample size. What lurks within its abyssal depths?
Don't count on being able to vote over your lunch hour. I did early voting and I had an hour long wait (if I had known, I would have worn my long underwear under my chinos). Even if you're not in embarrassment-to-the-nation Florida (7 hour lines!), you may be in for a slog.
Today is also a good opportunity to teach friends and family about the dangers of illiquid markets, because the pricing on InTrade is very silly today.  When there aren't enough people buying and selling shares, the odds get all wonky.  I was able to buy shares that the GOP would get 220 or more electoral votes for $7.90/share.  Tomorrow, if I'm right, they'll pay out at $10 each.  Keep in mind that 220 EV is below
Nate Silver's projections
of the Romney totals.  And, when I was making investments last night, some poor sod was willing to take the other side of me shorting an electoral college winner/popular winner split at $2.30.  Gevalt!
And one other opportunity for teachable moments: check out Ron Rivest's Three Ballot Voting system, to detect tampering without compromising the secret ballot.  (He's the 'R' in RSA encryption and I have a total crush).  When I dressed up as a hacked touchscreen voting machine for Halloween 2008 (see below, built a lightbox and slid transparencies in a loop for the different screens), I handed out pamphlets on machine voting security to tipsy, semi-naked people coming out of clubs.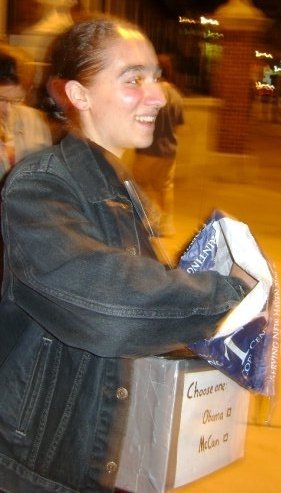 And finally, possibly, you, like me, tend to wax wroth on Election Night.  If I had my druthers, the commentary would be limited to 5-10 minutes after polls close or a big set of tallies come in, and the rest of the time the channels would just show the static map silently.  It is a struggle for me to not yell unsavory things when the big board and the holograms come out.  So, my plan for tonight is to go to Krav right after work to tire myself out, and then to bake cookies while the returns come in.  I have no electric mixer, so creaming butter and sugar by hand should help divert my aggression.