I know there are some rumblings in yesterday's thread about sin, judgment, and necessity about my being tardy to reply to comments.  When there's such a fast discussion (over 100 comments in 12 hours, I can't pop in and out as much as I'd like to.  
I did quite appreciate Steve Schuler's comment that, even though my tardiness was frustrating, "For my purposes the best aspect of Leah's blog are the comments threads and the overall civil and thoughtful exchanges I am able to read here."  Agreed!  I like being able to rely on a lot of you to pull in interesting citations and questions so that I can return to the thread, find a lot of the work done, and latch on to a particular facet to expand.  
I found Iota's post helpful about how theoretical a lot of discussions about soteriology are.  If people want to stick other citations in there, I'll check them out when I look back at this thread over the weekend.  And now, on to resurrect another densely populated thread!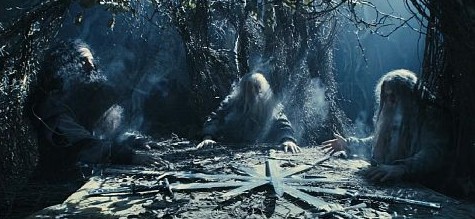 Last week, when I was reading and discussing an excerpt from Chris Hallquist's in-progress book, Alan drew a distinction between squabbling theologians and atheists in disagreement:
But you have thousands of control guys each claiming exclusive expertise (and that the other experts are in fact wrong). Sure, I may gain something by talking to each of them but I certainly won't be using them as definitive expertise on the endeavor.

Also, I think the idea of 'true atheism' is silly and in no way comparable to true theism. Atheism is simply the disbelief in gods – there is no true or false version of it. There are no variations on the nature of these non-gods or what these non-gods demand of you. You may be trying to say you don't expect to find the immediately true version of a holistic ethics or metaphysics that excludes gods – but that is a different category and begs the question that such a true version actually exists. Something one need not claim to be an atheist (while nearly all theists that I have ever come across do claim).
Alan is definitely right that there's no canonical atheism or one atheist intellectual tradition.  There's no reason to expect not!theists to have more in common with each other than not!monarchists.  But Alan and other atheists 
do 
have a rooting interest in a question that tends to look about as jumbled up as theology: moral philosophy.
Over at LessWrong, Luke Muelhauser recently kicked off a post titled "Philosophy Needs to Trust Your Rationality Even Though It Shouldn't" by quoting Thomas Kelly:
Philosophy is notable for the extent to which disagreements with respect to even those most basic questions persist among its most able practitioners, despite the fact that the arguments thought relevant to the disputed questions are typically well-known to all parties to the dispute
Luke goes on to say that philosophy doesn't have some of the advantages of science. The questions that physical science asks are a lot easier to settle definitively, because the physical evidence just ends up being overwhelming. To deny these data, you'd have to jettison too much of your understanding of the world to function in it.  But philosophers are working on questions that are hard to test, and they need to be a lot more sensitive to smaller shifts in confidence and/or better at figuring out how to differentiate between hypotheses.  He recommends they read more Kahneman (and, really, who shouldn't?).
But plenty of people have read Kahneman, know about Aumann's Agreement Theorem, and still disagree about ethics, let alone more-inaccessible metaphysics. So we've all got the theologian problem, just in different spheres — some of which feel a lot more germane than theology!  We don't just want to know which person is the level boss on the other side that we have to defeat; we need to know who to follow.  When there's not a clear consensus, we still have to wade into this messy problem, unless we're willing to deny the cat.