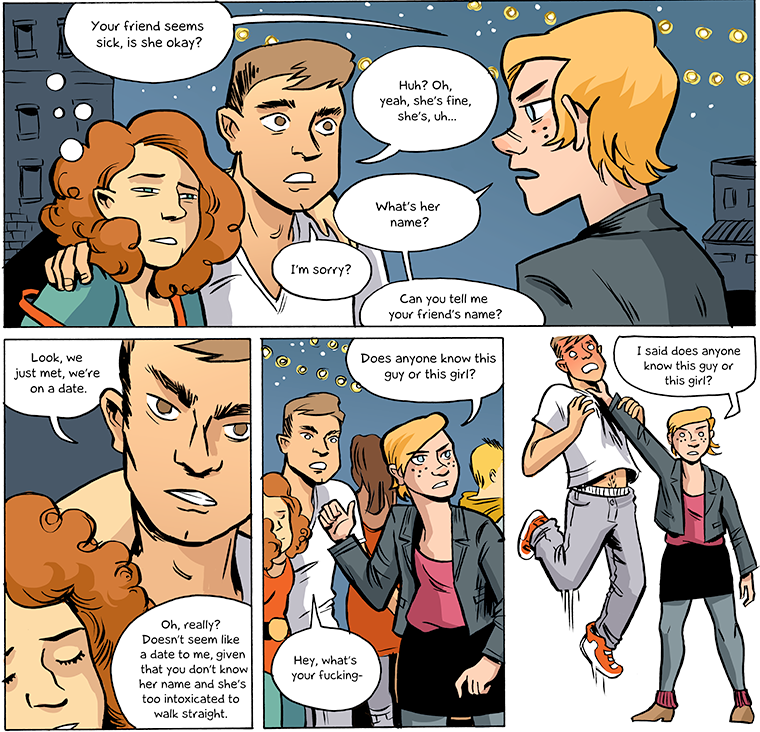 I've seen a bunch of pieces about California's proposed Yes-Means-Yes law (which only applies to public college disciplinary hearing, not criminal standards), saying that the proposed law, requiring affirmative consent, isn't realistic.  Sex is too ambiguous for students to be confident, in any given hookup, whether they're having kosher sex or committing rape in the eyes of the law.
I do believe them that there's plenty of sex happening now, that isn't experienced as rape by either partner, that doesn't meet the affirmative consent standards proposed.  That could include sex where both partners kind of just leapt into the act, not checking in with each other, but not hitting any snags.  Sex where one or both partners was somewhere past tipsy and within sight of "too impaired to consent" but no one pulled out a breathalyzer and both parties felt ok in the morning (aside from the headache).  Sex with coercion/pressure, where one partner didn't back down after an initial "No" or "I'd rather not" but the reluctant party felt more like someone who's been guilted into going to a boring party they would have preferred to skip, rather than someone who was violated.
All of these could hit the proposed new definition of rape, without being experienced as rape every time they occurred.  And all of these might be pretty common at present.
The goal of the Yes-Means-Yes law in California is to kibosh a lot of this gray area, rape-adjacent sex.
Rape-adjacent sex means that one partner can think ze is behaving appropriately, having sex as they've done it before, while zer partner experiences it as rape.
Rape-adjacent sex gives cover to serial predators, who are believed to be the main driver of sexual assaults on campus, since the kind of sex they're trying to have doesn't look very different from the sex everyone else is already having.
The proposed law is one way to engineer a retreat from the gray area and it may well not be the best way, but the strategic withdrawal itself is a very good idea.  Whether you live in California or not, it's a good idea to take up the mission to discourage gray-area sex, whether using institutional or personal pressure/support.  Here's one good tool, especially for students.
In college, a number of student groups had a designated door watcher for parties.  This person (or these people, if they were doing it in shifts) were supposed to hang around near the exit of a party and check to see if anyone leaving seemed to be heavily intoxicated.  They were basically doing what Allison of Strong Female Protagonist is doing in the comic featured above (minus the superpowers, and plus some attention to people leaving the party alone who might need to be screened for alcohol poisoning). Not a perfect system, but just posting a watcher (and discussing that you will at party planning meetings) changes people's expectations a little about what kind of behavior is appropriate.
Another strategy really is just not having sex with people you've just met.  If it's hard to read the tacit, non-verbal signals of a stranger, one solution is to wait to sex them up until they're not a stranger, proroguing sex until you've both had experience reading each others cues in less intimate, intense situations.
Of course, the complaint about these interventions and other like them is that they'll derail plenty of would-have-turned-out-ok sexual encounters, without offering people another script to use to pursue sex.  That's the problem one college guy, writing in to The Atlantic encounter, and why the affirmative consent, Yes-Means-Yes policy didn't feel workable to him, even though he appreciated the intent.  He cited one specific almost-sex with a partner that was short-circuited by the process of confirming consent:
One night I ended up back in a girl's room after a first date (those do happen in college). She had invited me in and was clearly attracted to me. We were kissing on her bed, outer layers of clothing removed, but when my hands wandered downward she said, "No, wait." I waited. She began kissing me again, passionately, so again I moved to remove her underwear. "Stop," she said, "this is too fast." I stopped.

"That's fine," I said. I kissed her again and left soon after, looking forward to seeing her again.

But my text messages received only cold, vaguely angry replies, and then silence. I was rather confused. Only many weeks later did I find out the truth from one of her close friends: "She really wanted you, but you didn't make it happen. She was pretty upset that you didn't really want her."

"Why didn't she just say so then, why did she say we were moving too fast?"

"Of course she said that, you dumbass. She didn't want you to think she was a slut."

Talk about confusing. Apparently in this case even no didn't mean no. It wasn't the last time I've come across "token resistance" that is intended to be overcome either. But that's a line that I am still uncomfortable with testing, for obvious reasons.
To me, it seems like exactly the right thing happened.  If the woman was only comfortable having gray-area, rape-adjacent sex, and her partner, not knowing her well, is making an active effort to avoid having sex in that zone, the upshot is that she won't get to have sex.  That's a-ok with me.
If guys conduct a reverse-Lysistrata, where they don't have sex with girls who don't say they want to have sex, that will turn out a heck of a lot better for the women who are having trouble having their "Nos" heard and honored.
As for the people who don't want to provide their partners with a clear "Yes," they can decide which is more important — not acknowledging their own desire or having sex, and they can pick whichever course of action suits them better.
Making an effort to denormalize rape-adjacent sex will involve having less sex, at least during the near future.  I think that's a pretty good tradeoff for drawing some clearer boundaries, so that it's easier to identify predators and harder for well-intentioned people to hurt their partners.  During the transition, people can work on how to rescript some kinds of casual, tipsy, or unresponsive sex, and, if it proves very hard to find a new way to have those encounters, it will probably be worth asking if they were kind, compassionate, not-treating-people-as-things encounters in the first place.