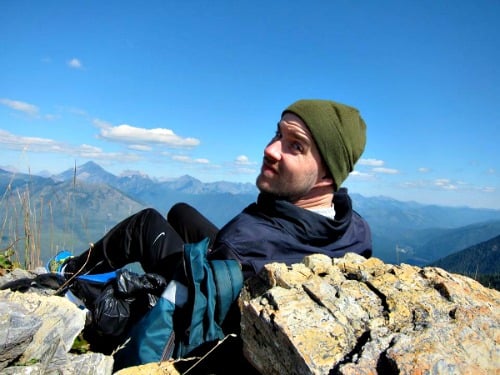 Since its launching in June 2013 I've been editor of this blog, choosing, editing, and finding an image for each piece published here, interfacing with the folks at Patheos, etc. It's work in which I've taken a great deal of pleasure. Running this blog, which has been viewed over 1,340,000 times,  has allowed me to recapture some of the cooperative team spirit I so relished during the years I worked as a magazine editor. Finding and respectfully presenting new writing talent is one of my favorite things in the world to do.
From its inception, Dan Wilkinson (that's him above, turning a mountain into a Barcalounger) has proven invaluable to this blog. Besides being a web Jedi always ready to solve any techie-style problem that arises on the blog, Dan is a fine writer who possesses a keen analytical mind that he has used, through his writing on this blog, to become a respected book reviewer.
It was Dan who, years ago, first phoned me to ask if there was anything he could do to help Unfundamentalist Christians become more than
a document
I wrote. And he's been with me ever since. No one could ask for a better partner.
Today I'm handing the UC blog over to Dan; he is its new executive editor. As I'll soon start sharing about on my blog, my life has altered in such a way that I can no longer properly serve this blog's writers or readers. That is a positive thing for me, and is certain, with Dan at its helm, to be a positive thing for this humble little outpost in cyberspace.
Take 'er away, Dan!