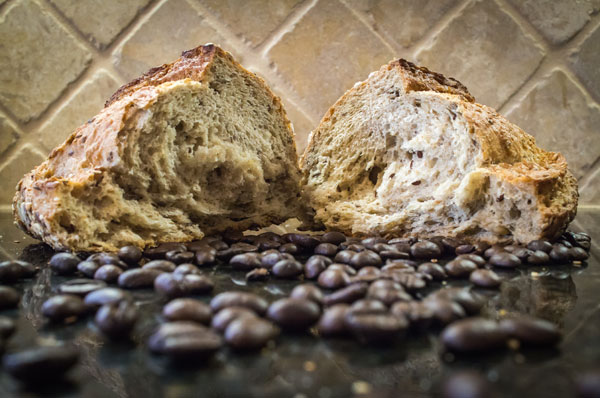 "Churchgoer Sees Jesus in a Mocha." Can't we picture such a headline in our news feeds? We have seen announcements like it before: "'Virgin Mary Grilled Cheese' Sells for $28,000." The now-famous grilled cheese was reported to have an imprint of the Virgin Mary's face on it. It had been stored in a baggie in a bedroom dresser for ten years before we heard about it in the news in 2004.
$28,000? Are we that hungry for a glimpse of the sacred?
Social media outlets have been abuzz recently about churches in survivor mode. Statistics paint a grim picture of the future of institutional Christianity. What are churches offering that people aren't buying?
What are we hungry for today?
A mocha stirred up these thoughts for me. You see, I have been seeing something that looks a whole lot God's Spirit swirling about in a mocha I have a date with each week.
The mocha itself is at best mediocre. I get it for free from one of those institutional coffee machines you find in hospitals or convenience stores. I press one of six buttons–hot chocolate, mocha, cappuccino (regular or decaf) or coffee (regular or decaf). The machine ponders my choice. Then it grinds and sputters and spits my beverage into a 6-ounce cup.
This particular machine resides in my mother's senior adult apartment community. When my mother moved to my city, I was glad that the transition was not as difficult as other parental moves I had heard about. My mother pared down her stuff and moved with some ease from her house of 45 years into a studio apartment. The ascetic quality of her new space suits her just fine.
More difficult was the change her move sparked for me. Overnight my schedule became tied to hers. My mother's life became less cluttered, mine more cluttered.
That is how the mocha machine came to dispense more than just a mocha. I organize my mother's medications every week. I also do her laundry. Once these tasks are done, she and I go downstairs to wait for her lunch hour. While we wait, I sip on a mocha.
I have never been a devoted mocha drinker, but the day the mocha machine was "out of order," I was too. I had come to anticipate drinking that Styrofoam-flavored, somewhat chocolate flavored drink.
I sat to wait with mother the day the mocha machine was on the fritz. The stories and conversations went on around me as usual, and I found myself laughing and joining in. The weekly mocha had helped me in those initial months of transition to sit and listen and hear the wisdom-infused storytelling of my mother and her new friends. It had offered Spirit-sweetened seasoning to my caregiving activities. Now, even without the mocha, I was connected somehow.
What many churchgoers seek is not unlike what I seek as a caregiver: moments when God's Spirit sneaks in to stir up and transform. If people go to church at all, they go seeking conversations where their life stories are heard and held with care. They go wanting to experience something about their place in the human community. They go to encounter and even join forces with a God who is working to end injustice and heal our world. Neither exacting doctrinal analysis nor sentimentalized sacramentality will accomplish these things.
But perhaps cultivating holy "mocha moments" can. Coffee shops are popular these days. Many people love to grab a cup of java with friends over breakfast biscuits. Others go to coffee shops to drink their favorite roast at a solo table while working on their laptops. But even those of us who drink our coffee solo at coffee shops are not alone. Not really. We notice, we regulars, when Susan is not at her usual corner table.
Could it be that we humans seek everyday community-making rituals and sometimes even embrace them as everyday sacred? Hmm … and could this mean that God is already loose and at work in the world? Does it mean that churches don't have sole (or even primary) responsibility for naming and managing God's presence beyond their walls?
Churches need to think about how their public and spiritual identities can be born again for our hyper-connected, coffee-shop-community times. Churches also need to pay attention to gifts already present in their worship traditions. I learned as a child to look for Jesus in a bit of bread and a sip of drink. Before I started partaking of communion or learned anything about communion's theological intricacies, I watched when folks in our church tipped their heads back to drain those tiny cups. I noticed that when my father returned to our pew after communion he had a different smell. I wanted to taste that drink. I wanted to smell different like he did. I also learned as a child that God loves me and others no matter what. God's grace is about these things. To sip together at God's table, even with strangers, is to share God's wide-open, life-altering, cosmos-sustaining love.
Churches that will thrive in the future will fling open their doors not only to let God's Spirit in but also to share physical food and drink with hungry people and to offer with determined joy God's gifts of radical welcome and fierce generosity to all people. Perhaps to the extent that we learn to welcome all—friends and strangers—to our church tables we make possible more of those everyday grace-filled moments when people glimpse something that resembles Jesus, even in a mediocre mocha.
---

About Jill Crainshaw
Jill Crainshaw is a PCUSA minister and Blackburn Professor of Worship and Liturgical Theology at Wake Forest University School of Divinity. She is the author of several books on worship and ministry.