This guest post was written by Sara Roberts Jones.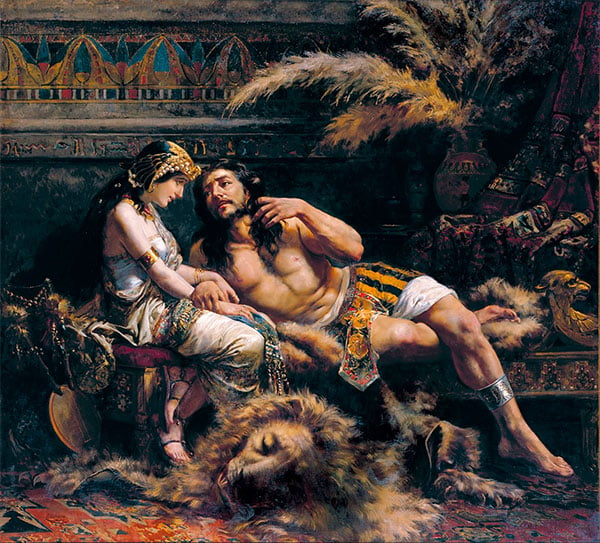 That devious jade Delilah.
Ever since her tragic Old Testament romance with Samson, Delilah's name has been synonymous with a scheming, treacherous woman.
I think she deserves better.
Full disclosure: I'm reacting to more than just Delilah's age-old reputation here. As a teenage girl, I sat under people who taught us that we women are dangerous to men. Not because we're smart or competitive or even manipulative, but because we have female-shaped bodies. Men are weak to female-shaped bodies; trying to talk to, reason with, or relate to a man while existing in our female bodies made us dangerous.
And they backed it up with The Bible, as follows:
Adam, created perfect in God's image, fell because of a woman.
Samson, the strongest man in history, fell because of a woman.
David, the man after God's own heart, fell because of a woman.
Solomon, the wisest man in the world, fell because of lots of women.
Adam ate the fruit that Eve, deceived by Satan, offered him. Samson told Delilah the secret of his strength. David saw Bathsheba and had her brought to his bed. Solomon had thousands of wives for political advantage, and eventually worshiped their gods. These men made conscious decisions against their own moral compass or common sense. They were often influenced by women.
See? Women! You see who's at fault here.
You see why I am reacting here.
Still, if you know the story of Samson and Delilah, you're going to point out that Delilah wasn't exactly a shrinking little mouse. Here's a quick recap:
Samson was a big strong manly Israelite. He had unusual strength; as a child, he was dedicated to God. In acknowledgement of his bond to God, he kept himself ritually clean, didn't drink alcohol, and never cut his hair.
He was a hero among his people because they lived under the oppression of the Philistines at the time. Samson was invincible, and he wreaked havoc on the Philistine people. Israel loved him.
Which was good of them, because Samson was also dumb. He had one default approach to any situation: "Can I get sex out of this? No? KILL!"
After various sex-and-violence vacations into Philistine territory, including an ill-fated marriage, he settled in with Delilah.
Who was Delilah, anyway?
The Bible doesn't really say, but it's pretty safe to assume she was a Philistine prostitute. What she wasn't was dumb. She knew how to survive in a world where she was good for one thing only. Apparently Samson provided protection and money. Maybe she was lonely and enjoyed him. She knew a good thing when she got it.
But the Philistine leaders persuaded her to find out the secret of Samson's great strength. She tried several different times, wheedling and manipulating him; he toyed with her, giving her all the wrong answers. Finally she wore him down and he revealed his secret: if he cut his hair, he would lose his superstrength.
While he slept, Delilah shaved his head. She called on the Philistine leaders, and watched them drag him away and throw him in prison.
And how did the Philistine leaders persuade her? Well, they offered her a whole lot of money. 1100 pieces of silver each, in fact. No wonder Delilah agreed to betray Samson!
But hang on just a minute.
Two chapters back, we find out that Samson married a Philistine woman. At the wedding party, he presented a riddle; if nobody could answer it, they had to pay through the nose. So the men went to his new wife and said, "Find out the answer to the riddle or we'll burn your father's house with you in it." She hounded him and Samson eventually caved, but got mad and went back to Israel — without her. One thing led to another, ending with Samson's wife and her family burned to death in their house.
So now it's Delilah's turn. She wasn't being threatened by men at a wedding party; she was standing before the leaders of the city. I suppose the conversation could have gone like this:
"No. I can't betray him."
"Well, okay, we see your point. We'll find some other way to get him. Oh, and Delilah… say hi to your family for us. We know where they live."
As my husband says, they held a big carrot and a big stick. Seems to me that her options were: betray Samson, get filthy rich; or refuse to cooperate, and seal her and her family's doom.
She could have confessed to Samson and asked him to protect her. But he was no Boaz, who watched out for Ruth, made sure she was okay, and finally married her. Samson would have hung around long enough to slaughter a few Philistines because that's what he did for fun. But this was the man who abandoned his wife just because she made him lose his riddle and therefore his pride.
She could have tried to run away. That would have worked! Because just like today, it's so easy for a woman to escape dangerous men, especially with her children and family in tow. Back then, no problem — she'd just leave the city and die in the wilderness, assuming the Philistine leaders didn't track her down first.
But who says Delilah was such a great person herself? Maybe she was a poison-tongued, mercenary, selfish shrew. Maybe so. I certainly don't point to her relationship with a violent, selfish man, and her accomplished manipulation, as a good model for the young women in my life.
But that's not why she's got such a bad reputation. She's got a bad reputation because she used her considerable sex appeal to get around a man's defenses.
Samson is the tragic victim, Delilah the villain. Never mind that he knew very well what she was up to. Never mind that she was trying to survive.
She, as a woman, was dangerous to a man.
That's a generalization many of us actively push back against today. Seems like a good time to rethink Delilah, and maybe give her a little of the credit that she deserves.
---
About Sara Roberts Jones
Sara Roberts Jones is an author and blogger who writes about bad theology, ordinary life, and making fun of things that deserve it. Her debut novel, The Fellowship, explores spiritual abuse and the search for grace. She blogs at SaraRobertsJones.com.