David Phillips Hansen's new book, Native Americans, the Mainline Church, and the Quest for Interracial Justice (Chalice Press, $29.99), is a sobering and important exploration of the historical, theological, and social relationships between the church and native peoples.
Hansen's objectives are straightforward: "first, to expose and deconstruct the causes of the church's war on indigenous cultures; and second to identify and define key theological, political, and economic foundations for the church's reformation that will prepare it for our multicultural future." (3)
He more than accomplishes those goals in this meticulously footnoted volume. Structured around a framework developed by Eric K. Yamamoto, Hansen explores four "praxis dimensions" for addressing interracial injustice: recognition, responsibility, reconstruction, and reparation.
The opening section on recognition examines the history of Christianity's tumultuous relationship with racial issues, beginning in medieval Europe and progressing through the twentieth century. Next, the chapters on responsibility discuss the interaction between theology and society, including an important reflection on the impact of the biblical story of the Exodus. A chapter on reconstruction discusses the need for repentance within the church, and the closing section on reparation discusses how our values must shape our future policies and practices.
Native Americans, the Mainline Church, and the Quest for Interracial Justice is written not just for those who are part of the mainline church, nor solely for Christians interested in Native American issues, but is for anyone concerned with the wider national (and international) conversation about religion, race, and interracial justice.
If, as Hanesen says, it is the responsibility of the church to "fully commit itself to the urgent task of building a more just and peaceful multicultural society in which the rights native Americans, other people of color, and non-Christian peoples are equally respected and honored," (3) then this book offers a vital starting point for realizing that goal.
Find out more about David Phillips Hansen and about Native Americans, the Mainline Church, and the Quest for Interracial Justice.
---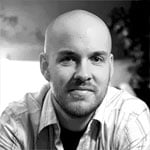 Dan Wilkinson
Dan is the Executive Editor of the Unfundamentalist Christians blog. He is a writer, graphic designer and IT specialist. He lives in Montana, is married and owns three cats.