This guest post is by Jonathan Gaska and Jill Crainshaw.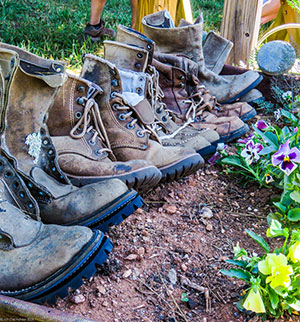 So Holy Week begins.
As I celebrated Palm Sunday with my congregation this year, I wondered: what way do they make, these palms that dance and wave to the sounds of our laughter, joy, and singing? What dust do they stir up? Or sweep away?
Dust. And ashes.
We began this journey all those weeks ago in dust and ashes. On a Wednesday. In the middle of the week. In the middle of chaotic lives. And we have traveled far since Ash Wednesday. Perhaps our eyes have been captivated by the promise of new light that awaits us, and we have journeyed in hope. Or maybe we've stumbled along the Lenten way, uncertain of what lies ahead or fearful of what we are already carrying in our hearts. Or perhaps, like Jesus, we've traveled through frightening wildernesses not of our own making. Lenten geographies—life geographies—are unpredictable at best. And too many geographies in our world are littered with blood, bombs, and the bones of those vulnerable ones caught in the crossfire of competing powers. These geographies—our geographies—groan for the touch of healing feet.
Then, as it does each Lent, Palm Sunday arrives. Bright green fronds sweep out in front us in congregations across the globe to make a new way. We turn our feet toward sounds of rejoicing: "Hosanna! Blessed is the One who comes in the name of the Lord!" But even as our feet dance along the Palm Sunday parade route, we know: the rejoicing songs hold within their rhythms an eerie bittersweetness. Palm Sunday's disconsolate dance partner is "passion," the suffering and death of Jesus. The palms of our loud Hosannas prepare a way to a cross. To death. Ashes to ashes. Dust to dust.
As we enter this extraordinary week and its sacred story, may Palm Sunday's branches clear the way for us to journey with Jesus through this hurting world. And may we find courage to point our feet as Jesus did toward those places in our lives and neighborhoods that need justice, truth, and grace.
A Blessing for Holy Week Journeys
Feel your feet
planted on holy ground
beneath you,
rooted in the earth.Feet.
From the earth,
upon the earth,
back to the earth…
eventually.
Remember.
These feet–
big, small, aching,
running, stumbling, dancing–
these feet carry us
down the paths
of our everyday lives.
Feet.
From the earth,
upon the earth,
back to the earth…
eventually.
Remember.
Jesus' feet–
journeyed wildernesses and seasides
Jesus' feet–
pointed him toward Jerusalem.
It was Jesus' feet that the prophet woman
blessed and perfumed and prepared.
And it was Jesus' feet
that were pierced together–
one on top of the other.
Feet.
From the earth,
upon the earth,
back to the earth…
eventually.
So we too shall walk
through an ordinary week,
that is a holy week,
for it is on sacred soil
that we live and run,
work and play.
Our feet,
carrying justice and love,
kissing holy ground,
to which
we shall return…
eventually.
---

About Jill Crainshaw
Jill Crainshaw is a PCUSA minister and Blackburn Professor of Worship and Liturgical Theology at Wake Forest University School of Divinity. She is the author of several books on worship and ministry.

About Jonathan Gaska
Jonathan Gaska is the pastor of Trinity Presbyterian Church in Winston-Salem, North Carolina. He is also a poet and jazz musician.