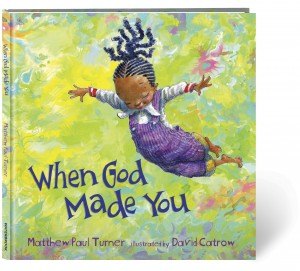 "You, you, when God made YOU,

God made you all shiny and new.

An incredible you, a you all your own,

a you unlike anyone else ever known."
In my work with Unfundamentalist Parenting, I have found that much of the damage fundamentalism has done to us as adults is because we were not given the freedom to be truly ourselves as children. For someone like myself, an Asian Christian girl, I was taught to be compliant and deferential–I wasn't given permission to interject my voice into other people's conversations. The trans boy who was born in a girl's body was told he couldn't be his authentic self. The black little girl was told her hair was too wild, that she needed to tame her hair and along with it, her spirit.
It pains me to think of young children surviving in a world where they are constantly suppressing who they are, the way God made them to be, in order to be accepted by society. It breaks my heart to think of their suffering, but just as much, it pains me to know how much we are missing out on the beautiful diversity of the children in our lives because they aren't getting to own their identity and live fully into it.
The child in me cried reading Matthew Paul Turner's latest children's book, When God Made You. It is a message I long for every child, particularly those who hold marginalized identities, to hear.
'You, you, when God made YOU,

God made you all shiny and new.

An incredible you, a you all your own,

a you unlike anyone else ever known.'
But not only does the story unequivocally affirm each child's identity, it doesn't stop there. It calls the children into the best of who they can be: one who is 'hopeful and kind,' one who explores and makes art; a peacemaker, a dreamer, one who loves above all.
"You being you is God's dream coming true."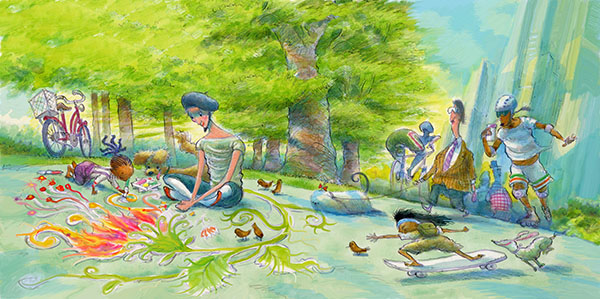 Image: provided by Matthew Paul Turner
I love this book and its message and I think you will too. Also, the illustrations are aMAZing, done by the talented David Catrow.
PREORDER God Made You here.
---
Here's what the author, Matthew Paul Turner, says about the book:
For many of us who grew up going to church every Sunday, our introductions to God and faith were often riddled with fear and harsh language. That's how my relationship with God began, with words and ideas that helped to create a negative foundation for my spiritual development.
As those of you who have walked through spiritual and/or church abuse likely know firsthand, the effects of these events are long, riddled with surprises, and the journey toward healing and wholeness is often an uneasy path.
When my oldest was born—he's 8 now—I knew I had to redeem my own fearful introduction to God with him. Suddenly, as I looked into my little boy's large brown eyes, I knew that I not only wanted to break the cycle of my past but offer him a very different view of God, one that would inspire and affirm, promote love, peace, and acceptance, and most importantly, provide him a positive and hopeful self image.
That's why I wrote this book. I believe in it. I believe in its God-positive message. And I believe its words are those you will want to read over your kids again and again. And if you're anything like me, you might find yourself reading them over your own life too.
PREORDER and share this with someone in your life who has little ones who need to hear that they are God's dream come true.
---
Join our Facebook Group, Raising Children Unfundamentalist.