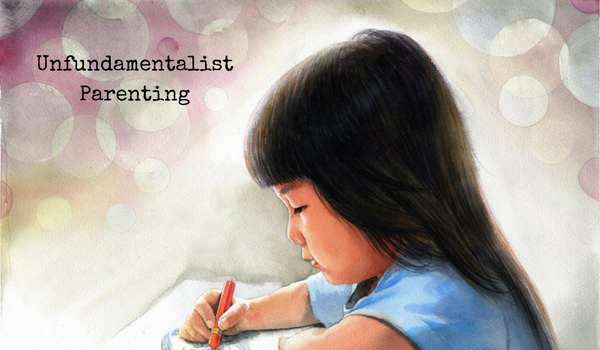 Image: Pixabay
I was lost, and then I was found. And then I was lost again.
I have come to view my spiritual path not as a one-time conversion experience of being "saved" but walking an off-beaten path of wandering, trespassing the path briefly before wandering off again. I was saved. But I am being saved still, again and again.
The more I delve into the work of unfundamentalist parenting, the more I am convinced that those of us parents who are disillusioned with our faith upbringing need not give up our faith for the sake of the kids, we need to be saved into the faith by our children. The more I realize when it comes to faith, we almost always get it wrong, and the children are the ones who really get what it means to live a vibrant, spiritually rich life of faith.
Here are ten ways children save our faith:
1. Curiosity & Openness. Children are endlessly curious and no question is off limits. They inquire deeply and persistently. They interrogate every object, smell, feeling, and story that comes their way. Theologian Karl Rahner says adults should strive for mature childhood, referring to the infinite openness of childhood as the ultimate expression of humanity's religious existence.
2. Vulnerability. The vulnerability inherent in children, and especially GLBTQ children, children of color and children with disabilities, bring us to confront our own frailty and reveal a God who cares for the margins. They compel us to become tender and soft. In their dependence upon us, they compel us into our greatest calling: to love and give of ourselves.
3. Stories. Children are drawn to stories and are masterful storytellers. They view the world through a narrative lens. We need to reclaim the art of story in our stale doctrines and institutionalized laws. Stories convey truth more powerfully than propositions and is our most subversive form of faith.
4. Sense of Justice. How many times have you heard a child yell, "BUT THAT'S NOT FAIR!" Children have an innate drive to make wrongs right. They are social beings and concrete thinkers. They challenge us to take our faith from theological musings into real-life change. Last night at dinner, my son forked a piece of fish and remarked, "this fish just died and we are eating it." He pierces my conscience all the time with his innocent musings.
5. Spontaneity. I've said here that whimsy needs to be a fruit of the Spirit. Our faith becomes dead when it loses joy, delight, and whimsy—when we have repressed our emotions for so long by fundamentalism that we can no longer feel pleasure in simply being. "Imaginative living is a disruption of the status quo. The children are already practicing the vibrant life of resurrection resistance."
6. Sacrament of the Present Moment. Children do not operate on the same schedule as us. Their priorities are for play whereas ours are for work. Our society has become sick with The Disease of Being Busy. Taking a walk with a child pulls us into connecting to life in the present moment, an opportunity to pause, breathe, and allow the child to direct our messed up priorities.
7. Truth-Telling. The classic story of the child who reveals the Emperor does not indeed have clothing points to children's ability to tell unflinching truth in the face of power. In this present political climate, where fake news and polarizing rhetoric convolutes facts, there's no greater resistance than the ministry of truth-telling. The world requires truth telling. Our faith requires truth telling. Someone needs to shout that the Emperor has no clothes.
8. Holistic Living. A child is never bored in nature. Even the ones raised in cities (like mine are) find ways to entertain themselves when playing in a lake, or given rocks and sticks and sand to build stuff with. Children's inherent connection to nature reminds us of how we are a small part of a much larger environment, and how we share it with fellow citizens of the planet. We need to tap into a child's adventurous spirit to explore and play in our world, and through which to find our faith interconnected with our bodies, mind, spirit, as well as our earth.
9. Differentiation. Children go through several developmental stages to differentiate their identity from their caretakers. They are wholly consumed with the task of developing their unique identity, to find who they are and answer the existential questions of their place in this life. Our faith needs to mirror the process of differentiation because a faith that stays the same becomes stale and toxic, but a fluid faith that evolves maintain a prophetic edge to critique the systems of the world and make it a better place. Toddlers show us how to be the best prophets, bucking against authority with all their might, proving to the world they are worthy to have a voice and make a difference.
10. Because Jesus Said. The last and most important reason why children are qualified to evangelize us is because Jesus said so. "Whoever welcomes one of these little children in my name welcomes me; and whoever welcomes me does not welcome me but the one who sent me." The disciples wanted to keep the children from Jesus because they felt there were more important matters than little children. They used their power to dominate the children. But Jesus flips the script and says no, if you want to follow me, follow them. The kingdom belongs to these little ones. They hold a Jesus-centric spiritual authority.
---
Join us at Raising Children Unfundamentalist.