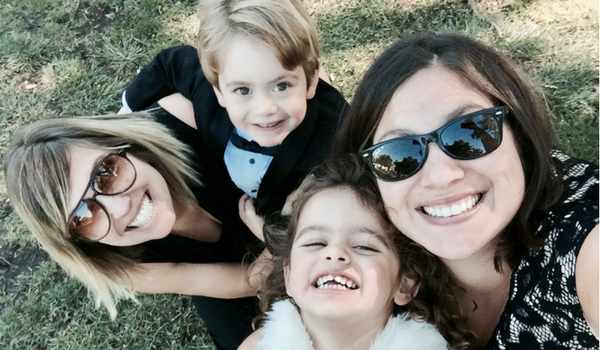 Image provided by guest contributor, Candice Czubernat
We are a mommy-momma household. And we have twins.
Everywhere we go, people talk to us. Questions that quickly feel vulnerable and exposing to me. There's usually a progression to the questions; names of the babies, ages and that's about where the conversation takes a turn into the land of, "do I come out, or do I stay in the closet"? The questions come inquiring about my husband; does my husband help with the kid, do twins run in his family and so on. Obviously these questions are not intentionally meant to be exposing, but at some point I have to make a decision of whether to come out, or stay in the closet and that can feel overwhelming and vulnerable for me because I never know how the other person will respond. While I have accepted being queer, I feel protective over my children. I fear this well-meaning stranger will quickly become a judgmental onlooker and that my kids will feel the shame of that moment.
Honestly, most days I try and find the courage and energy to come out, but there are those occasional moments that I just don't feel like it and I let the person assume what they want. Being a mom has changed everything that I feel about these kinds of interactions.
If I'm honest I feel anxiety, fear and sadness. The other night I took the kids for a walk around the town. We walked past a church that had recently started a week-night concert on the lawn; they had set up a small stage as well as tables and chairs for anyone who wanted to enjoy a simple meal and free music. My kids love music so I decided to stop and listen for a bit; I stood on the sidewalk and let my kids simply listen from the comfort of their stroller. We caught the attention of the band leader who shouted, "Are those twins?!"  "OH. Dear. God!" I thought as everyone sitting and listening to the music turned to look at me. My heart began to pound as I anticipated his next series of questions. Would he comment about my husband in front of all of these people? The sound of my heart pounding in my ear got louder. My body shook and I began to sweat as I anticipated the opportunity to come out as a lesbian in-front of an entire church who I assumed would minimally disqualify me as a Christian. I shook in fear because I couldn't bear my children feeling any amount of shame. I was grateful that he actually ended up making a joke about himself as he's a twin and then moved onto the next song. Even as I write this I get a bit teary in remembering the fear I had in my heart for me and my children.
It's in this place that I turn to God for comfort. God, please help me. I don't know how to do this and my heart is breaking. Protect my children and my wife from harm and hurt especially as it pertains to my sexual orientation. Please give me wisdom in how to help my children. Help me know how to frame this experience for them as they grow and give them a great capacity to understand what it means that they have 2 moms. Begin to protect their heart from any hatred, or ignorance that will be thrown their way. 
When I cry out to God in prayer it's been comforting to know there have been lots of other moms that have traveled this path before me. I look to them for strength and guidance on how to do this motherhood thing; especially as a lesbian mom. I have found solace in mothers in the Bible, like the Canaanite woman. She has a daughter who is sick. We aren't told what kind of sick, but it's clearly bad enough for her to seek out Jesus and go through hell and back in order to get her daughter healing. Despite both the disciples and Jesus' resistance to her pleas, she persists. She mustered all the strength, courage and wisdom that a mother has along with the love for her daughter and in the most crafty way possible found a way for Jesus to open his heart and his healing for her daughter. She would not shut up, or back down until Jesus finally recognizes her faith and declares her daughter healed.
There's something about this mother's tenacity that gets to me. I'm drawn to her, as a mother who's also a lesbian, in a Christian world—I am the Canaanite woman and I need to start to embody her hanging on and not letting go for anything. I am the one who some Christians want to send away and have shut up. I'm realizing my kids are going to need me to be tenacious, courageous and wise.
Lesson learned, don't make it about me; don't put my fears, sadness and sense of limitation onto my children. Instead I need to use that wonderful stubbornness and persistent mother-bear that lives within me to help my kids find a way to be in the places they desire to be a part of. For instance, what if while standing on the sidewalk listening to the worship band play music and the worship leaders asks me about my spouse I say with grace and confidence that I have a wife and that we are a family who loves music and love Jesus so we're happy to be here??! And what if when my kids want to go to their vacation Bible school I teach them to have confidence in the love we have as a family so even if someone says something negative to them about having two moms, instead of it creating fear and anxiety they have the capacity to respond with dignity towards themselves and tenderness towards the other?! And what if I gently and boldly spoke to the pastor of that church just as the Canaanite woman spoke to Jesus in order to assure my kids safety at that church?!
I will see these conversations as a time for me to connect to and embody the power, grace and strength that is within me.
---
Candice Czubernat is a writer, advocate, speaker and therapist.  She's also a married lesbian, Christian woman and mother of twins. She's the founder of The Christian Closet, a web-based counseling practice where she specializes in seeing those needing a safe place to reconcile their faith with their sexual and gender identities. The Advocate Online Magazine named her one of the "10 Pro-LGBT Religious Women You Should Know".  She has an M.A. in Counseling Psychology (LMHC & MFTI) and has worked in the mental health field for over a decade.  You can read more of her articles on her blog at, www.candiceczubernat.com  and read more about her therapy practice at, http://www.thechristiancloset.com.