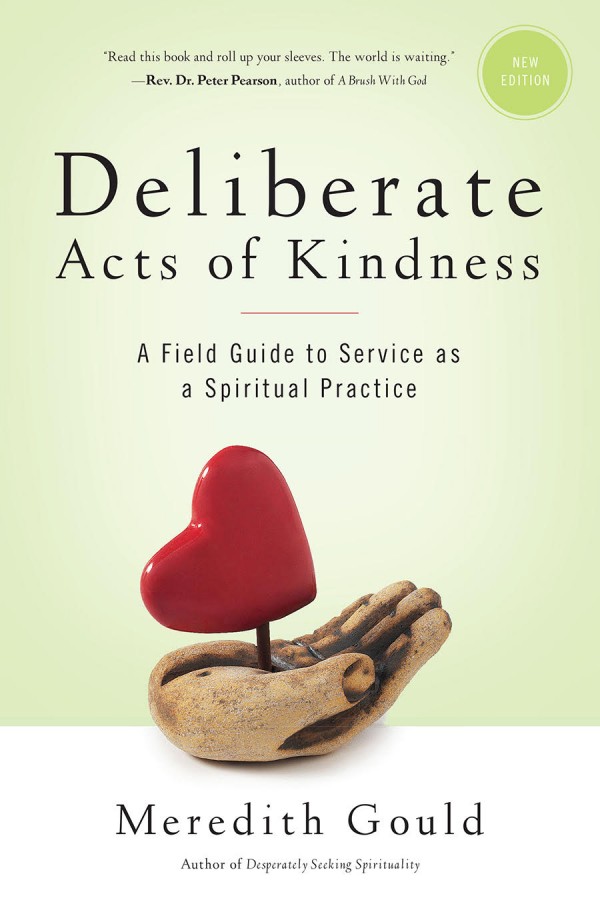 I interview author, Meredith Gould, about her new book as it relates to Unfundamentalist parenting:
Many of my readers here at Unfundamentalist parenting grew up evangelical Christian, but are Somes and Dones. Meaning, they don't identify with much if any of the Christian faith anymore. And yet, they want to raise their children with a moral core and be open to spirituality. How do you think service and acts of kindness can be a family practice to cultivate without triggering religious trauma? 
First, some background. I was raised Jewish, a tradition in which ethical behavior is often considered more important than ritualized observance. Because it  emerged from Judaism and Jesus of Nazareth was a Jew, Christianity is a religion that emphasizes serving others and mustering mercy. Unfortunately, ethical action is often freighted with moral judgment. Good Christians love and serve their neighbors because Jesus said it was the greatest commandment. Bad Christians are self-serving sinners.
According to (some) Christian theologies, ethical action can be understood by using what sociologists call exchange theory. Serving others is done in exchange for something else. Service becomes a ticket to salvation rather than evidence of spiritual maturity. And by "spiritual maturity" I mean a durable sense of connection to all creation, including all people regardless of age, ethnicity, gender, religion, sexual preference, or social class. I describe the religious roots of service as a spiritual practice in the first chapter of Deliberate Acts of Kindness. I go into more depth about the disconnect between religion and spirituality in another book, Desperately Seeking Spirituality.
Serving with generosity, mercy, and kindness without triggering painful memories will depend to some extent on the source and extent of the religious trauma. Someone growing up in a church that preaches eternal damnation for opting out of service as a vehicle for evangelism may have emotional difficulty instituting service as a family practice. Some will need to begin or continue the work of healing spiritual wounds before getting involved with service. Others may find that serving others without the goal of saving souls for Christ will support their healing.
To offset the possibility of unproductively trash talking earlier experiences, I believe some healing must happen before parents are able to joyfully engage the entire family in service. I'd say this is especially true if the service opportunity is sponsored by an organization with a leadership structure and style reminiscent of church.
As for deliberate acts of kindness, those can become a family practice without triggering trauma if everyone focuses on kindness and uses that word, rather than love. The word "love" can be a trigger, especially for anyone whose former church leadership preached love while covering up abuse of any kind. Speaking of which, my top recommendation for understanding and healing from church-inflicted wounds is Carol Howard Merritt's new book, Healing Spiritual Wounds. 
Why do you think it's important for young people to discern their calling or place of service in the world?
People of all ages will explore these radical questions at various points throughout  their life: Who am I? (Identity) Why am I here? (Purpose) What happens when I die? (Legacy)
Younger people and especially young adults, currently defined as those between ages 18 and 35, tend to focus more on identity and purpose. These are important issues to explore early on. The inquiry itself builds self-awareness and ego strength, both of which are foundational to understanding that other people not only exist, but deserve to be treated with kindness and generosity. Service as a spiritual practice that takes some practice, so starting sooner rather than later makes sense, right?
In Chapter 2, "Discerning the Call, I provide exercises and tips for this inquiry. For example, I encourage readers to ask and spend time contemplating their answer to the question, "What sort of person would I like to become?" Chapter 3, "Discovering Your Place," provides exercises and tips for figuring out where to serve. Here, again, I encourage readers to explore assumptions about where and how to share their skills, talents, and passions.
Young people will try and experiment different acts of service before they discover their unique contribution to the world. Do you have any tips on how to navigate that potentially messy journey?
I believe that everyone, not just young people, should explore different types of service as well as different environments for serving. We can count on the journey getting messy. Humans are involved! But, there's a difference between working through discomfort and enduring unnecessary suffering.
Chapter 5, which focuses on the "Shadow Side of Service," offers tips for establishing healthy boundaries; what to do if triggered; when to call out bad or illegal behavior; and how to recognizing signs of stress and distress. I also have a background in yoga and holistic health, so I'm always keen on getting people to at least acknowledge, if not recognize, the body-mind-spirit connection.
Your readers will find exercises designed to help them identify healthy emotional and physical boundaries; their own less-than-lovely attitudes and feelings; and how to get back on track when service seems like an impossibly difficult spiritual practice. Here's where, to return to the heart of service after a difficult day, I recommend asking: What did I learn today? How did I help? When was I most present to what was happening? How is my life being enhanced?
Do you think it's important to do acts of service as a family or in community with others, or should there be space for individuals to do their own thing?
I think it's important to serve in all the ways you've mentioned while being aware of psychosocial development and family structure. Let's go back to your first question about moral development.
When does that typically begin happening for children? Lots of theory and research. If there's any agreement, it's that certain cognitive and emotional abilities must develop first. As a practical and sanity-preserving matter, serving in a community will be more successful after children understand the concepts of going away and returning. Here, I'm thinking about service activities where families may sign up to participate but then family members are separated by age to do different things. Could be disastrous for children who are not yet emotionally equipped for time and tasks away from parents or siblings.
As for family structure, the work demands of adults might make it difficult for an entire family to participate together every time. This is one reason I include information about service-oriented vacations or at least building deliberate acts of kindness into family getaways. I absolutely do not recommend service-oriented vacations for families that include members still healing from forced mission trips.
I do believe it's not only appropriate but necessary for individuals to do their own thing in the world of service. In the context of family, parents would need to assess the maturity of their tweens and teens before sending them off as individuals for activities like neighborhood cleanups. They'll also need to vet the activity's sponsor and ensure that appropriate adult supervision is in place. Once all that is good-to-go, individual service activities are yet another way to build confidence as well as generosity of spirit.
Finally—for now, anyway—if parents do nothing more than teach their children how to act with integrity and honesty; to feel and express empathy, generosity, and kindness; to consider the needs of others; and to become good citizens, then serving within and for family is an excellent place to begin this spiritual practice.
---
Meredith Gould, PhD (@meredithgould), is a longtime spiritual seeker, sociologist, and online community manager. She's an award-winning author of eleven books, including Desperately Seeking Spirituality: A Field Guide to Practice and is known for her passionate advocacy of using digital tools for ministry. Her next book, Transcending Generations: A Field Guide to Collaboration in Church is due out in August 2017. Visit: www.meredithgould.com Please support independent publishers by ordering directly from Clear Faith Publishing.