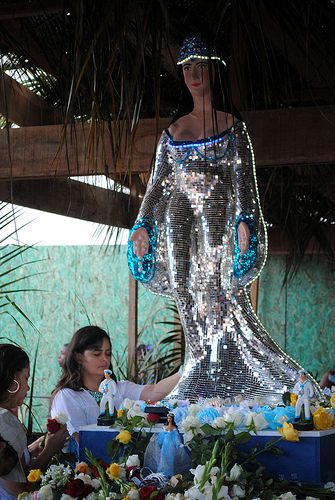 New Year's Eve is a time for parties in this world and the next. In Santeria (Lukumi) the goddess Yemaya is often honored on September 7, the feast for Our Lady of Regla. In Bahia she is known as Iemanja, honored on August 15 or February 2, and is frequently associated with Nossa Senhora da Gloria. While in Rio de Janeiro she shines her radiant beauty on New Years Eve. New Year's is a time for huge ceremonies in the Brazilian traditions of Umbanda and Candomble. It is a time for pilgrimages and journeys to the sea to honor this Orixa or goddess. Millions honor this Afro-Brazilian goddess of the ocean on New Year's Eve.The immense celebrations that occur here are truly a sight to behold. Some even feature sand and candle sculptures like you can see here. People craft elaborate rafts and small boats on which they float their lavish offerings out to the sea. Everything is covered in flowers and candles and sent afloat to honor the goddess.
Her message is one of peace, divine calm, and a devoted mother's patience. She is one of the patron Orixa of Rio de Janeiro. This is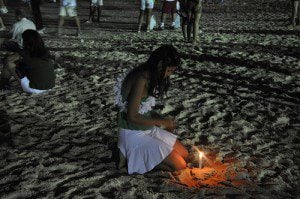 due to Brazil's vital role in the middle passage. The slaves' journey was long and arduous. Many believed when they set sail from Africa that they would never see land again. It is said they prayed to Yemaya for safety and protection over the waters. When they finally landed on the distant shore they thanked Yemaya for her blessings and care. They kissed the ground beneath their feet praising "O my Yemaya."
As a mother goddess she is familiar to many different religions, and I often suggest to Pagans wishing to learn more about the Orixa and Santeria that they start with her. The image of Diosa del Mar is also a popular representation for Yemaya. This image is crown by the moon and stars fall from her blessed hands. She reaches out with sacred knowledge to embrace us with her gracious love.
Divine Attributes
Yemaya has as her sacred animals fish, ducks, and some even say cockroaches. Her shrines are some of the most elaborate creations in the Afro-Diasporan world. Many are draped with lace and satin, and some even feature a canopy.
Colors: Blue and White
Number: 7
Herbs: spearmint, myrrh, gardenia, jasmine, indigo, seaweed
Sacred Foods: watermelon, cantaloupe, pineapple, coconut, plantains, rice, black eyed peas ( these are traditional New Years food throught the Afro-Diaspora,) molasses, gin
Iyá eyá ayaba okun omá iré gbogbo awani Iyá
–Prayer for Yemaya, the mother of divine energy from the depths below, from orishanet.org
Yemaya is the mythic mermaid from the depths of the ocean. She is seen as the mother of all the deities and us all. She is a caretaker, a nurturing and welcoming force to those who can begin to understand her beauty. May your New Year be filled with the blessings of Yemaya!